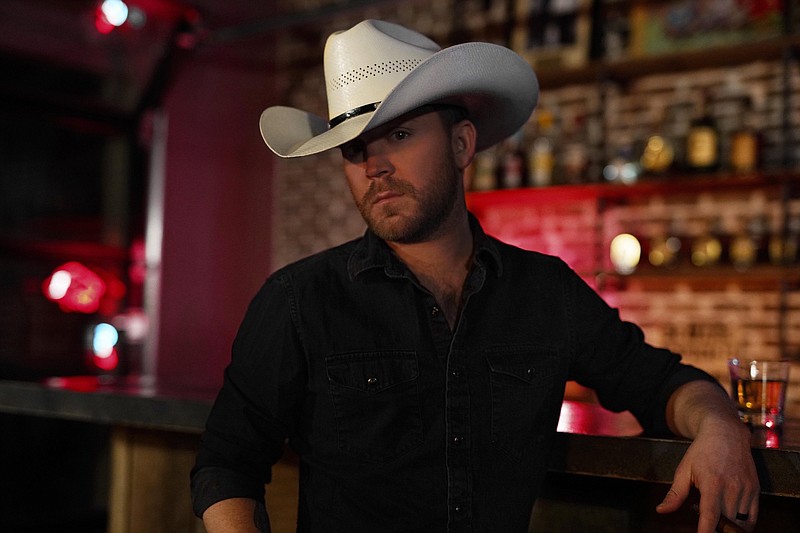 Country music star and Arkansan Justin Moore, along with fellow statesman Tracy Lawrence, are giving 30 fans special seats at a virtual concert today. Moore also is continuing his new The Justin Moore Podcast, with a new episode out Tuesday. (Special to the Democrat-Gazette/Cody Villalobos)
Justin Moore and Tracy Lawrence, a couple of Arkansas' own country singing sensations who are buddies and were on their Late Nights and Longnecks Tour together when covid-19 shut everything down, were offering 30 fans the chance to be part of a virtual "guitar pull" today.
Fans had to pre-register by 11 a.m. Wednesday in order to be eligible; the first 30 responders can participate with Moore and Lawrence in the event, sponsored by Sirius XM Y2Kountry.
A guitar pull, according to a post by Villanova University in Pennsylvania, is "a Southern tradition where a small group of musicians sit around and take turns playing songs on a guitar. The 'guitar pull' is a tradition unique to country music, and it probably originated in a living room or out on a back porch .... The late Roger Miller imagined that the term 'guitar pull' came from the fact that there was usually only one guitar to be shared, and the singers would have to pull the guitar away from one another to take their turn."
Besides participating in guitar pulls, Justin Moore has been busy with his new podcast. Tuesday's will be the fifth episode, and it's titled "The Great Outdoors." Here is the description: "Justin and JR tell some more hilarious stories about some unfortunate mishaps. From nearly sinking a boat to burning down Justin's property, the stories from the great outdoors will keep you entertained. Don't miss when another band member comes on to share the story of Justin deliberately [wetting] his pants. Capped with a classic Tom Petty song, you won't want to miss."
LIVE A LITTLE
Live music is still mostly missing from Little Rock, but you can drive to Hot Springs this weekend if you simply must hear some.
Singer-songwriter Christine DeMeo will perform at 7 p.m. Friday for a ladies' night show at The Trough Bar and Grill in Hot Springs, 833 Central Ave. (The venue was formerly the location of Core Public House).
Reece Sullivan will perform at 8 p.m. Saturday.
But wait, there's more. Scenic 7 and WinonaRoad will perform at 6 p.m. Saturday at The Blitzed Pig Bar and Grill, 4330 Central Ave., in Temperance Hill Square in Hot Springs (which was one of the first venues to feature live music a couple of weeks ago).
RUFUS RULES
Singer-songwriter Rufus Wainwright will do a livestream concert, "Unfollow the Rules: The Paramour Session," at 1 p.m. Saturday in the ballroom of the historic Paramour Estate in Los Angeles' Silverlake district. The estate was the home of 1920s silent film star Antonio Moreno.
The concert will be accessible on Wainwright's Facebook page. His new album, Unfollow the Rules, will be released July 10. The album's first single, "You Ain't Big," is out now.
To commemorate the album's release, the concert will be available July 10 at 7 p.m. on allarts.org.
BROOKS AND FUN
Fans of country singer Garth Brooks can see a film, Garth Brooks: A Drive-In Concert Experience, at 9 p.m. Saturday at 300 outdoor theaters across the United States and Canada, two of which are in Arkansas:
• Stone Drive-In, Mountain View, $100 per car admits up to six passengers, all wearing seat belts.
• 112 Drive-In, Fayetteville, is sold out.
(Poteau, Okla., which is 33 miles from Fort Smith, is also on the list with two showings at the Tower Drive-In Theater, 2214 N Broadway St., at 9 and 11 p.m. Saturday. Cost is $100 per car, admitting up to six passengers, all wearing seat belts.)
VIRTUAL EVENTS
Meanwhile ... in the virtual world:
Singer-songwriter-guitarist Trey Johnson will be featured at 10 a.m. Friday in the "Ask the Artist" segment at the Murphy Arts District's website in El Dorado.
Johnson has opened shows or shared stages with Keb' Mo', Jimmie Vaughn, Charlie Robison and Shooter Jennings.
Gay Bechtelheimer will lead the Q&A on Facebook Livestream; to submit a question to Johnson, send an e-mail to joanna@eldofest.com.
• "Porch Pride: A Bluegrass Pride Queer-antine Festival" will be held Saturday and Sunday, replacing what would have been Pride weekend in San Francisco. Started as a side project of the California Bluegrass Association in 2017, the event showcased LGBTQ+ roots musicians.
Events begin at 1 p.m. each day, continuing through 6:30 p.m. Saturday and 6 p.m. Sunday. Musicians include Molly Tuttle, who performed a few months ago at the Ozark Folk Center in Mountain View, and Amythyst Kiah, who has played at South on Main. Other performers include Alice Gerrard, Cathy Fink & Marcy Marxer and Maddie Wither.
A $10 donation is suggested. For the full schedule and more information, see bluegrasspride.net/porchpride.#8226; Depeche Mode will livestream Live Spirits, the band's unseen concert film, in honor of the group's documentary, Spirits in the Forest's DVD/Blu-ray release on Friday. The film will be shown at 2 p.m. today on livenation.com.
The group released its album, Spirit, in 2017. Although portions of Live Spirits, which was filmed at the Forest Stage in Berlin, appeared in the documentary, the film has never before been seen in its entirety.
The band was elected to the Rock and Roll Hall of Fame in January, but its induction was postponed due to the coronavirus.
CHECKING IN WITH
Benny Turner, bassist in legendary Little Rock band Jubilee Dive and manager of also legendary The Gunbunnies, who now lives in the New York borough of the Bronx, has hunkered down while the coronavirus hits hard in his area, and reports that besides stretching and strengthening exercises, watching TV and meditating, he has been listening to the music (mostly while exercising) of John Prine, Vic Chesnutt, Howard Roberts, Nusrat Fateh Ali Khan, East River Pipe, John Hiatt, Lucinda Williams, the Everly Brothers, Aruna Sairam, Scott Walker and Senor Coconut.
He also has been reading, having just started Rick Bragg's book All Over But the Shoutin' and "a little (but too much) social media."
• Chris Maxwell, also a Jubilee Dive veteran and a Gunbunnies member and now a solo artist and a Woodstock, N.Y., resident, also reports on what's up.
"My family and I took in Covid castaways at the beginning of all this," Maxwell says in an email. "Two of which are great singer/songwriters: Ambrosia Parsley and Holly Miranda. We did several weeks of Sunday shows from my studio, which can be checked out here: https://www.holly
"Also, the three of us teamed up to support making/producing Holly's new record. That's going great. I've been having a blast, as usual, writing music for Bob's Burgers which, fortunately, due to the fact that it's animated and animated characters are immune to viruses, is still going strong. Other than that, I guess I'm doing what a lot of people are doing ⁠— reading, watching, walking, hanging out with family.
"We are fortunate that Woodstock is a small community of responsible folks and we've avoided most of what our brothers and sisters in the big city have had to deal with.
"Also my new record continues to get favorable reviews and I hope to come down to my hometown and play shows when the time is right." Find more here: https://www.maxwellsongs.com/.
UNGUILTY PLEASURES
One of mine is watching the weekly musical musings of Todd Snider, who mixes songs with stories and never fails to deliver a worthwhile experience. The shows air on Sundays but can be viewed when convenient at thepurplebuildinglive.com. His tributes to the late John Prine and a salute centered on Bob Dylan's birthday are classic pieces of entertainment. Maybe it's just coincidence that Snider's show at South on Main was the last B.C. (before corona) show Vicki and I got to witness in March?
• Old Crow Medicine Show has a new song, "Pray for America," written at the request of NPR. The song "calls for divine intervention and unity during times of uncertainty," according to a press release. The song is on YouTube.
Old Crow also has a weekly show, "Hartland Hootenanny," at 7 p.m. Saturdays on YouTube and Facebook.
• The latest by dynamic duo The War and Treaty is a new song, "We Are One," which came out last Friday. It's a catchy, superb song that features shots of many folks, all holding homemade signs with those words. Proceeds from the song and an accompanying T-shirt will be donated to the ACLU. Look for it on YouTube.
Sponsor Content