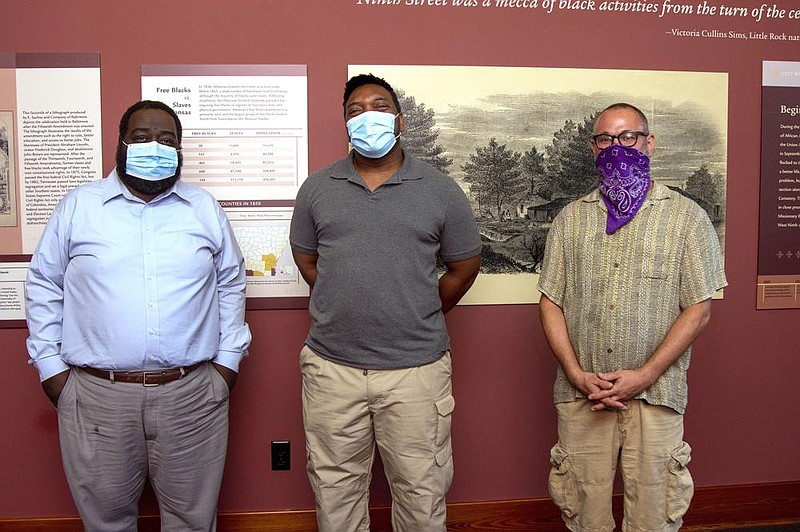 Brian Rodger, Jay Jackson and Gui Booher (cq) at Mosaic Templers Cultural Center on 06/16/20
In previous years, the Juneteenth celebration at Mosaic Templars Cultural Center had been a festive, all-day outside affair with food, clothing and other merchandise vendors lining historic Ninth Street in front of the museum, while singers, dancers and other performers shared their talents on a stage. If it was an election year, you could count on a few folks running for office to show up.
This year, the staff at the center had to learn new skills as -- like organizers of so many other events sidelined by covid-19 -- they took the 10th annual event virtual. A run-through of the technical aspects of the celebration was held June 16 at the center. A few speakers were on hand to practice their parts, but entertainers and other guests participated from home.
"Juneteenth is the oldest nationally celebrated commemoration of the ending of slavery in the United States," according to the website juneteenth.com. The holiday dates to June 19, 1865, when Maj. Gen. Gordon Granger and his Union soldiers went to Galveston, Texas, to announce the end of the Civil War and the freedom of the slaves. This took place two and a half years after President Abraham Lincoln's Emancipation Proclamation.
-- Story by Cary Jenkins and Helaine Williams;
photos by Cary Jenkins
JUNETEENTH MEETS 21ST-CENTURY TECHNOLOGY
Sponsor Content