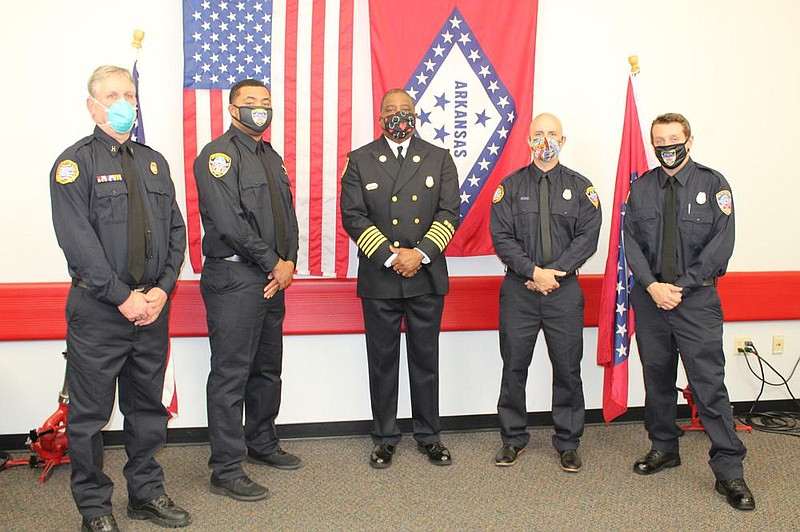 Capt. Roger Pool, firefighter Stanley Scott, Little Rock Fire Department Chief Delphine Hubbard, firefighter Matthew Stallings and firefighter Conley Byrd III
Five Little Rock police officers and four Little Rock firefighters were honored June 23 at the 28th annual Police and Fire Awards presented by Rotary Club 99 of Little Rock.
Held virtually for the first time since its existence, the police officers gathered at the Little Rock Police Department Training Academy and the firefighters got together at the Little Rock Fire Department Training Facility.
The Little Rock Police Department recipients are:
• Officer of the Year -- Eric Barnes who is recognized for filling in for a supervisor while maintaining his regular workload.
• Civilian Employee of the Year -- Debby Smith recognized for being the "perfect employee" by her supervisor.
• Leadership Award -- Jarred McCauley who was recognized for multiple supervisory assignments.
• Recruit of the Year Award -- Officer Christopher Flowers for being an outstanding new officer in the academy training class.
• Police Shield Award -- Officer Lisa Nava recognized for serious injuries sustained in a confrontation with a suspect.
The Little Rock Fire Department recipients were:
• Meritorious Service Award -- Capt. Roger Pool who was recognized for more than 20 years of service.
• Resilience Award -- Firefighter Stanley Scott who overcame a long-term health issue.
• Recruit of the Year -- Conley Byrd III who was recognized for outstanding performance both through training and on the job.
• Firefighter of the Year and Person of the Year awards -- Matthew Stallings for his work ethic and spearheading legislation supporting firefighters with job-related cancer issues.
-- Story and photos by Rachel O'Neal
and Cary Jenkins
OUR HEROES
Sponsor Content