As founder of An Angel's Choice Adoption Agency Inc. in Sherwood, Michelle Oglesby educates people about private adoption and putting an end to misconceptions about it.
Now, she'll be educating people about the programs of Rotary International, "whose stated purpose is to bring together business and professional leaders in order to provide humanitarian service and to advance goodwill and peace around the world" -- as the first black president of the Rotary Club of Sherwood.
Wow, not bad for someone who joined Rotary only three years ago.
"My aspiration was being a Rotarian -- maintaining high ethical standards in one's business, one's profession and in ones' personal life -- and not just a member of a club," Oglesby says.
Oglesby was introduced as president during an installation dinner June 23 at Sherwood Forest. She took over from Sherwood Mayor Virginia Young, the previous president.
Oglesby's plans for the club is to continue its connection with the Sherwood Chamber of Commerce and be more visible in the community.
"Our theme this year is, 'Rotary opens opportunities,'" she says. "My plan for our club is to be instrumental in [utilizing] opportunities that come our way."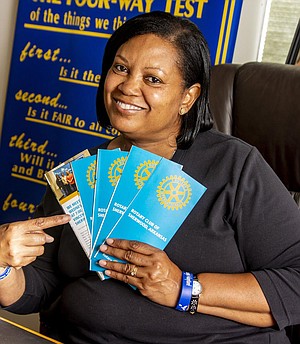 Photo by Cary Jenkins
Serving in office in the Rotary Club of Sherwood is a family affair for Michelle Oglesby, who is beginning her term as the first black president of the Rotary Club of Sherwood. Her husband, Mason Oglesby, is serving his second year as the club's sergeant at arms. (Arkansas Democrat-Gazette/Cary Jenkins)
She rejoices in the fact that Rotary is working on diversity in all its member clubs. The Sherwood club has welcomed members from various ethnic backgrounds within the last two years, she says.
Oglesby credits her spirit of volunteerism to being active in church. "I believe in tithing, not only my finances but also my time," she says. "I feel you should not have to get paid for everything you do in life."
PRODUCT OF THE WINDY CITY
A Chicago native, Oglesby moved to Memphis to pursue a modeling career. Her first stop in Arkansas was Malvern, where she relocated in 1999 with the company she worked for. She moved to Sherwood in 2000.
She became involved in Rotary when she and her husband, Mason Oglesby, were invited to attend an informational meeting in 2017. "What impressed me about Rotary was their three-word motto, 'Service Above Self,'" she says.
She was also impressed with Rotary's historic role in eradicating polio all over the world: As a founding partner of the Global Polio Eradication Initiative, Rotary has reduced polio cases worldwide by 99.9%, according to the Rotary International website.
The Oglesbys were voted into the Sherwood club in May 2017. Oglesby went on to serve on various committees and lend her hand to such activities as working the concession stand at a Sylvan Hills High School football game during All-Band night -- "we took over so the band parents could enjoy watching their kids play" -- and going to elementary schools to give books to the children to read over the summer. She's also enjoyed the Healthy Smiles project, by which a local dentist educates schoolchildren about the health of their teeth. Rotary members pass out stickers and toothbrushes, and "get a chance to see the kids' excitement about taking care of their teeth."
It was about a year after joining that Oglesby's thoughts began to turn toward leadership in Rotary. She was selected to serve as membership chairwoman, a board position, and was instrumental in doubling the club's membership before being voted president nominee. As a black person, Oglesby is a member of a small club-within-a-club: Rotary personnel research has revealed that currently, there are several other black presidents in Arkansas, including Charles C. Harris with the Little Rock Metro club.
MINISTRY OF HELPS
Also a former cosmetologist, Oglesby birthed An Angel's Choice from hers and her husband's desire to help women who face unplanned pregnancies. The agency offers private adoptions, including semi-open, closed and open adoptions.
Oglesby herself was adopted and tells her story on her website. For 13 months after her birth, she and her twin brother stayed in St. Vincent's Hospital and Infant Asylum, popularly known to Chicagoans as St. Vincent's Orphanage. She eventually learned that her birth mother, who was married and had other children, felt unprepared emotionally and financially to raise her brother and her. She also learned that her mother's wishes were that Oglesby and her brother would not be separated; that she choose their names; that they'd be placed in a good home; and they would not be told they were adopted. Oglesby goes on to tell how her adoptive parents had initially been looking to be foster parents, but her adoptive father "fell in love immediately."
"At the age of 12, we found out we were adopted from a kid, being mean, in our neighborhood," Oglesby shares on the website. "We didn't understand what this all meant for many things were not discussed with children in those days. After our parents explained our situation to us, it really did not affect us. We knew how much we were loved."
Not only was Oglesby adopted, but she also underwent trauma after undergoing an abortion at age 17 -- a decision she made in order to keep her parents from finding out about her pregnancy and trying to pressure the child's father into marrying her. She believes God took her ordeal and forged it into her destiny as one who helps young women who have chosen to put their babies up for adoption.
"I believe in adoption for so many reasons," she states on the agency website."It gives hope and solutions. However, it must be a choice and never forced."
And Oglesby can speak from experience not just as an adoptee, but an adopter. In addition to the son she and her husband have together, Oglesby has adopted her husband's daughter.
Since 2018, Oglesby has also offered temporary housing through Angel's Choice Haven to mothers who have been evicted or face homelessness and choose adoption for their babies. Oglesby helps them to further their education, seek employment and obtain permanent residency.
A GOOD MATCH
Oglesby's role as an adoption agency owner meshes well with Rotary service, which comes under six areas of focus. One of those focuses is maternal and child health. "I was able to speak to our club about adoption when I joined," she says. During the Christmas season, the club collected gift cards. The Haven received half of the gift cards to help provide food for a resident and her children.
Oglesby also is a strong believer in family and serving in office in the Rotary Club of Sherwood is a family affair. Mason Oglesby is serving his second year as the club's sergeant at arms. "This was his calling," since he'd served as a sergeant in the Army for nearly 30 years, his wife says. "The Rotary is a big part of our family life."