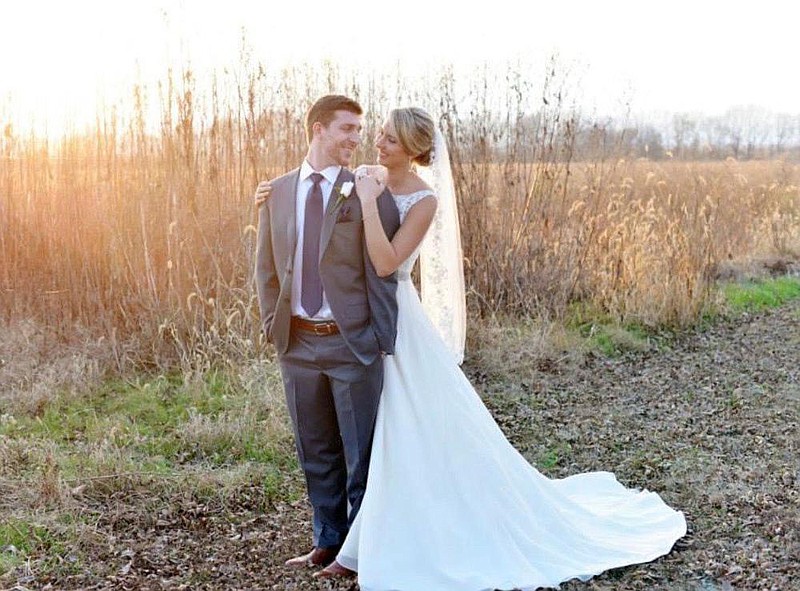 Michael Lunsford and Maddie Scarbrough were married on Dec. 13, 2014. "We planned for months before the wedding, then I re- member waking up saying, 'Hey, today is the day.' The next thing I know she is walking down the aisle, looking absolutely stunning," Michael says. (Special to the Democrat-Gazette/Autumn Swain Photography)
Michael Lunsford wanted to take Maddie Scarbrough to her sorority dance, but he couldn't wrangle an invitation.
Michael had seen Maddie at a party sometime before the dance, where he talked with one of their mutual friends and later asked for an introduction.
Maddie's friend gave her a heads up.
"We had our Delta Zeta spring formal coming up, and she came to me and said, 'There's this guy who is wanting to go with you, to be your date,'" Maddie says. "I actually did not end up taking him. I didn't know him yet."
Maddie and Michael were both freshmen at the University of Central Arkansas in Conway in the spring of 2009.
"I had thought maybe I could schmooze her into taking me," Michael says. "But she actually ended up taking one of my best friends, and he threw in some good words for me."
A week or so later, Michael sent Maddie a Facebook friend request, she says, and she accepted. They messaged back and forth for a bit but didn't actually meet face-to-face until they went on their first date a few days later.
She had seen pictures of him by the time they went out, however.
"He was a Sigma Phi Epsilon at UCA and they had just done their Boxer Night for their pledge class," she says. "I didn't go, of course, but I did see pictures and I thought he was really good-looking."
Maddie and Michael went to dinner and then to a small party at one of Michael's fraternity brother's off-campus house.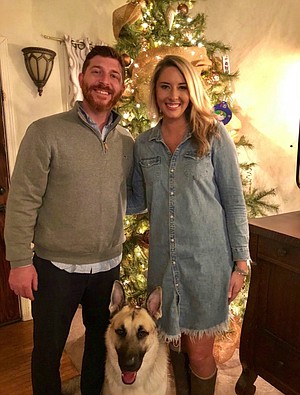 Michael and Maddie Lunsford met in 2009 after Michael tried to get Maddie to ask him out. "I thought he was really good-looking but I did not ask him to go to the dance with me because I did not know him yet," she says. (Special to the Democrat-Gazette)
"We really hit it off from there," she says. "It helped that I had heard about him by then from some of my friends, that he was a good guy and that he was fun to be around -- and he was."
They were a couple throughout college, doing the usual college couple stuff -- movies, eating out, hanging out at each other's apartments, spending time with friends.
"We didn't take it too fast," Michael says. "We just kind of hung out."
On one of their first dates, he says, Maddie insisted she could drive his truck.
"She had always claimed she could drive a stick shift, and she was trying to act all big and bad. I had a very large truck that was a standard," he says. "I remember sitting in the parking lot, jumping around like I was riding a bull because she was trying to drive this truck. At that point, I knew it was looking good for us because she was trying to impress me. I was trying to impress her. We were both trying hard. The effort was there."
When Maddie finished her undergraduate degree, she started a master's program in education. Michael, too, continued his education, studying for a semester in Canada.
Maddie started her first teaching job in the Little Rock School District in 2013. She and Michael had dated for about four years when he asked her to go camping at Petit Jean Mountain State Park over spring break.
"I remember thinking he was going to ask me then to marry him," she says. "And then the whole trip was over and I thought, 'Well, OK, I guess he's not."
Michael says her expectation is what put his plans on pause.
"Honestly, I'd had the ring for quite some time at that point and I wanted to make it special, but I also didn't want to do that cliché thing," says Michael, who was determined to make popping the question a surprise "She was all dolled up. She was ready for pictures. I felt like she knew too much."
The evening after they returned from their camping trip, Michael asked Maddie to go get something to eat and take a walk at Two Rivers Park.
As they strolled, Michael dropped to one knee and asked her to marry him.
"She was definitely surprised and yet, I think it was an emotional roller coaster ride. She was so geared up for it all weekend our emotions bottomed out and then all of a sudden they were right back up top," Michael says.
They exchanged their vows on Dec. 13, 2014, a date they chose because of sequential numbers, at Cypress Meadows Plantation in Howell.
"It's 12-13-14," she points out. "I thought, 'I'll never forget that.'"
There was only time for a quick honeymoon trip to Memphis right after their wedding, opting to spend the holiday season with their families -- hers in Searcy and his in Melbourne. They took a delayed trip to St. Lucia over spring break.
Michael and Maddie moved from Little Rock to Mississippi in 2018, but returned to Arkansas last year, settling in Mountain Home.
Maddie is a high school biology teacher and Michael is executive director of Plant Family Therapeutics. They are expecting a baby girl in November.
The wedding band Maddie wore when they married had belonged to her great-grandmother. Unbeknownst to Michael, his proposal fell on a significant date.
"Their wedding date was the day we got engaged -- March 26," Maddie says, "and it was engraved on that band."
If you have an interesting how-we-met story or if you know someone who does, please call (501) 425-7228 or email:
kimdishongh@gmail.com
More News
The first time I saw my future spouse:
She says: "I thought he was extremely good-looking."
He says: "I thought she was drop-dead gorgeous. And I really liked the way she carried herself like she didn't need anyone. She was independent and she was really smart."
On our wedding day:
She says: "It was the happiest day of my life and I was so excited just to get to walk down that aisle. But I also remember just being really hungry."
He says: "I was just trying to figure out how to slow time down. It went by so quick."
My advice for a long happy marriage:
She says: "I think a big part of it is just being supportive of one another and being there for each other."
He says: "Talk, about the goods and the bads — and the bads are probably even more important than the goods."
RIGHT TIME RIGHT PLACE
Sponsor Content