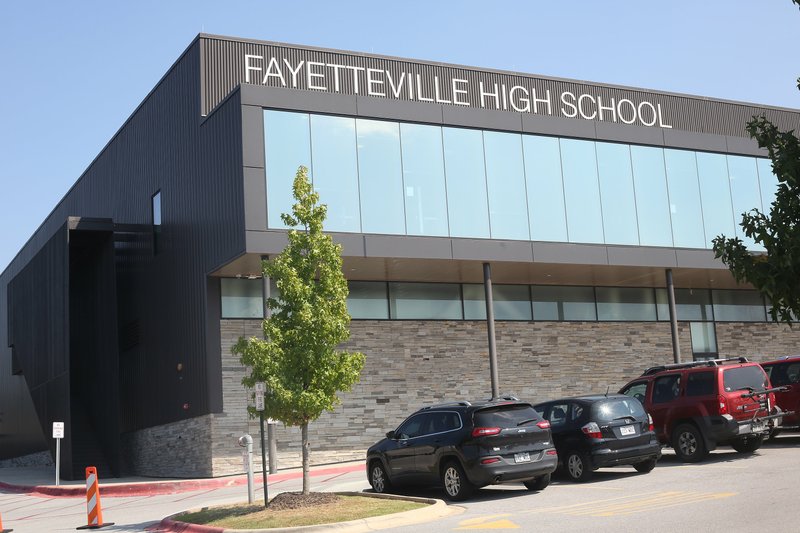 File photo -- Fayetteville High School ( David Gottschalk)
FAYETTEVILLE — The School District's class of 2020 will graduate this week.
Seniors will walk across the stage and receive their diploma in the school's performing arts center from 6 to 8:30 p.m. Thursday.
The School District hoped to have a more traditional ceremony at Harmon Stadium, but changed that plan in light of directives from the governor and the state Department of Health because of covid-19.
Each graduate will be allowed two guests. Graduates and their guests will enter the north side of the school building and follow a path to the performing arts center. Everybody must wear masks to enter the building, according to a district email.
Graduates will walk across the stage to receive their diploma while their guests walk along the base of the stage to take photographs. Graduates then will exit the stage and exit the building with their guests. Opportunities will be provided to safely take photographs prior to and after the ceremony.
Specific times have been established for graduate attendance in order to manage traffic. Graduates with last names starting with A through L will arrive at 6 p.m.; everyone else will arrive at 7:30 p.m., according to the email.
About 750 students from Fayetteville High School, Fayetteville Virtual Academy and the ALLPS School of Innovation are graduating this year; 500 have said they'll attend graduation, according to Holly Johnson, director of communications and public relations.
Seniors are asked to wear their graduation regalia to the ceremony. The event will be live-streamed. In addition to the live commencement, a recorded commencement video will be broadcast featuring student speakers and images of all graduates.
Print Headline: Fayetteville graduation set for Thursday night with virus directives
Sponsor Content