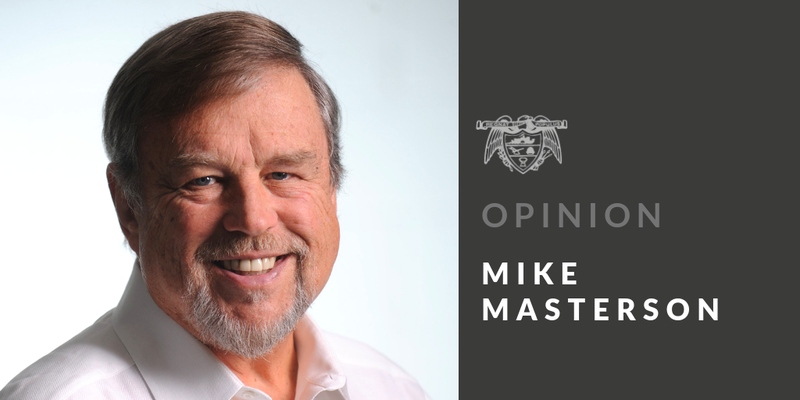 Over the two decades I've been writing this column, the topic of expectations and the crucial role they play in our relationships occasionally get the attention they deserve.
I enjoy sharing my observations of living our daily lives side by side, and today's opinion is yet another reminder.
Other than our choices, the expectations we establish in others or harbor from those they set in us abide throughout existence.
I revisit this subject because it seems to me that we (myself included) can benefit by continuing to recognize how often we set ourselves up for frustration and resentments, or generate similar feelings in others, because of inflated or unrealistic expectations.
This constant interaction of expectations--met or set--occurs often without even realizing what just happened. Think of inhaling, then exhaling.
I've spent a lifetime reminding myself that I'm my own worst enemy when it comes to what I come to expect, based on what already has happened, along with the expectations I inadvertently set for others.
For instance, in decades long past I would call a teenage girlfriend every day for weeks. In the process I never realized my actions were setting these daily calls as her expectation.
When I failed to call for a couple of days, she accused me of growing weary of dating her, which wasn't true. Yet I'd broken her expectation pattern without realizing I'd been thinking only of myself. How would I have felt standing in her shoes?
Conflict is inevitable, say, when for months I repeatedly expected a roommate to put their dirty dishes in the dishwasher. Yet that seldom, if ever, happened, creating a recipe for resentment in me, the one who set that unrealistic expectation.
Let's say you send someone flowers on the first Sunday of each month for a year, then miss a Sunday. You can expect to explain your lapse.
This fact of life and relationships endures throughout daily interactions, especially among family, friends and even our pets. If we feed our pound pup Benji at 5 each evening, he begins following us around at a quarter-till and becomes upset if we break the pattern we established for him. His expectations aren't his fault. He's also grown accustomed to heading to the bedroom at an appointed hour. If we aren't making moves in that direction five minutes beforehand, he becomes antsy and indignant that we'd thoughtlessly violate his expectations.
I still remember how disappointed I became when as a child my father took me to Crooked Creek each Saturday for one month then dashed my expectations when he changed his pattern.
It was difficult for a child's mind to grasp why we weren't still heading for the creek on Saturdays. Understanding and accepting the concept of inflated or unrealistic expectations we carry can help make life's relationships more understandable.
One Christmas, we filled half a living room with gifts for the kids, not realizing we were setting unrealistic expectations. Being a good-time Santa felt great. But from that morning on, fewer than 20 gifts each was considered a disappointing Christmas.
When I bought my son an absurdly expensive pair of Air Jordan tennis shoes when he was 12, I'd also inadvertently established his inflated expectation at that level of shoe. Any lesser shoe was a disappointment.
It can be difficult in the throes of impulsive decisions and actions that feel right at the moment to recognize I'm continuously setting expectations. Caught up in the moment, few of us can climb outside ourselves to objectively consider the ramifications of our choices as others perceive them.
I recall a close friend who took mercy on car-less me in high school by inviting me and my girlfriend to double-date with him and his steady every Friday night. After weeks, I'd come to rely on his thoughtfulness until the inevitable weekend arrived when he didn't ask.
Seems he wanted an evening alone with his lady without four eyes watching and listening from the back seat. Imagine that! The youthful, hormonally charged reaction would have been to become resentful over having my expectations dashed. Today, however, I'd feel thankful he had long been surrendering his alone time to be a friend.
The key to overcoming disappointment and frustration became evident when I finally recognized that, because someone offers a thoughtful gesture, or words or actions--even many times--I shouldn't unrealistically expect it to continue.
Something as simple as regularly sending thoughtful messages to another can lead them to react emotionally should you break your pattern for whatever reason.
I always have to remember when it comes to others with whom I'm involved that it's ol' Mike who is regularly setting expectations in good people around me. So are you. We all are participating in this all too human interaction, and it pays to recognize what's happening.
Now go out into the world and treat everyone you meet exactly like you want them to treat you.
--–––––v–––––--
Mike Masterson is a longtime Arkansas journalist, was editor of three Arkansas dailies and headed the master's journalism program at Ohio State University. Email him at mmasterson@arkansasonline.com.
OPINION
Sponsor Content