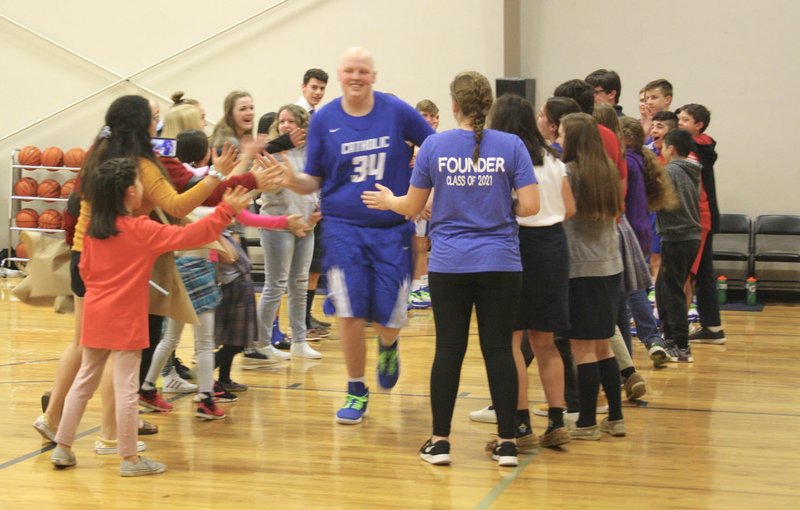 Matthew Moix is greeted by fans while taking the court for Ozark Catholic in its final basketball game of the season. It was the only appearance of the year for Moix, who is cancer free after being diagnosed with Non-Hodgkins Lymphoma on Aug. 23. (Photo submitted/Alesia Schaefer)
The first signs something was terribly wrong occurred when Matthew Moix was sitting in class at Ozark Catholic Academy and passed out.
Twice.
"He passed out two days in a row and couldn't hardly breathe," Ozark Catholic Academy coach and athletic director Cody Vaught said. "We sent him to the medical center in Springdale, and they said, 'We don't like the looks of this.'"
That initial diagnosis raised concerns for Moix, a seemingly healthy student-athlete who plays center on the school's basketball team. Moix was directed to Little Rock for addition tests at Arkansas Children's Hospital, where Moix and his family learned he had non-Hodgkin's lymphoma.
It was Sept. 23, a day he'll always remember.
"For about five days in the hospital, we were sitting there not really knowing what the particulars were," said Moix, a 17-year-old who stands 6-feet-6 and weighed over 300 pounds at the time. "When we got the diagnosis, that's the day I finally broke down and cried."
The American Cancer Society describes non-Hodgkin's lymphoma as "a cancer that starts in white blood cells, which are part of the body's immune system. When the cells begin to grow out of control, cells in nearly any part of the body can become cancer and spread to other areas." The doctors developed a plan to combat the disease and told Moix and his family there was a 95 percent chance he could beat it. Still, Moix had to undergo six chemo and radiation treatments.
He lost his hair, lost over 30 pounds and missed over four months of classes at Ozark Catholic Academy, a second-year independent school in Tontitown.
Playing basketball this season was thought to be out of the question for Moix, who started as a sophomore and averaged a double-double in points and rebounds for a team that finished 14-5. Moix knew fighting cancer was the fiercest opponent he would ever face, and he did everything he could to fight off the disease.
A victory was proclaimed nearly six months later on Feb. 13 when he received a call from his doctor saying he was cancer free.
"We got the call from my oncologist, and she said no cancer cells were still alive," said Moix, who lives with his family in Rogers. "We did a scan two days before that showed a small mass, but this new scan confirmed there were only dead cells."
Moix was still very weak, physically, after undergoing cancer treatment, and he was far behind in his studies, despite taking some online classes for school. Vaught knew the news Moix was cancer free deserved much more than a high-five or a slap on the back, so he devised a plan to welcome back this special student-athlete.
Moix dressed out in his blue No. 34 uniform, jogged onto the court, and scored a basket in the final game of the season when the Griffins beat Arts Academy of Rogers, 62-43. In a rare show of unity in sports, fans from both schools stood and cheered when Moix made a quick exit after scoring the first basket of the game.
"He was only out there for a few seconds, and we pulled him out," Vaught said. "He got a standing ovation from everyone that lasted over a minute, and that was so cool to see. He was getting hugs from all the players, and I told him to turn around and absorb that support when everybody was cheering. It was a special night."
Ozark Catholic is one of the newest members of the Arkansas Activities Association, and the Griffins will be placed in the 1A-West Conference and be eligible for postseason play for 2020-21 calendar year. Moix has much work to do in his recovery, but he plans to be back at center and playing again with his teammates this coming season.
"Physical recovery from this disease is about a year," Moix said. "I'm still going through physical therapy and trying to regain a lot of the muscle mass I've lost. That'll help speed up the process, and I plan to be back with the team when it's our senior year and the first year we'll be eligible to go to district, regionals and state."
Cancer is a cheater that will strike anywhere and at anyone, sometimes repeatedly, even when advances are achieved. Obstacles are ahead, but Moix is confident his faith, family and friends will help carry his through.
"I've said to our team many times, 'If Matthew can go through this, we can get through anything,'" Vaught said. "He has an attitude of gratitude, and we use his example as an inspiration in every day life."
Preps Sports on 03/01/2020
Print Headline: Moix battles back after fight against Non-Hodgkins Lymphoma
Sponsor Content