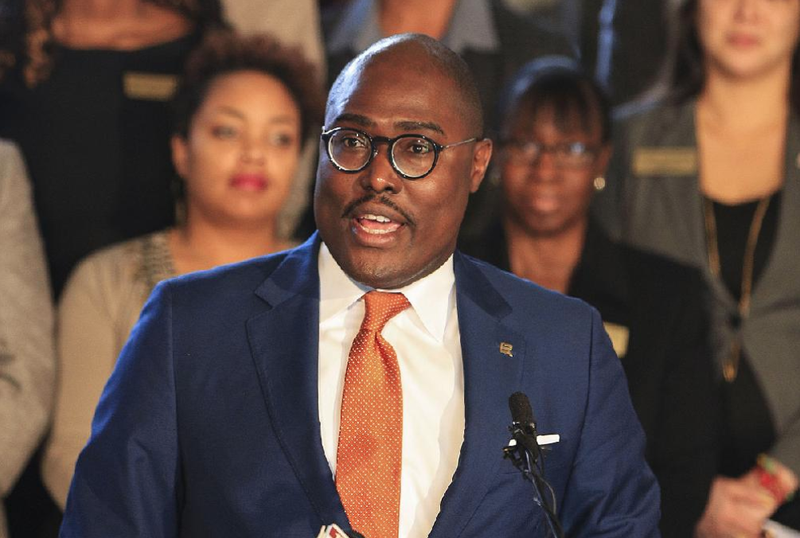 Little Rock Mayor Frank Scott is shown in this file photo. ( Staton Breidenthal)
Mayor Frank Scott Jr. has declared a state of emergency for the city of Little Rock and announced the cancellations of three large events that were scheduled in the coming weeks.
In a tweet Thursday morning, Scott said the verbal declaration is preemptive and allows the city to receive additional resources from the state and federal governments, if needed. He added that a formal written declaration will follow later today.
The mayor also announced that the city will reschedule three events that were set to take place in the next 60 days and were expected to have at least 200 attendees, "out of an abundance of caution." The events are the Little Rock Police Unity Ball, hosted by the local Fraternal Order of Police and Black Police Officers Association chapters; the Sustainability Summit, a conference focusing on local sustainability efforts and education, and Rights After Wrongs, an event connecting people returning to society from incarceration with resources.
A forum the city's Racial and Cultural Diversity Commission was scheduled to hold tonight on race and policing is also postponed, according to a post on the event's Facebook page.
About two hours later, Scott announced additional preventative steps the city is taking in response to the potential spread of the virus.
Starting Friday morning, city community centers, including the Centre at University Park and the Ottenheimer Therapeutic Recreation Center, will close through March 30. Senior citizen programming held at the centers is suspended until further notice.
Events that have been scheduled at the Centre at University Park that have up to 200 attendees will be held as scheduled, the mayor's office said.
The Jim Dailey Fitness and Aquatic Center will also close, according to a news release from the city.
Little Rock Zoo indoor buildings will be closed to the public through March 30, though outside exhibits will remain open. Indoor programming and events at the zoo have been canceled.
City events with expected attendance of 200 or more are being rescheduled. The Little Rock Sustainability Summit, scheduled for April 2, will be held virtually via the city's YouTube channel.
In a written statement, Scott urged event organizers to follow suit and reschedule all events with an expected attendance of over 200 that will put people in close proximity to each other within the next 30 days.
Click here or visit arkansasonline.com/cancellations for a full list of coronavirus-related cancellations in Arkansas.
Read Friday's Arkansas Democrat-Gazette for full details.
Sponsor Content