Canopy Northwest Arkansas, the refugee resettlement organization based in Fayetteville, was founded about four years ago by a group of ordinary -- but determined -- people who wanted to contribute to positive change in their community.
Many of those instrumental in forming the organization were members of Good Shepherd Lutheran Church, where Canopy's first offices were. Since its inception, Canopy NWA has helped to resettle 172 refugees, says Hannah Lee, director of community engagement. The organization is also making progress on its newest goal -- to provide wraparound services to families for up to five years, something they call the "Long Welcome" plan.
How to help
Canopy NWA needs volunteers for co-sponsor teams as well as for positions that require less of a time committment. For more information, visit canopynwa.org.
"It's a very holistic, wraparound model, and the goal is that we would be able to walk alongside our clients so that they're fully adjusted, fully equipped to build new lives in Northwest Arkansas or wherever they choose to go," explains Lee.
Canopy NWA works exclusively with refugees.
"A refugee is a person who is unable or unwilling to return to his or her home country because of a 'well-founded fear of persecution' due to race, membership in a particular social group, political opinion, religion or national origin," the organization explains on its website.
"This means that in order to be a refugee, you can't just be in any type of danger -- you must be in danger because of who you are."
Canopy works through the U.S. Refugee Admissions Program, which has its beginnings in the Refugee Act of 1980 passed under former President Ronald Reagan.
One of the biggest challenges the organization has faced over the years is the continuing decline in the number of refugees allowed entrance to the United States. Under the Trump administration, that number dropped for the third consecutive year in 2019 to an all-time low of 18,000. For comparison, the Obama administration set a target of admitting 110,000 refugees to the United States in its final year.
"When that cap was lowered, we had refugees who were in the pipeline to come [but] weren't able to because of that lower number," says Lee. "It hurts to see that [their] travel was booked -- in some cases, they get to the airport and their trip is canceled. It stings. Those are human beings on the other side of that travel booking, and they were so close to starting a new life."
Lee says her organization has felt the effects of a growing wariness among some in the nation toward refugees and immigrants. Education is the key to overcoming any doubts or fears those in Northwest Arkansas may have over the organization's work, she says.
"It's not a partisan issue, it's not political -- it's a human issue," Lee says. "People from all sides, all demographics, all faiths support refugees. But a lot of times, people are afraid that the refugee resettlement process is bringing in dangerous people. We get a lot of questions like, 'How do you know that the people coming through aren't terrorists or sleeper cells?' And that's a valid question. If you're not familiar with the process as a whole, I can understand why it could be scary. But the refugee vetting process is, literally, the most thorough vetting process that exists in the United States. On average, it takes about two years for the refugees to go through it. It consists of about six background checks, and eight different agencies are a part of it. Since the program started under Reagan's administration, there hasn't been a single act of terrorism on United States soil by anyone who was resettled under this program."
In addition to lowering the cap, the Trump administration also opened a pathway through which state and local governments can refuse to allow refugee resettlement in their area. Arkansas Gov. Asa Hutchinson, however, supported refugee resettlement in a letter he released in December.
"Arkansans have a history of welcoming refugees," said Hutchinson in the letter, which was directed to U.S. Secretary of State Mike Pompeo. "While we fully support control of our borders and oppose illegal immigration, we also value the contribution of immigrants and understand the importance of America continuing to be a welcoming nation for those truly seeking refuge and following the legal path to our land."
In January, in an appearance in front of a legislative committee, Hutchinson commented on the economic advantages Arkansas has seen as a result of refugee resettlement.
"If we say 'no' to them, then we lose the talent, the entrepreneurship and humanity of those who love America," he said. "Yes, they can go elsewhere, but Arkansas will benefit from their presence."
"We also [hear] the fear that refugees are coming in and taking jobs, when all of the evidence points to the contrary," says Lee. "So many studies have shown that the refugees are good for the economy. Ninety-eight percent of our households were financially self-sufficient by day 180. We've had families who have started small businesses and purchased their own houses. There's a national statistic that says that 13% of refugees are entrepreneurs, compared to 9% of U.S. natives. We've seen that just in our own small pool of refugees -- three of our families have started small businesses."
Canopy currently operates with a staff of seven, but, says Lee, they would not be successful without the teams of volunteers who operate as co-sponsors for each family relocated to Northwest Arkansas. These teams are usually made up of eight to 12 community members who will help furnish their family's living area and spend 90 days walking them through the process of adjusting to life in America.
A Photo Inspires A Desire to Help
Teresa Cornett was reading the news of the day when disturbing photos of immigrants who had drowned trying to flee their war-torn homeland stopped her. For Cornett, it brought the plight of the immigrants into stark relief and prompted a visceral, horrified reaction.
"My initial thought was, 'We can't sit here and see these things on the news and not get involved,'" she says.
She started investigating how she could help, and, when a friend happened to be in a coffee shop where Canopy founders were chatting, she and husband Alex -- along with other members of Grace Church, which she attends -- signed up to help.
Cornett says her church's efforts were large from the beginning. Canopy has a request that co-sponsor teams raise $1,200 and perform certain functions for the refugee family, she says. Those actions include outfitting their apartment.
"We had so much interest that we had donations totally covered, and we had enough people for two co-sponsor teams. We had all this stuff gathered up at church for an inventory -- pots, pans, skillets and other things -- and then mysterious stuff would show up each week. We had to inventory it about five times because people kept donating. Finally, we had our items to put together an apartment, which was super fun -- it was like being on a HGTV show," Cornett says.
Cornett and her team were assigned a family of 11 from the Democratic Republic of Congo. The family's patriarch and matriarch had lost their son and his wife when militiamen broke in, murdered the couple and kidnapped the patriarch, who was beaten nearly to death and left on the side of the road. The family, which includes the orphaned twins of the murdered couple, was able to reunite at a refugee camp.
Cornett says the co-sponsor team is involved in a wide range of the family's day-to-day activities.
"There's a lot of going to agencies and filling out paperwork," she says. "Going to get their Social Security cards, going to the DMV to get an I.D. card, picking up the driver's education booklet and starting to study that. This family had two boys in their 20s that had bikes that they rode from their apartments off of Wedington to the Chancellor Hotel, where they were working in housekeeping, so we did some bike safety instruction, too.
"We took them shopping -- going to Walmart with them, having them see what all was available for the first time, was very humbling. To have them say, 'What's all that?' and answer, 'Well, that's all pet food' -- we had a big discussion about pets. It's like learning to drink from a fire hydrant -- it has to be so exhausting, just listening and trying to understand a language you don't know very well."
Cornett says she's had a few questions along the way about why she would want to get involved with refugee resettlement.
"I was in a conversation recently with someone, and they said, 'Don't you think we should help our own first?' and I said, 'You know, it's not an either/or.' I'm involved with the Court Appointed Special Advocates program, and I fill up our church's Little Free Pantry, too. I'm not limited in being able to help others or show concern and love for other people in our area. I feel sort of like if everybody would do something, it would all get done."
'They're so Proud to be in this Country'
Volunteer Jacob Hudson was similarly motivated after watching a documentary about the Syrian refugee crisis.
I thought, 'I really want to do something to help,' so I started researching and Googling 'refugees', 'how to help', this and that -- and I came across Canopy. They were just forming and were looking to do some work in Northwest Arkansas."
Prior to becoming a co-sponsor, Hudson volunteered as a driver for the organization, where he met a woman who had been resettled to Northwest Arkansas from the Congo by Canopy. When she asked to be driven to his church, Cornerstone Church of Christ, Hudson and other members of his church befriended the single mother of eight and helped her integrate into her community. Now, he and a 12-person team made up of friends from church have been co-sponsoring a refugee family from Colombia since December.
"The day before they arrived, we went and set up their apartment, furnished it, stocked it, provided them with their arrival meal and their first three days worth of food," says Hudson. "Some of our team met them at the airport, and many were at the apartment to greet them. I and the co-leader met with them the next day for their intake meetings at Canopy, and since then, we've been with them every step of the way -- taking them to shop, buy groceries [and] second-hand clothing, teaching them how to ride the transit system and giving them assistance where we can. Essentially, helping them learn their way in America."
Hudson says he can't help but notice how much these new community members appreciate their surroundings.
The single mother from the Congo "lived in a refugee camp for 11 years in Uganda -- the average is 17 years," he notes. "The ones that have been in the camps that long -- it's a bad experience. They've been through a lot, they've seen a lot of things and endured a lot of hardship. She's working in a chicken plant, a single mom with eight kids living in a duplex. I look at her and I say, 'You've got it hard, I feel bad for you,' but her mindset is, 'I'm living in America, life is so good, much better than a camp, and my kids have doctors and get to go to school here.' She sees things so differently."
After working with the organization for some time now, Hudson says he has a ready answer should people wonder why he's motivated to do this kind of volunteer work.
"There are all kinds of things refugees bring to our community," he says. "From a purely economic standpoint, all of the refugees that I'm aware of who were brought to Northwest Arkansas are employed, tax-paying [members] of this community. They're often employed in jobs that are difficult to fill with our labor market here. But besides that, the social aspect -- they bring a different outlook on life to us. You look at someone who lived in a refugee camp for 11 years and think, 'How can they be happy?' Well, their happiness is not coming from what they have or what they've done -- it comes from the fact that they're alive, with their family: the simple things we take for granted. People can find joy in the midst of the worst things life can throw at you."
Hudson says the young boys who moved here from the Congo have joined his church's youth group and taught his own sons so much about life in a different country.
"It gives a lot of perspective in life when you hear those stories.
"This is their second chance in life," he concludes. "They've been to the basement and now they're getting this opportunity. They've been vetted for two-plus years by our government. They love our country. They love America. We took both families to a Lady Razorback game and when the National Anthem played, they stood up. They're so proud to be in this country. That's what I want people to know."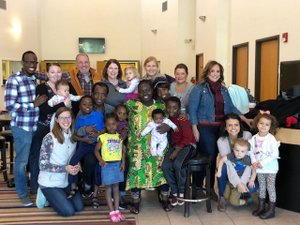 Teresa Cornett says that one of the most meaningful parts of the process was picking up the family they co-sponsored at the airport. "It really gets me," she says. "We made posters, we were holding welcome signs, we had learned to say 'Welcome' in Swahili. We had little American flags and some red, silver and blue Mardi Gras beads. ...They looked hopeful and excited, but exhausted. They had been traveling for 24 hours. I looked into the mom's eyes, and I tried to think what it must be like for her to come here."
NAN Our Town on 03/12/2020