More than 500 people in Arkansas have now been confirmed to have covid-19, the Arkansas Department of Health said Monday evening.
Figures on the agency's website shortly after 7 p.m. show there are 508 known coronavirus cases within the state.
Earlier Monday, officials announced that a seventh person, 83-year-old Alice Jett, had died from the virus. Jett was among the 37 residents at the Briarwood Nursing and Rehabilitation facility in Little Rock who have been infected with covid-19.
The latest Health Department figures show 32 people have recovered in the state while 5,520 people who have been tested were found not to have the virus.
See more details, including county-by-county numbers, here: arkansasonline.com/arvirus/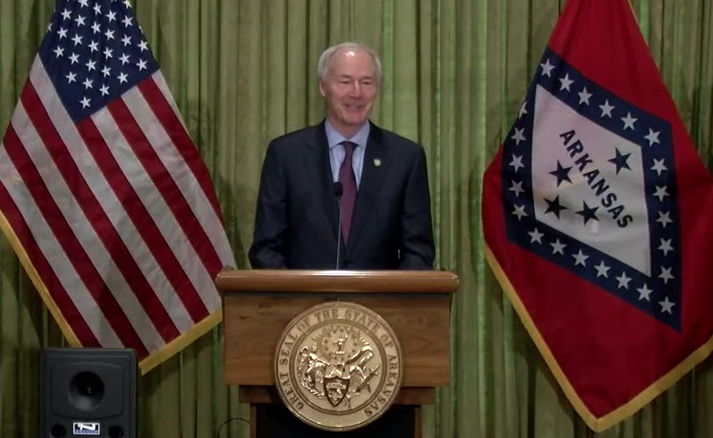 Arkansas Gov. Asa Hutchinson speaks to reporters Monday at the state Capitol in Little Rock in this screen grab of video provided by the governor's office.
3:07 P.M.: State's 473 coronavirus cases include spread to new nursing home, county
Health Secretary Nate Smith said of the state's 473 known coronavirus cases, 17 are children under 18, 307 are adults 19-64 and 149 are aged 65 or older.
Healthcare workers account for 73 of the cases, and Smith said 62 coronavirus patients were hospitalized as of Monday, including 21 on ventilators. 
Another nursing home in the state is known to have at least one case, Smith said, bringing the total of such facilities with at least one positive staff member or resident to five. 
Alice Jett, 83, is the state's seventh death overall and the first confirmed death among the 37 residents at the Briarwood Nursing and Rehabilitation facility in Little Rock who have been infected with covid-19.
The Pulaski County coroner said Monday that Jett was transferred Sunday from the nursing home to St. Vincent.
Gov. Asa Hutchinson announced Monday a case was discovered in Arkansas County, marking its first.
Smith said he has received a number of questions about how to handle outdoor sports and recreation amid the virus. Generally, Smith said getting outside is good unless people congregate in groups or must be close together to play a given game.
He advised playing sports where competitors can stay at least 6 feet apart, such as tennis, are OK.
Arkansas Department of Parks, Heritage and Tourism Secretary Stacy Hurst said she wants state parks to remain open, and they have changed day-to-day operations to limit any potential spread of the virus. 
Most indoor facilities such as museums, visitors centers and lodges are closed, she said, and check-in for campsites has also become contactless.
Park rangers and other employees will be circulating parks, Hurst said, to ensure people are not congregating in large groups and are practicing social distancing.
– Nyssa Kruse
2:40 P.M.: Lawmakers approve governor's request for $45M from covid-19 fund
Gov. Asa Hutchinson announced Monday that legislative leaders approved his administration's request to tap $45 million from the covid-19 rainy-day fund that the General Assembly created in a special session last week.
The General Assembly last week authorized the transfer of $173 million in surplus money to the newly created fund.
Larry Walther, secretary of the state Department of Finance and Administration, said in his request to House and Senate leaders that the funds are needed to assist in the state's response to the covid-19 crisis.
[Video not showing up above? Click here to view » https://www.youtube.com/watch?v=okcObtxiTnQ]
He said $30 million of the request will be used to purchase personal protective equipment for the state's hospitals, first responders, community health clinics and others whose work is critical to the response to the ongoing crisis.
An additional $13.5 million will be used to purchase more ventilators and associated parts and equipment as well as any shipping or freight charges required to equip the state's hospitals with this life-saving equipment, Walther said.
Another $1.5 million will be directed to the Arkansas Department of Health to support a public awareness and communications campaign aimed at keeping citizens informed with timely, accurate information, he said.
Walther said that the recently enacted provisions of the federal CARES Act may allow the state to claim the requested funds as costs associated with the state's response to the covid-19 crisis and to be fully reimbursed.
– Mike Wickline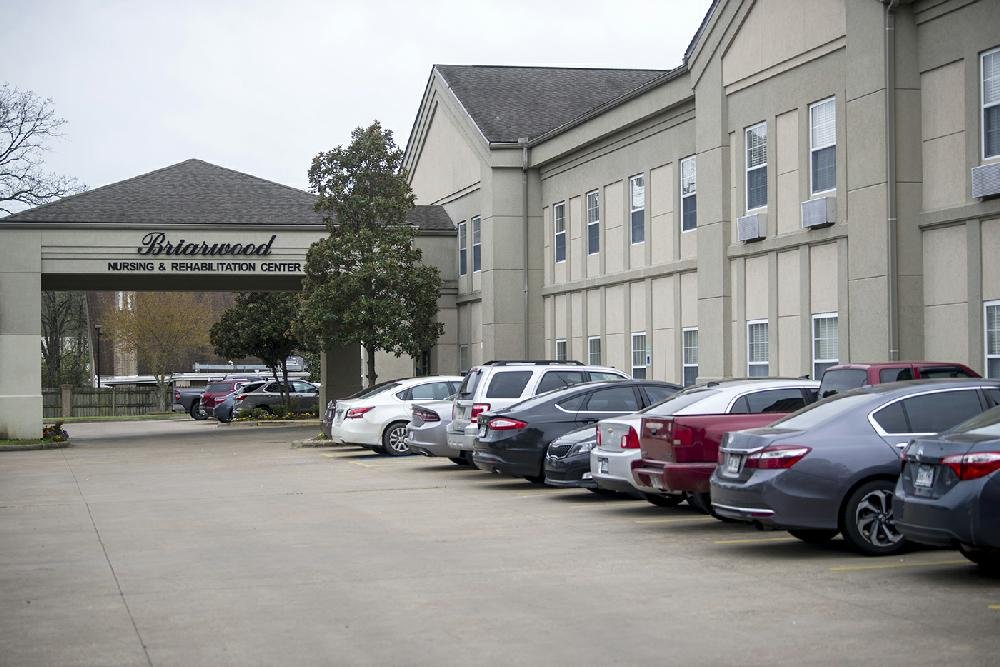 Briarwood Nursing and Rehabilitation in Little Rock is shown in this file photo. (Democrat-Gazette file photo)
1:48 P.M.: Nursing home resident is 7th person to die of coronavirus in Arkansas
Gov. Asa Hutchinson said Monday afternoon that a seventh person had died from coronavirus in Arkansas and there are 473 cases in the state.
The seventh known victim died Monday morning at CHI St. Vincent Infirmary in Little Rock, according to the Pulaski County coroner.
Alice Jett, 83, is the first confirmed death among the 37 residents at the Briarwood Nursing and Rehabilitation facility in Little Rock who have been infected with covid-19.
Pulaski County Coroner Gerone Hobbs said Monday that Jett was transferred Sunday from the nursing home to St. Vincent.
Jett's daughter, Penny Boyer, told the Arkansas Democrat-Gazettelast week that Jett suffered from Alzheimer's disease and Parkinson's disease with dementia. She had lived at Briarwood Nursing and Rehabilitation for approximately five years.
Jett retired after 30 years working for the Little Rock Police Department, first as a meter maid and later as a 9-1-1 supervisor, according to her children.
"My mother was a great person," her son, 61-year-old George Jett of Sherwood, said in an interview Monday.
The family was grateful for the quality of care Alice Jett received from medical personnel and staff at Briarwood, with her son describing her treatment as "wonderful."
"They have been so good down there, treated her so good," George Jett said. "And it's very rare when a doctor calls you, she cries when your mother's that ill."
After Jett tested positive for the coronavirus the weekend of March 20, her health deteriorated over the following days. Days after the test result returned positive, she was running a fever and would not wake up. By Friday, she had been placed on a ventilator because she was experiencing difficulty breathing.
The last time Boyer saw her mother in person was late February, before the nursing home, like others in the state, closed its doors to all visitors except essential medical personnel.
Jett, who was divorced since 1969, is survived by her three children and 12 grandchildren and great-grandchildren, according to George Jett.
"She was a sweet woman, you know," George Jett said. "Just a lot of sickness over the last few years. And with the weakness from the Parkinson's and everything she had, this virus just finished her off."
As of this weekend, 37 residents at Briarwood, including Jett, and 11 staff members, had tested positive for the coronavirus. Five residents of three other Arkansas nursing facilities have tested positive for the coronavirus.
Earlier this month, Arkansas Department of Health Secretary Dr. Nate Smith said that a Briarwood resident was transferred back to the facility from an area hospital, where the individual was tested for coronavirus while being treated for another health issue.
The transfer back to Briarwood occurred before the resident's test result came back positive, Smith said.
Check back for updates and read Tuesday's Arkansas Democrat-Gazette for full details.
– Eric Besson and Joe Flaherty
Sponsor Content