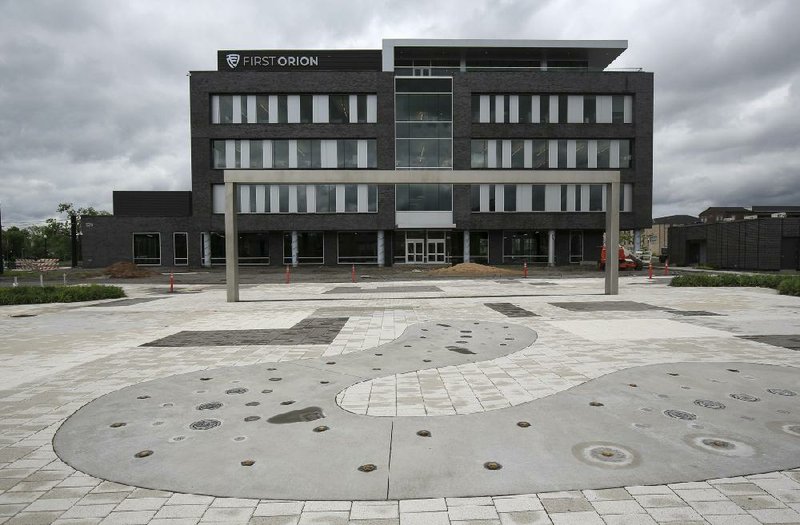 First Orion employees are starting to move into the company's new building in downtown North Little Rock. The 75,000-square-foot facility is at Argenta Plaza on Main Street. (Arkansas Democrat-Gazette/Staton Breidenthal)
First Orion is easing employees into its new headquarters building in downtown North Little Rock, a move that city boosters hope will spur economic activity in the Argenta area.
The company has started moving about 200 employees into the 75,000-square-foot facility, which has Argenta Plaza as its front yard. North Little Rock invested $5 million to develop the plaza as an open-air space for residents and workers employed in the area.
"Having First Orion in the Argenta Plaza is a real game changer for downtown North Little Rock," said John Owens, president and chief executive officer of the North Little Rock Chamber of Commerce. "Having 200 new employees downtown working and living is a real boost to the local economy. Our restaurants, breweries, theater and comedy club all will benefit."
First Orion Chairman and CEO Charles Morgan and the executive team are leading operations from the new facility, and a handful of employees have joined them. Other employees will begin work at the facility in the coming weeks as the company transitions from restricted work conditions related to the coronavirus pandemic.
[CORONAVIRUS: Click here for our complete coverage » arkansasonline.com/coronavirus]
"We're pretty much all in," Morgan said from the Argenta headquarters on Friday. "We're trying to get more people back to work, and more and more are coming in every day."
Full-scale operations, he said, will depend on health and safety recommendations regarding the reopening of the Central Arkansas economy. "We will get employees in here as soon as we can," he added. First Orion has been operating in temporary office space in the Little Rock River Market.
The five-story headquarters is an $18 million investment that highlights growth in Argenta and is a showcase for North Little Rock, officials said.
The area has drawn attention from Tusk & Trotter and Trash Creamery ice cream parlor, two Bentonville eateries that have said they will expand with new operations in Argenta. Tusk & Trotter is scheduled to anchor First Orion's ground floor along with a fitness center.
[RELATED » Interactive: Economic impacts of covid-19 » arkansasonline.com/economy/]
"This is truly the beginning of the Argenta business district," North Little Rock Mayor Joe Smith said in welcoming news of First Orion's move.
Argenta Plaza, which formally opened on Nov. 30, sits squarely on Main Street between Fifth and Sixth streets, a few blocks from City Hall. The area was developed to be a magnet for retailers and restaurants.
"We are already seeing the benefits of their arrival in attracting other new businesses to our community," Owens said of First Orion's opening.
First Orion, founded in 2008 by Morgan, has about 225 employees with global operations that include offices in Seattle, London and Dubai. The company uses artificial intelligence and data analytics to block spam calls and to help ensure important messages reach customers.
Wireless provider T-Mobile has been First Orion's largest customer, and that business opportunity will expand with the carrier's merger with Sprint. "That will pretty much double our footprint in the U.S.," Morgan said.
Annual payroll is about $10 million for the privately held company, with annual revenue of about $46 million.
Business on 05/09/2020
Print Headline: First Orion slowly moves in
Sponsor Content