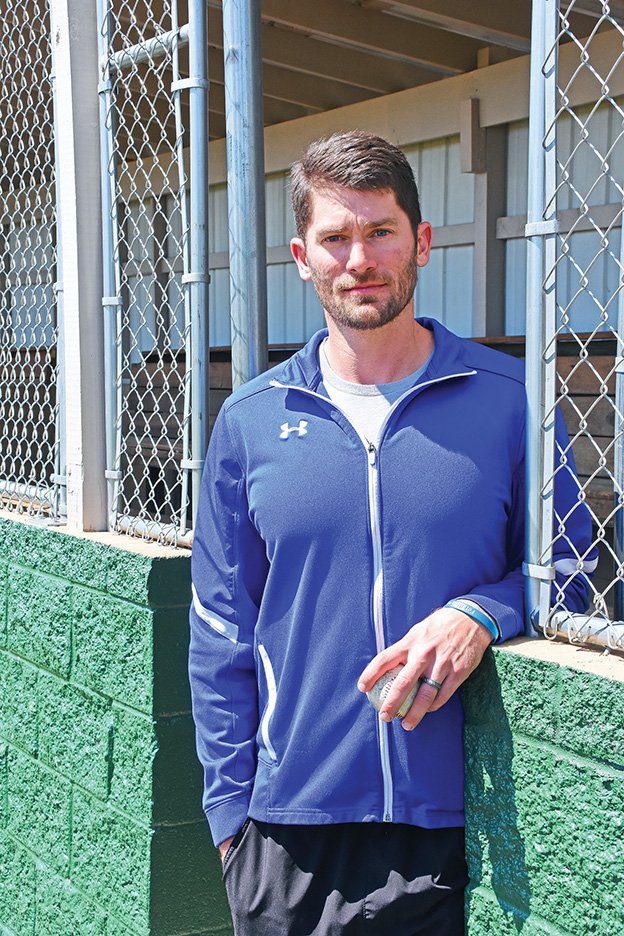 Leighton Hardin is the new head baseball coach for Conway High School. He replaces Noel Boucher, who coached the Wampus Cats to two state-championship wins. Prior to coming to Conway, Hardin was the head coach at Lakeside High School in Hot Springs for five years. ( Staci Vandagriff)
Leighton Hardin is no stranger to replacing a legendary coach.
Hardin was recently hired as the new baseball coach at Conway High School, replacing former head coach Noel Boucher, who started the district's program in 1985. Boucher's assistant, Barry Lueders, will go out with him.
Under Boucher, the Wampus Cats finished with a .724 winning percentage, 17 conference championships, 29 consecutive state-tournament berths, six state-semifinal appearances, nine state-final appearances, two state championships and zero losing seasons.
"It is an odd thing in today's world for a coach to stay at a school for so long. You don't see it," Conway Athletic Director Clint Ashcraft said. "It was a tough deal, the whole process [of hiring a new coach].
"We didn't get to celebrate the careers of Coach Boucher and Coach Lueders. A lot of things were planned to celebrate the 35 years, and [it was disappointing] having to replace both of them and not getting to [celebrate like] we had hoped to do."
Boucher is set to retire in May. This spring would have been Boucher's final season, but it didn't happen because of the COVID-19 pandemic.
"It is important to embrace the tradition [that Noel] Boucher built," Hardin said. "He accomplished a lot of good things in Conway."
Hardin was in a similar spot when he was hired at Malvern in 2010 and took over for Darryl Baker, who had won more than 600 games for the Leopards.
"It is the same situation when I was at Malvern and took over for Darryl Baker. He was the only coach Malvern had ever seen, and I embraced the situation. You can't worry about who you are playing. You just have to go out and be who you are, and at the end of the day, you have to be true to yourself."
"It is a difficult situation," said Brian Golden, superintendent for the Malvern School District. "You are following a guy who's had so much success.
"With [Leighton's] work ethic and personality, and the way he works as hard as he can to get it done, the kids will adjust to the experience and will buy in to his success."
Golden hired Hardin as Baker's replacement and said Hardin is a high-integrity person and a hard worker.
"He is very competitive," Golden said. "He's going to be one of those guys to turn over every stone to make something happen to accomplish his goals.
"I do think he will do well at Conway because he did well here and at Lakeside. I think he will do excellent."
Prior to being hired at Conway, Hardin was the head coach for Hot Springs Lakeside for five years, including leading the Rams to their first-ever 20-win season and fifth conference championship in 2018.
"We had a big change in the conference, and we were playing teams like Sheridan, Benton and El Dorado," Hardin said. "We could have made excuses, but our attitude was, it didn't matter who they were going to put in front of us; we were going to attack the game the same way.
"We did a great job of that last year. We won a few games we shouldn't have, and the bond they made allowed them to work through some issues and compete against teams like that."
Hardin graduated from Malvern High School in 2003 and earned a bachelor's degree from the University of Central Arkansas in Conway in 2007 and a master's degree in 2008. His career started in the banking industry, but he quickly realized that sitting in an office wasn't the career choice for him.
"I always loved baseball. The game always called to me. I enjoy the competition — it's a mentally straining game because you have to come back the next day and do it all over again," Hardin said.
"You really have to show up and be the same person every day and not get too emotional and get through some adversity. I think that's one of the great things about the game," Hardin said.
"He is one of the hardest-working players I ever coached," said Darryl Baker, who coached Hardin in high school. "You won't find a better person. He was an outstanding young man and did well at Lakeside.
"He is not going to be overwhelmed with the job [at Conway]. It is a good opportunity because I know Conway is a good school. He will do well. I think Conway is getting a very good coach."
During his time at Lakeside, Hardin had 15 students move to play in college.
"We want to help people get there," he said. "We are going to put our kids in tough situations and face adversity and still be successful once they get to college.
"We have a lot of guys who bought into the fact: There's a work ethic that goes with that. Some of those guys have quite a bit of success."
Ashcraft said one of the things that stood out to him about Hardin was how hard a worker he was and how much pride he took in his job.
"At Lakeside, he made improvements each year through his five years as head coach," Ashcraft said. "We are excited about him.
"He is going to come in and take the reins of our program that is already in great shape. We just want to continue our success."
Hardin and his wife, Brittany, have been married for 12 years and have two children: Fletcher, 7, and Alice, 5.
"It doesn't matter who is in front of us," Hardin said. "We are going to play the game the right way, run our system and have some success on the field."
Staff writer Sam Pierce can be reached at (501) 244-4314 or spierce@arkansasonline.com.
Sponsor Content