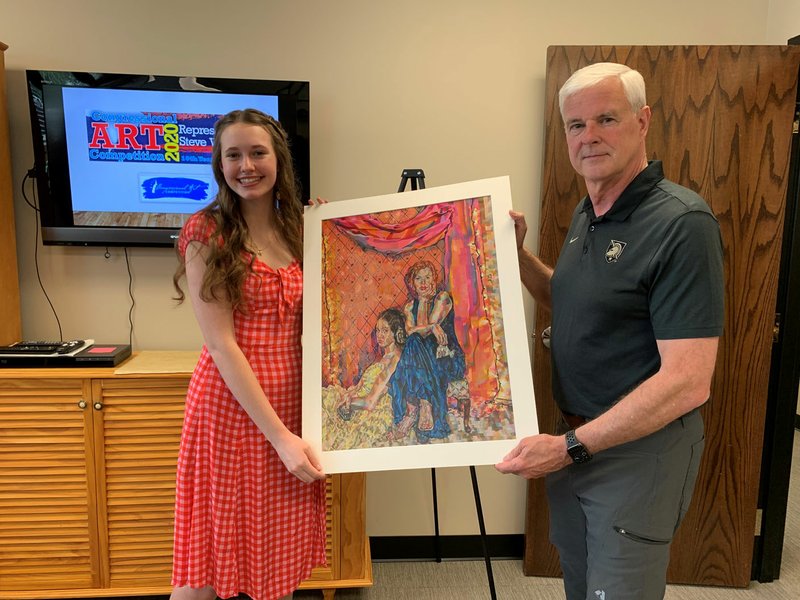 Autumn Blaylock, a senior at Fayetteville High School, poses with U.S. Rep. Steve Womack and her drawing "Pandemic Prom," the winning entry in this year's Congressional Art Competition for Arkansas' Third Congressional District. (Courtesy Photo/U.S. Rep. Steve Womack)
Poetluck
goes online
The Writers' Colony at Dairy Hollow will host a virtual Poetluck from 6:30 to 8:30 p.m. May 21.
WCDH may be temporarily closed until further notice due to the covid-19 pandemic, but Poetluck continues to be an opportunity to hear readings from local writers and WCDH alumni from across the country.
Join the group to share your words of hope or to be buoyed by the words of others. Readings may be poems, prose or songs, and writers are invited to share their work for up to 10 minutes. To be added to the list of readers, please email director@writerscolony.org. Reading slots are on a first-come basis and are limited to 12 with an additional three if time allows.
A link to the virtual Poetluck and instructions for joining can be found at the website.
Information: (479) 253-7444 or writerscolony.org.
OLLI sets
new classes
The Osher Lifelong Institute at the University of Arkansas has announced the following online and interactive classes for the upcoming week:
• May 12: "A Legal Look at Immigration," members, $25, nonmembers, $40; "The Human Rights Approach to Global Population Change," fees not determined at this time.
• May 13: "China's Challenge: The Easy Part is Over," members, $35, nonmembers, $50.
Information: (479) 575-4545 or olli.uark.edu.
Shiloh hosts
history camps
Registration is under way for the Shiloh Museum of Ozark History's virtual online summer camps for children. The theme is "The History of Transportation in Northwest Arkansas," with a focus on railroads, resorts, roads and air travel.
Camp 1, for ages 7 to 10, takes place June 15-19 from 9 a.m. to 11:30 a.m. Camp 2, for ages 11 to 14, is July 13-17 from 10 a.m. to 3 p.m.
Thanks to a generous donor, the camps are free of charge, but space is limited. Campers must be preregistered by June 5 for Camp 1 and by July 3 for Camp 2.
Information: Visit the "History Camp" page on the Shiloh Museum's website at shilohmuseum.org, call the museum at (479) 750-8165, or email museum education manager Judy Costello at jcostello@springdalear.gov.
Volunteers
welcome
Bo's Blessings, in partnership with Fayetteville National Cemetery, has announced volunteer opportunities available for community members in May. Volunteers are needed to assist with three upcoming events: Honor and Respect Headstone Cleaning Days will be May 14-15; Flags In, which is a day dedicated to placing flags in the ground at each headstone throughout the cemetery, will be May 23; and Flags Out, removing the flags, will be May 26. All volunteer activities will begin at 9 a.m. Registration is necessary for all events, and volunteers should pre-register at signupgenius.com/go/9040f49afa629a4f58-headstone1.
In order to maintain social distancing practices, steps will be in place to ensure the safety of all volunteers. Volunteers must pre-register. Volunteers will check in at the Registration Table located outside the main entrance. From there, volunteers will be directed into the cemetery to work in designated areas in groups of 10 or fewer. Volunteers will exit the cemetery from the west gate. Volunteers who come to help and are not pre-registered will have to wait until there is an available time slot to enter the cemetery. Each shift will start on the hour, beginning at 9 a.m. A maximum of three groups (10 people per group) will be assigned to work in a designated section or area for each shift. Volunteers are permitted to sign up for more than one shift.
Fayetteville National Cemetery is located at 700 S. Government Ave. in Fayetteville. It is one of 142 national cemeteries nationwide.
Bo's Blessings is organized exclusively for charitable purposes to engage the Northwest Arkansas community, including veterans and military families, in improving the quality of life and positively impacting the lives of the military community.
Volunteer pre-registration for these events is being handled by the Washington County Leadership 4-H Club, a 4-H club committed to and actively involved in promoting volunteerism, patriotism, citizenship and leadership across Northwest Arkansas.
Information: (479) 966-7027 or email gardner.zach1@gmail.com.
Hall of Fame
offers grants
The Arkansas Black Hall of Fame Foundation, in partnership with the Arkansas Department of Health Office of Health Equity, announced the launch of the ABHOF Foundation Covid-19 Relief Initiative. Under this new initiative, the ABHOF Foundation will begin accepting applications for mini-grants from organizations serving black and other underserved communities throughout Arkansas. ABHOF has committed $25,000 to the effort and is seeking to raise an additional $25,000 in private funds during the month of May. These funds would provide additional mini-grants to organizations through a second round of awards.
The foundation's initiative will provide mini-grants, up to $1,000, to Arkansas-based organizations serving minority communities and working to address covid-19 related issues in food insecurity, housing, household finance relief, physical and mental health care and education of children and families.
Qualified groups and organizations may apply for these grants by visiting surveymonkey.com/r/ABHOFCOVID19.
Information: arblackhalloffame.org.
Students win
art competition
U.S. Rep. Steve Womack has announced that Autumn Blaylock, a senior at Fayetteville High School, is the winner of the 2020 Congressional Art Competition for the Third District. Blaylock's drawing, titled "Pandemic Prom," will now be sent to Washington, D.C., to hang in the U.S. Capitol for one year.
This year's competition featured 17 pieces of art from high schools throughout Arkansas's Third Congressional District. Entries were reviewed by a panel of local judges, including Larissa Randall, curatorial assistant at Crystal Bridges Museum of American Art, Barbara Putnam, executive director at Community Creative Center, and Cynthia Coughlin, an arts patron.
Judges "Top 5" Finalists:
First Place: Autumn Blaylock, Fayetteville High School, "Pandemic Prom"
Second Place: Anthony Tello, Southside High School, "Overcoming Adversity"
Third Place: Anthony Tello, Southside High School, "Community Heroes"
Fourth Place: Cassie Jankowski, Homeschool, "What Love Looks Like?"
Fifth Place: Nicole Golden, Flippin High School, "Keep Fighting"
Submissions were also considered for the Patriot Award, which honors a piece that celebrates and artfully represents American ideals. This recognition was presented to Hannah Williams, a senior at Harrison High School, for her "World War II Veteran" oil painting, which showcases the portrait of a World War II veteran with an abstract American flag in the background.
Information: womack.house.gov.
Positions
vacant
The city of Bentonville is searching for residents interested in serving on the Public Art Advisory Committee to fill a new position. This City Council-appointed board serves in an advisory capacity to the mayor, city staff and city council on policy matters pertaining to art on public property.
Applicants must be a registered voter, reside in the corporate limits of Bentonville and able to attend regularly scheduled monthly meetings, plus occasional special meetings. Qualified applicants are arts professionals, such as curators, visual artist, art critics, art historians, art collectors, art fabricators, architects, landscape architects, and art educators. Members serve three-year terms.
Application deadline is June 12.
Information: (479) 271-3112, bentonvillear.com/305/Boards-Commissions or bentonvillear.com/464/Public-Art-Advisory-Committee.
NAN Profiles on 05/10/2020
Print Headline: Local notes
Sponsor Content