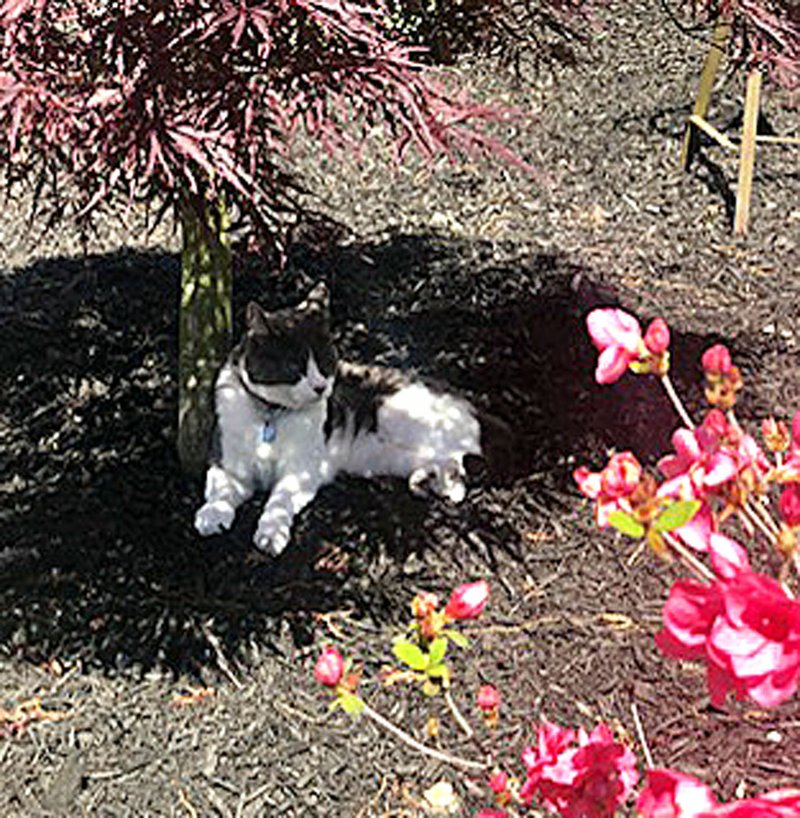 Chris and Barbara Taylor were selected as the Bella Vista Garden Club's Yard of the Month for May. Those interested in garden and landscaping inspiration are invited to drive by the property at 12 St. Helen's Lane and view the Taylors' handiwork. (Courtesy Photos)
PanCan
While the Northwest Arkansas Pancreatic Cancer group is under social distancing restrictions, the group will be having another virtual meeting from 2 to 3 p.m. May 17 and will make decisions on a monthly basis going forward as to whether to meet in person or not based on state guidelines.
Connection details:
Google Meet -- meet.google.com/qzv-cmuk-wai
Phone -- (813) 370-0450 pin, ‪336 628 939#
Information: (479) 202-3749 or pancan.org.
Cemetery
Due to the covid-19 restrictions, the 2020 Hester Cemetery Association meeting will not be held. The next scheduled meeting will be May 16, 2021.
Located in the Baldwin community, the cemetery dates back to the 1800s and is the final resting place for early pioneering families including Moore, Hester, Roberts, Van Hoose and Fletcher.
Donations to help fund maintenance expenses are needed and may be mailed to Hester Cemetery Association, c/o Kim Christy, Treasurer, 2688 Van Hoose, Fayetteville 72701.
Information: Email hestercemetery@gmail.com.
Garden Club
The Bella Vista Garden Club congratulates Chris and Barbara Taylor of 12 St. Helen's Lane, whose home was selected as the May 2020 Yard of the Month. The Taylors finished building their house last year and moved in on June 1, 2019.
When it came to designing and implementing the plan for their new yard, they wanted the grounds to be low-maintenance and have a minimalist look that was in keeping with the contemporary architecture of the house. Neither Chris nor Barbara likes to spend a ton of time on garden maintenance. They like their yard to look nice but require little muss and fuss. Each plant was chosen with care and meaning, from the blue spruce that holds a special family memory for Chris to the many hydrangeas planted in the backyard that Barbara loves.
"They bring me so much joy!" she says.
The Bella Vista Garden Club is promoting and rewarding exemplary yard care in Bella Vista and recognizes neighbors who demonstrate above-average efforts in maintaining their property and contributing to the overall appearance of the community at-large.
All homes and businesses in Bella Vista are eligible. Nominations are for the front and side yards jointly. One yard is chosen each month by members of BVGC who determine which yard best exemplifies uniqueness, beauty and outright curb appeal.
To nominate a yard deserving of recognition, contact J.B. Portillo via email portillo.jb@gmail.com or call (479) 268-8325. Please provide the address and the homeowner's name if known. All nominations will be in the running for future recognition.
Radio Club
The Bella Vista Area Radio Club has begun holding online meetings while in-person monthly meetings are temporarily suspended. Anyone interested in amateur radio should "tune in" to the club's YouTube Live webcasts at 7 p.m. on the first Thursday of each month.
Links to the YouTube Channel and the club's Facebook Group are at www.BellaVistaRadioClub.org. License exams have also been temporarily suspended.
Information: Ron Evans at (479) 270-5584.
NAN Profiles on 05/17/2020
Print Headline: Club news
Sponsor Content