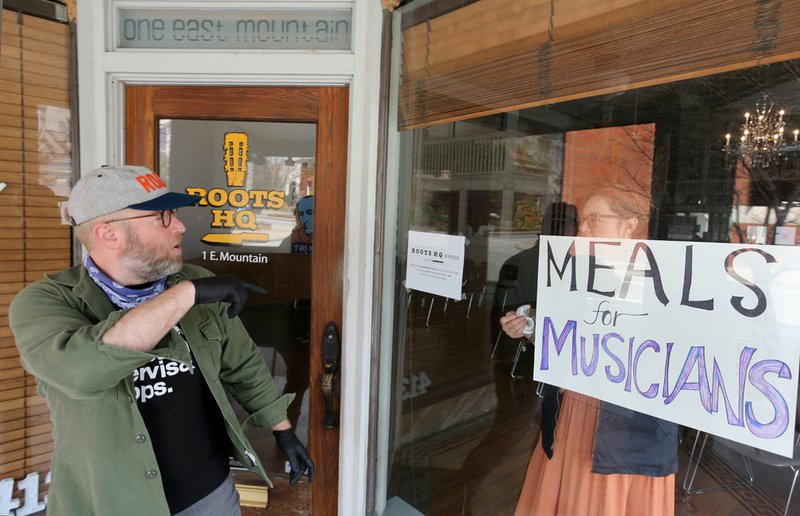 "We have had others help us, and we want to help others," say Bryan and Bernice Hembree of their efforts. "How does the program make us feel? It reminds us that we are in this together, and that we have a strong and vibrant music community here in Northwest Arkansas." (NWA Democrat-Gazette/David Gottschalk)
The performing arts are among the sectors that have been the hardest hit by covid-19. This week we're profiling members of two of Northwest Arkansas' performing arts organizations -- ArkansasStaged and Roots Fest -- to find out how they're pivoting to new roles during the pandemic.
ArkansasStaged devises a new kind of performance
How to Help
To support ArkansasStaged's Curbside Theatre — and help them produce 30 free performances — visit
https://fundraising.fracturedatlas.org/arkansasstaged/campaigns/3578 or contact them at curbsidetheatre@gmail.com.
To support Roots Fest in their efforts to help feed musicians, donate funds at www.therootsfest.org or find out about other ways to help by emailing thecrew@therootsfest.org.
Tune In!
Livestream Sunday
Join Arkansauce and Smokey & The Mirror for a performance at 11:30 a.m. May 17 streamed live via the Fayetteville Roots Festival Facebook Page. Donations will be accepted for the Roots Meals for Musicians efforts.
For some organizations, the only way around this global health crisis is to innovate. Such is the story for Laura Shatkus, executive director of ArkansasStaged, who announced last week that her theater company was developing an original play that would be presented not on stage, but instead, curbside -- outside individual homes. A press release says it's "like delivery pizza, but better for the heart."
"We wanted to find a safe way to continue to bring the healing power of live theater to a new world," says Shatkus. "Curbside Theatre​ was born out of a desire to innovate, make art and send a 'theatrical care package' to our community​."
Shatkus and three collaborators -- Kholoud Sawaf, Michael Bell and Mischa Hutchings-- hope to perform their work for free to up to 30 households starting in June; in the meantime, they're crowdsourcing funds to help support their efforts.
As executive director of ArkansasStaged, can you talk about the concerns you have regarding lasting effects on live theater both during this period -- when we've all been self-quarantining -- and after, when things start opening up a little bit more?
Laura Shatkus: I'm certainly very concerned about how live theater will work going forward, which is why I was inspired to start thinking about how we might adapt. Theater has been around for 2,500 years, so I have no doubt that it will survive, it just may look nothing like the models that we've seen in the recent past. I think it's a great challenge for individual artists but even more so for institutions to invest in innovative new ideas. It's exciting!
How was the concept of Curbside Theatre developed?
Shatkus: I blame Julia Cameron. I started doing The Artists Way at the beginning of the year and was in week 11 (of 12) when the pandemic hit. I wrote the idea in my morning pages on March 19, texted my collaborators, had a Zoom meeting the next day, and the rest is history. I had just spent an intense two weeks in December at The Hippodrome Theatre using Tectonic Theatre Projects' "Moment Work" process to create new work, and I had a hunch it would work for us, even in a remote environment. I'm so grateful that I had such willing, game collaborators to get the idea off its feet. I never could have done this alone.
Michael Bell: We'd been texting, keeping in touch, sharing ideas despite not being able to act on them. Laura then had a moment of inspiration one night and sent the rest of us a note about "curbside theater." She wasn't quite sure what it would mean or how we'd be able to execute, but it gave us all a bucket where we could put our creativity. What was a shared Google doc kept evolving and became regular Zoom calls to sort through ideas, which now are shaping into a devised piece.
Kholoud Sawaf: In a time where our whole field is on hold/switching to digital producing, this felt really unique and incredibly exciting as it involves the very base of live theater of artists and audience showing up to an appointment and sharing a story. It's been a collaborative process since then where the concept and the shape of what this is has evolved and continues to evolve and mature a lot.
Mischa Hutchings: From there, we started presenting material to each other via Zoom, concentrating on what we felt was most important to share with a future audience: combating loneliness, stress, fear of the unknown and how to show them "it's OK, us too."
Can you talk a little bit about the myriad challenges you're facing as you're trying to mount a production in a new, innovative format when many of us are still isolating?
Shatkus: One of my biggest concerns is the safety of both performers and audience members. As new information is rolled out each day, we are constantly adapting these ideas into our production. Raising funds and awareness for the work has connected us with new audience members and new creative partners. Without any institutional support, we really are just a small group of artists doing our best do do all the jobs at the same time. We are all wearing every hat right now -- we are development directors, marketing experts, producers, stage managers, writers, designers and actors, among other things. My collaborators are working their butts off to make this thing happen.
Sawaf: It's an exceptional moment in history we are living in; it's been an incredible ride to count on our guts as artists to know what feels right tonally for the content. Creating the content feels like we are a team walking in unknown territory with a flashlight, and we take turns about who's holding the light and saying "come along, this direction feels right at this moment."
In terms of producing it, we have been gathering over Zoom to devise the content, discuss production and fundraising steps and share the work. We are about to jump on to the putting-this-on-its-feet phase; always putting safety first and center and thinking of every step of the way from staging, to presenting to the audience, and everything in between them.
Hutchings: Finding out how to perform in real life in front of an audience is the fundamental problem that we are trying to solve. Not just for this particular show, but for the theater community, in general. Part of our work is finding solutions for this new world of theatrical performance. The safety parameters are constantly in flux: we want to perform under the most conservative of precautions at every turn. Each space is different; sometimes the show will be for the people living at the residence with a big front yard and sometimes in the courtyard of an apartment building. In the near future, and under different circumstances, other viewing options might become clear. And we'll adapt. That is what is so very immediate about this concept. We want to figure out how to get this healing message out RIGHT NOW, as it is needed. We can be more nimble and innovative because we are not dealing with a traditional brick-and-mortar space.
Bell: Zoom calls and text chains are, without a doubt, less efficient than a rehearsal studio. Though, the deliberate process gives ideas time to steep. Now that we've developed the core themes of the show, Laura, Kholoud and Mischa will go into the real world (physically distant from one another) and record moments to be examined and reimagined for our online sessions. Of course, we'd prefer to be together, but I haven't felt terribly encumbered creatively. It just takes longer.
Are there unexpected advantages you might have discovered along the path to production?
Shatkus: One advantage I'm seeing is that we are the only people in our community doing something like this. Demand is very high right now, so the more funds we can raise, the more households we can reach. I'm not sure that I've heard of anyone else in the U.S. doing this, though so many individual artists and innovators are working on different ways to present work given the current challenges. I'm currently obsessed with an Italian set designer, Emanuele Sinisi, who is suggesting some really creative ideas for new ways to stage plays safely. (https://www.instagram.com/p/B_jpW2-iSAp/)
Sawaf: Despite all the fears, there is a sense of safety that comes with the idea showing up at someone's doorstep during this time with an art piece. It feels special to say we are here for you; we came to make you laugh and to lift up your spirit, so you can disengage from the virtual world and engage with us live.
Hutchings: Every aspect of this production is exciting and challenging -- there are so many opportunities for new surprises. One big advantage in this kind of production is that it removes a lot of the barriers that some people experience when going to theater in a traditional setting. Transportation, child-care, cost and an "outsider" feeling are not there. My hope is that audience members will take the idea that theater can happen anywhere and make their outdoor space one of creation.
Bell: We're excited to give people that living, breathing energy that only live theater can deliver. We want to be clear that we encourage people to follow best practices. There's no intention to flout CDC recommendations; instead we want to celebrate the sacrifice people are making by staying home away from their loves ones.
Is there any fear/trepidation/nervousness in being part of developing a new and innovative way to deliver live theater to people and, if so, how do you work through it?
Shatkus: I'm terrified! But that is normal for art-making, for me anyway. I have an excellent track record for success and so much support and generosity from the community, but that doesn't take away the vulnerability and fear connected to creating new work. I'm often awakened by my own brain at 3 a.m. It never stops being creative or problem-solving, even when I want to sleep.
Sawaf: Absolutely, any time there is a creation process of artwork, there is constant fear and uncertainty, which is part of being an artist that I'm personally still learning to embrace and breathe through. This challenge is new as we think of all the limitations the pandemic puts [on us], but it has been artistically interesting to think how that is indirectly reflecting the content, and how aesthetically it is very similar to site specific work.
Hutchings: On my last project "Your House Is on Fire," one of our co-creators, Cole Wimpee said, "If you're not scared during some point in this process, then it's probably not worth watching." And he's right. If you're not risking vulnerability in creating, you're not doing something worth the amazing amount of effort.
Bell: We all have healthy respect for the current crisis, though we chose to embrace the parameters set by proper social/physical distancing. Sometimes, constraints can energize your creative problem solving. We've all done site-specific theater in the past, so that was helpful as a framework for us to attack the logistical issues. It's not the same, but working outside a traditional theater space trained our minds for this kind of puzzle.
What is the reaction you've gotten from other people when you pitch this concept to them?
Shatkus: I'm completely inspired by the fact that everyone thinks it's a great idea. I'm hoping that we'll be able to continue using this concept for presentation work for the next few years but for now, I'm happy to be getting this first curbside show on its feet!
Kholoud Sawaf: Extremely positive reaction both locally and nationally which is a [testament] to the simplicity and the brilliance of the idea itself, as well as the efforts that was put behind it by the team.
Hutchings: People have been so excited across the board.
Bell: Largely, folks have been excited by the idea. A friend or two in New York had some trepidation, but they warmed to the idea once they understood our approach (audience and each of the performers will by separated by 15-plus feet). Beyond that, everyone has been energized by the spirit of the project. This is our way to share the kind of balcony serenades you see in dense cities. People crave the human touch that theater has delivered for thousands of years. And we're thrilled to make it possible.
The Roots Fest helps feed struggling musicians.
With live music events on hold, musicians Bryan and Bernice Hembree -- otherwise known as the musical duo Smokey & the Mirror and co-founders of the Fayetteville Roots Fest -- have turned their considerable organizing skills to providing free meals to musicians struggling during the global health crisis.
Can you talk a little bit about the challenges that musicians are facing right now?
Musicians are the original "gig" workers, and they are used to the "feast and famine" mentality -- it is in their DNA. As a group, we are used to times when gigs and income are thin. Musicians get through the thin times because they know there is a gig just around the corner that will turn things around. We have never seen an abrupt stop in gigs like covid-19 has brought on. Musicians are hurting especially during this time because there is uncertainty about when gigs will return to lift them back up. Musicians are also used to stretching meager savings -- often a gig provides dinner, and musicians count it as $20 they didn't have to spend, $20 more pay for the night. That is really the inspiration behind the meals program. The Roots Meals care package is $50-$60 that a musician won't have to dip into savings to spend on food.
I know you had your first free meal event in April. Was the need that you saw during that first week of April large enough that it motivated you to extend the food assistance?
We started with the idea that musicians might not be comfortable asking for help with food from the traditional food pantry pathways. We felt that musicians would be willing to ask another musician for help. We wanted to provide a safe and easy way for musicians to get help.
We had a musician waiting when we opened the doors at 12 p.m. on day one. We felt that if we had one musician show up in need, it would be enough to warrant the work and to motivate us to keep the program going. That first musician comes back every week and has brought his bandmate the last two weeks. We are now wrapping up our sixth week of meals and will have provided over 175 care packages with 1,600 total servings. We plan to keep doing this until there is no longer need. In this current landscape, that may be a very long time.
How did you come to partner with Wood Stone for this effort?
Our partner and co-founder in the Fayetteville Roots Festival, Jerrmy Gawthrop, is a co-owner of Wood Stone. Two weeks into the meals program, we had a conversation about how Wood Stone could help. It was a natural fit and allowed us to add prepared food to the musicians' care packages.
Do you have any idea how long you'll be working on this project?
We will keep going until the need is gone. Roots has always been about food and music. Right now this program is where food and music can still intersect. The conversations we have with musicians through their car window or when they walk or bike up are uplifting. The program is helping us to feel that the music community is still connected, still a community.
How does it makes you, as musicians, feel to be helping out the music community in this fashion?
We have preached for a decade about how we feel musician- and chef-led festivals and arts organizations are the future. It has taken us running this program over the last six weeks to fully realize just how important it is. What we were trying to express about "artist-led" all those years was that artists treat other artists fairly and with dignity, and given the chance to lead a festival or and organization artists will default to a "treat others as you want to be treated" mentality. We have had others help us, and we want to help others. How does the program make us feel? It reminds us that we are in this together, and that we have a strong and vibrant music community here in Northwest Arkansas.
The press release said to contact Roots HQ for more information on how folks can volunteer/help out. Can you tell us a little bit about those volunteer opportunities?
We are grateful to Pack Shack for their initial help providing quick-cook meals. They have a tremendous program and have a safe way for the community, in small groups, to help them pack meals. We encourage people who want to volunteer to reach out to them.
We also ask folks that may know a musician in need to let them know about the Roots Meals program. A simple word-of-mouth message is a great way to volunteer.
People have also donated food and money to the program. This is a huge help. They donate via www.therootsfest.org, and they can contact us via email at thecrew@therootsfest.org if they are interested in helping in other ways. Right now we are trying to keep a small two to three person team running the program. We anticipate the need for volunteers growing the future and will communicate with those who inquire as opportunities come up.
Lastly, and more broadly, as music organizations start opening back up in the coming year, they will need all sorts of help.
NAN Profiles on 05/17/2020
Print Headline: Community counts
Sponsor Content