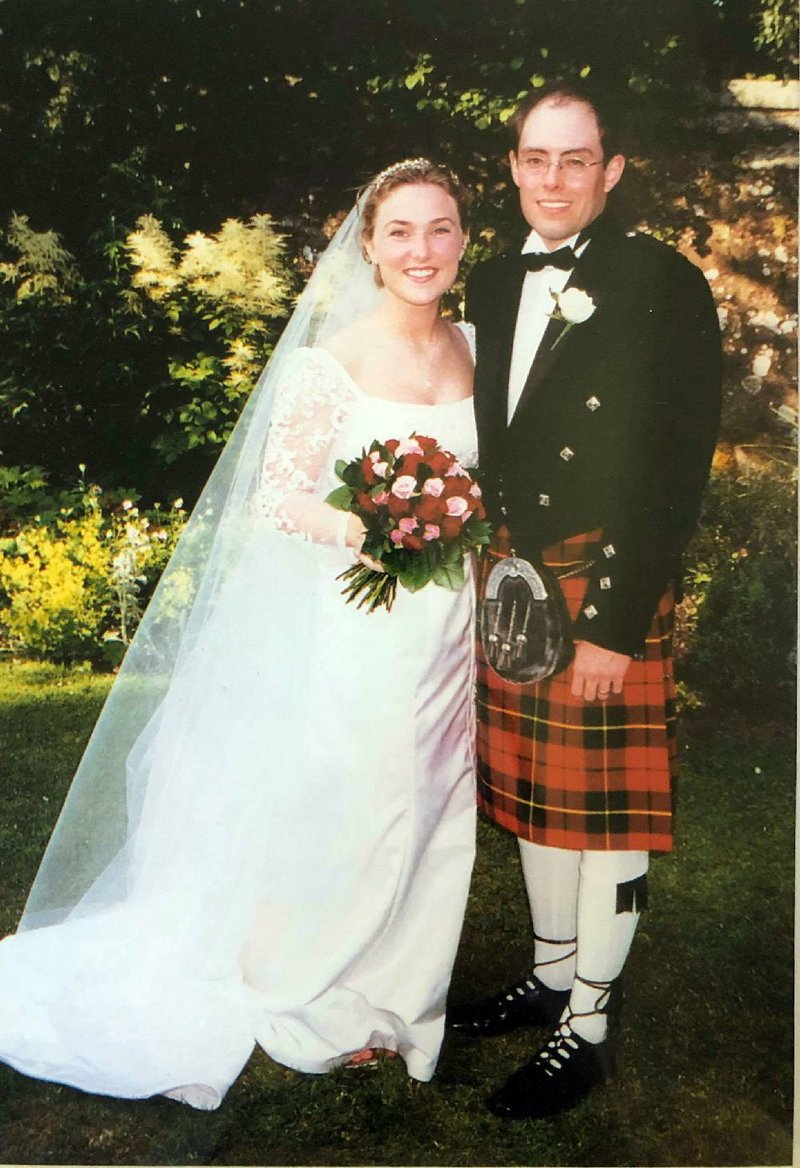 Sonya Gray and Barclay Key were married twice within a year of meeting as counselors at a middle school camp in Alabama. They celebrate both wedding dates — March 27, 2003, and June 25, 2003, each year. "His mom calls the March one the first marriage," Sonya adds. "I married him twice." (Special to the Democrat-Gazette)
Barclay Key was wearing a Spider-Man mask and gloves the first time Sonya Gray saw him at a middle school summer camp. Within a year, she had married him twice.
Sonya, then 21, and Barclay, 26, grew up in Alabama towns 40 minutes apart and attended the same university -- though two years apart -- but hadn't met before they both worked as counselors at Camp Wiregrass in south Alabama in July 2002.
The first time I saw my future spouse:
She says: "He made me laugh."
He says: "I probably wondered if I could get up the nerve to talk to her."
On our wedding day:
She says: "I feel like I laughed the whole time."
He says: "I wore flip flops on our first wedding day."
My advice for a long happy marriage:
She says: "You have to feel like you have a partnership. For me it's always been that I've always been able to depend on him. And you have to respect each other."
He says: "Being straightforward and honest with each other seems like the most important thing to me. You're going to disagree with people so being able to reach resolutions and being able to have fair constructive arguments is important."
"The first time we spoke was at dinner," she says. "He was wearing part of a Spider-Man costume."
Barclay can't recall why but quips, "Who needs an occasion to wear a Spider-Man costume?"
They sat together at chapel one night and talked again at the end of the camp session, during a party for camp counselors.
"We had pizza, and there was dancing and stuff," Sonya says. "He danced so crazy and so bad, but it was so cute. He made me laugh. I think he just seemed so interesting to me and so funny and smart."
They exchanged phone numbers and email addresses when camp was over.
"Sonya was attractive, and she was smart so our conversations were intelligent," Barclay says, who called her for a date not long after.
They had dinner at a small Italian restaurant near campus and walked around downtown.
"We really just hit it off," she says.
Barclay was leaving for graduate school at the University of Florida at Gainesville just two weeks later but they already felt strongly enough about each other that they decided to date long distance.
Sonya told him before he left for Gainesville that she was probably going to see other people while she was in school, and in fact, did go on a couple of dates before deciding that no one measured up to Barclay.
"He said, 'Well, that's fine, but I'm not,'" she remembers, and he didn't.
They got cheap flights back and forth to visit each other once a month or so, and they still have a big box of letters and cards they exchanged during those first few months apart.
Sonya spent Thanksgiving in Florida with Barclay, and over that holiday they started talking marriage.
"Both of us were weirdly serious in our 20s," Sonya says. "And I think that was probably kind of our endgame for if we were dating somebody. When we started dating we agreed we weren't going to do the sort of little dating games. We were going to be really honest and straightforward."
She flew to Florida for New Year's, and he surprised her with a trip to Washington. He proposed to her near the Thomas Jefferson Memorial.
"I had written her a letter, and I had gotten her a ring," he says. "It was the traditional thing."
They wanted to marry abroad, their way of encouraging their families to visit somewhere other than their native countries to celebrate with them. They knew an English-speaking location would make the most sense, so they chose the United Kingdom.
"But there was a residency requirement before a person could get married in the U.K., and so we decided to just get married, the two of us, at the courthouse in Gainesville over spring break," Barclay says.
They exchanged their vows on March 27, 2003, after being counseled on the necessary solemnity of the commitment by the judge who probably thought they were just a couple of silly kids.
"We didn't bring any witnesses because we didn't want to tell anybody," Sonya says. "The secretary was upset because I didn't have a bouquet so she went to get one, and it was these terrible fake roses with hot glue water droplets -- and we laughed so hard. It was just ridiculous. ... But we were really serious."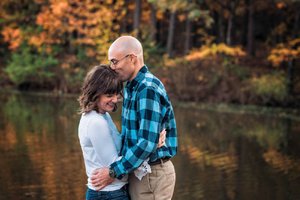 Sonya and Barclay Key were engaged less than six months after they met. "Sonya was attractive and she was smart, so our conversations were intelligent," Barclay says.
(Special to the Democrat-Gazette/Shana Martin Photography)
They kept that ceremony -- the one that fulfilled the legal requirement -- a secret, worried their families would opt not to travel to a wedding in the U.K. if they knew a marriage had already happened.
On June 25, 2003, they were married again, this time in the garden right outside Borthwick Castle.
"Barclay's dad did the ceremony, and we had traditional Scottish food and bagpipes," Sonya says.
Sonya's mother made a joke about all the photographers' flashbulbs making the occasion feel like the Fourth of July.
"The photographer said, 'We don't speak of that around here, ma'am,'" Barclay says.
Barclay and Sonya lived in Florida until Barclay finished graduate school. They lived in Ames, Iowa, and Macomb, Ill., as well as Poland and Mexico. They moved to Little Rock in 2012.
The Keys have two children -- Langston, 15, and Zora, 12. Sonya is a nurse at Baptist Health Medical Center. Barclay is an associate professor of history at the University of Arkansas at Little Rock.
"It's a running joke with our friends and family that we have two anniversaries," Barclay says.
They celebrate both dates when they can, though their wedding bands -- Sonya's has since been stolen -- were inscribed with the March date.
"His mom calls the March one the first marriage," Sonya adds. "I married him twice."
If you have an interesting how-we-met story or if you know someone who does, please call (501) 425-7228 or email:
kimdishongh@gmail.com
High Profile on 05/17/2020
Print Headline: Couple married twice, just to be sure it was legal
Sponsor Content