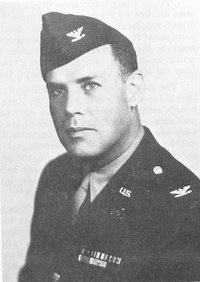 Darby William O. Darby Fort Smith
The recent 75th anniversary of the Allied victory in Europe reminded me that one of the war's greatest commanders was an Arkansan who was killed only two days before the surrender of German forces in Italy.
William Orlando Darby of Fort Smith founded the U.S. Army's first Ranger Battalion and led it to a series of victories in North Africa and Italy.
Darby was born Feb. 8, 1911, in Fort Smith, the son of Nell and Percy Darby, a print shop owner. He attended public schools where he was a leader and had many friends. He was a Boy Scout, a churchgoer, and became well known at the Fort Smith Carnegie Library. One historian described young Darby as "a handsome youth with blue eyes, a high forehead, a firm jaw, and a ready smile."
Darby decided on a military career while still in high school. He was accepted by the U.S. Military Academy in July 1929, where his potential was quickly realized; he was selected as a cadet company commander during his first year. Well-rounded and socially involved, Darby played soccer, sang in the glee club, and as "hop manager" organized dances. Graduating in June 1933, ranked 177 out of 346 graduates, he was commissioned in the Army field artillery.
Second Lieutenant Darby was assigned to the 82nd Field Artillery Regiment, the last horse-drawn artillery unit left in the Army. Serving in duty assignments in New Mexico, Kansas, Louisiana, and other locales, Darby received superior ratings and in October 1940 at the age of 29, he was promoted to captain.
After studying amphibious warfare, Darby was stationed in Hawaii. Following the Japanese attack in December 1941, he was reassigned as an aide to the commander of the 34th Infantry Division, ending up in Northern Ireland.
Itching to prove himself in battle, Darby sought a transfer but was turned down. But things were about to change.
U.S. Army chief of staff Gen. George C. Marshall had been so impressed with British commando forces that he decided an American equivalent was needed. The name Rangers was chosen in honor of the hit-and-run forces led by American militia commander Major Robert Rogers in the French and Indian War, the Rogers' Rangers.
The 1st Ranger Battalion was activated on June 19, 1942, and Darby managed to be named commander, with responsibility for forming the first battalion. About 2,000 soldiers of the 34th Infantry in Northern Ireland volunteered for the elite new group. The Rangers Battalion consisted of six companies and a headquarters, a total of 575 officers and soldiers.
It turns out that the 34th offered an interesting but certainly unexpected pool of candidates. Michael D. Hull, author of a history of the Army Rangers, has noted that few regular Army soldiers were available at the small base in Northern Ireland. Many were draftees, and a surprising number were activated National Guardsmen.
Hull described the unusual background of some of the men selected: "The first Rangers included a Golden Gloves boxing champion, a bull fighter, a lion tamer, a wrestler, a professional gambler, a jazz trumpeter, a burlesque stagehand, a hotel detective, a Hollywood screenwriter, a church deacon, cowpunchers, American Indians, and a Cuban who was a machine-gun expert."
With the concurrence of Prime Minister Winston Churchill, a decision was made to jointly train the Americans with British soldiers at the remote commando base at Achnacarry Castle in Scotland. This was a grueling three-month course and always involved live fire. In a situation which would not be tolerated today, during the war some 40 trainees were killed in live-fire training at Achnacarry.
"They mastered a tough assault course," Hull wrote, "crawled across rope bridges, scaled cliffs, and paddled across the lochs while instructors fired machine guns at them." The recruits spent much time in physical training (they were expected to be able to travel 14 miles by foot in two hours) and learned how to be stealthy, how to fight at night.
After completing the course, the Rangers were sent to a cold bleak base in the Hebrides for advanced training.
Darby's Rangers, as they became known, saw their first real action during Operation Torch, the Allied invasion of North Africa in November 1942. In an attack on Vichy French forces at Arzew in Morocco, the Rangers established a reputation for quick, silent movement and highly coordinated action. Darby won the Distinguished Service Cross for the "complete surprise" of his attack, and for "always conspicuously [being] at the head of his troops, he personally led assaults against the enemy line in the face of heavy machine gun and artillery fire ..."
On Feb. 11, 1943, Darby's battalion set out on a march of 14 miles to the Italian post guarding the Sened Pass in Tunisia. Striking in the dead of night, Darby surprised the Italian 10th Bersaglieri Regiment. The Rangers were intent on enhancing their reputation for fierceness, and took few prisoners. Darby, four of his officers, and nine enlisted soldiers were awarded Silver Stars for gallantry.
By July 1943, when Darby's Rangers led the invasion of Sicily, the Rangers had been expanded to four battalions. Darby and two battalions took the beach at Gela, where they pushed ashore despite being strafed by German fighter planes. A Ranger sergeant, armed with a Browning automatic rifle, managed to shoot down a Messerschmitt 110.
The presence of both German and Italian tanks complicated matters for the Rangers. In one encounter, Darby destroyed a tank. He was later awarded a second Distinguished Service Cross for extraordinary heroism.
Darby was in the lead during the attack on mainland Italy on Sept. 9, 1943. This time he was commanding combined U.S.-British forces--Rangers, British commandos, U.S. paratroopers, gunners, tank units, and engineers. The harbor at Anzio was lightly defended, but the Rangers suffered heavy casualties during the battle for Cisterna. Darby was promoted to colonel in December.
Much to his chagrin, Darby was transferred to the Pentagon for an 11-month tour to work on war planning. However, in late March 1945, he was named commander of the Tenth Mountain Division and led it during the breakout of the American Fifth Army from Italy's Po River Valley. The war in Europe was drawing to a close, but Darby fought on relentlessly.
On April 30, 1945, as Darby was issuing orders for an attack on retreating Germans, an artillery shell landed among the assembled soldiers, killing him and a sergeant. He was 34 years of age. Darby is buried at the National Cemetery in Fort Smith. A statue of Darby was erected in Cisterna Park in Fort Smith in 2016.
Tom Dillard is a historian and retired archivist living in rural Hot Spring County. Email Arktopia.td@gmail.com.
NAN Profiles on 05/17/2020
Print Headline: Darby remembered as Fort Smith's exemplary Army Ranger
Sponsor Content