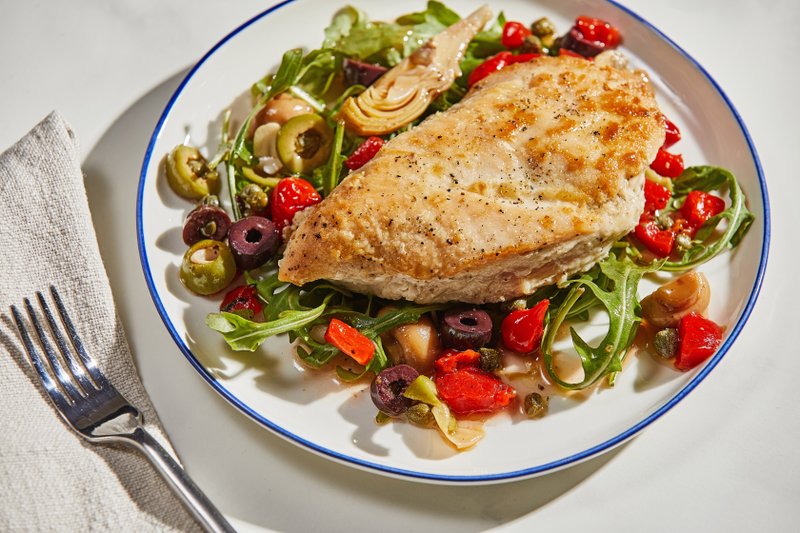 Antipasto Chicken Skillet (For The Washington Post/Tom McCorkle)
I'm willing to bet that in your refrigerator right now there are at least a few random jars of antipasto-type vegetables needing to get eaten. Searching mine recently, I found several artichoke hearts bobbing around in one jar, roughly a quarter cup of pimento-stuffed olives floating in another and a lonesome roasted red pepper in yet a third.
If there was ever a time to take a fresh look at what's on hand, it's now, so rather than shut the refrigerator door as usual on these random leftovers, I pulled them together to make this enticing skillet meal.
The whimsical and very practical thing about it is that it doesn't matter exactly what you have in those jars — any combination of vegetables will do, from the artichokes, olives and roasted peppers I mentioned to sun-dried tomatoes, mushrooms, capers and hot cherry peppers. (Use the salty and spicy elements in smaller amounts so they don't take over.)
Just give the vegetables a coarse chop and you are well on your way a quick, one-pan chicken dinner with a supremely tasty sauce.
The result is a boldly tasty meal that takes less than 30 minutes and clears out the collection of half-empties in the refrigerator. If I have lost my bet and you don't have any already opened jars on hand, I'd argue it's worth buying a couple of new ones just to make this.
Antipasto Chicken Skillet
3 tablespoons all-purpose flour
½ teaspoon kosher salt, plus more to taste
½ teaspoon ground black pepper, plus more to taste
4 boneless, skinless chicken breasts (about 6 ounces each) pounded to ½-inch thick
4 tablespoons olive oil, divided use
2 large cloves garlic, thinly sliced
1 cup dry white wine
2 cups coarsely chopped, drained jarred vegetables (any mix of vegetables, such as roasted red peppers, artichoke hearts, sun-dried tomatoes, mushrooms, olives, capers)
1 tablespoon unsalted butter
1 to 2 tablespoons fresh lemon juice, to taste
4 cups (about 3 ounces) lightly packed baby arugula
Place the flour on a plate, add the salt and pepper, and gently whisk to combine. Dredge the chicken in the flour so it is lightly coated, shaking off the excess. In a large skillet over medium-high heat, heat 1 ½ tablespoons of the oil until shimmering. Place two pieces of chicken in the pan and sear until browned, about 2 minutes per side. Repeat with another 1 ½ tablespoons oil and the remaining chicken, transferring the chicken to a plate once browned.
Reduce the heat to medium and add the remaining 1 tablespoon oil to the skillet. Add the garlic and cook until it has softened a bit, about 30 seconds. Add the wine, increase the heat to medium-high and cook until the wine is reduced by about half, about 3 minutes. Add the chopped vegetables and ½ cup water to the skillet. Bring to a boil, then cook until the liquid has reduced a little and the vegetables are warmed through, about 2 minutes. Stir in the butter until melted.
Return the chicken with any accumulated juices to the pan, nestling it into the sauce. Reduce the heat to medium-low and simmer, uncovered, until the chicken is cooked through, about 3 minutes, flipping the chicken at the midway point. Taste the sauce and add 1 to 2 tablespoons lemon juice and additional salt and pepper, if needed, depending on the acidity and seasoning of the jarred vegetables.
To serve, place a cup of the arugula onto each serving plate. Top each with a chicken breast and spoon the warm sauce and vegetables on top.
Makes 4 servings.
Nutrition information: Each serving contains approximately 400 calories, 38 g protein, 21 g fat, 16 g carbohydrate (10 g sugar), 116 mg cholesterol, 878 mg sodium and 1 g fiber.
Carbohydrate choices: 1.
Food on 05/20/2020
Print Headline: Chicken skillet uses odds and ends for quick meal
Sponsor Content