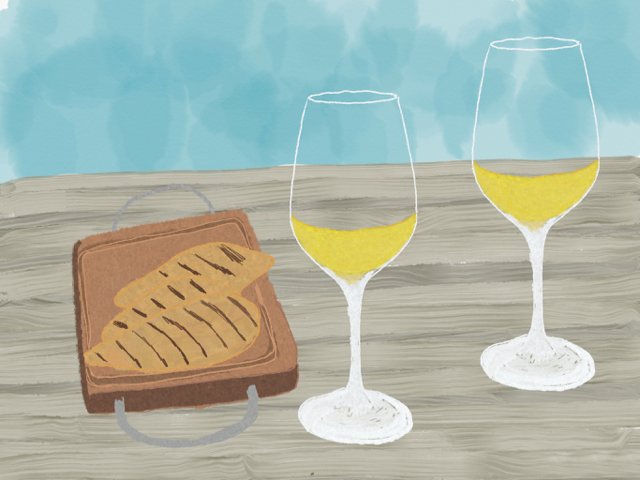 (Illustration by Kelly Brant)
Memorial Day is just around the corner and in addition to its somber observance of honoring those who died while serving in the U.S. military, for many of us it is the unofficial start of summer.
Even if this year's gathering will be more intimate than in the past, you most likely will be dusting off the grill. No matter what food I cook on the grill, I think the process just makes it taste better. And I find grilled food and wine to be an irresistible pairing.
Those wines we choose are competing with a lot flavors and aromas, in addition to the sauces, spices and smoky flavors ... bug spray to name one.
The following wines, arranged by color, are nearly foolproof partners no matter the grilling menu.
The reds
Malbec, cabernet franc, gamay, low alcohol red blends, pinot noir, grenache blends, syrah.
THE VALUES
2018 Alamos Malbec, Argentina (about $11)
2018 Le Coeur de la Reine Gamay, France (about $14)
2018 Calcu Cabernet Franc, Chile (about $14)
2018 Montes Classic Malbec, Argentina (about $13)
THE SPLURGES
2018 Antigal Uno Malbec, Argentina (about $18)
2018 Adelsheim Pinot Noir, Oregon (about $33)
2018 Tetu Grenache, France (about $22)
2018 A to Z Pinot Noir, Oregon (about $22)
2018 Block Nine Caiden's Vineyard Pinot Noir, California (about $17)
The Whites
Riesling, champagne and other sparkling wine, sauvignon blanc, picpoul de pinet
THE VALUES
2018 HB Picpoul de Pinet, France (about $12)
2018 Chateau Ste. Michelle Dry Riesling, Washington (about $13)
2018 Rudi Wiest Gryphon Crest Riesling, Germany (about $12)
2018 Leonard Kreusch Riesling Rheingau, Germany (about $12)
THE SPLURGES
2018 Bell Lake County Sauvignon Blanc, California (about $17)
NV Lallement Brut Champagne, France (about $65)
2018 Dashwood Marlborourgh Sauvignon Blanc, New Zealand (about $17)
2018 Decoy Sonoma County Sauvignon Blanc, California (about $23)
The Rosés
Any dry rosé, including sparkling
THE VALUES
2018 Beronia Rioja Rosé, Spain (about $13)
2018 Crios Rosé of Malbec, Argentina (about $14)
2018 Domaine Bousquet Malbec Rosé, Argentina (about $12)
2018 La Vieille Ferme Ventoux Rosé, France (about $11)
THE SPLURGES
2018 Miraval Cotes de Provence Rosé, France (about $30)
NV Aime Boucher Cremant Rosé, France (about $24)
NV J Winery Brut Rosé, California (about $41)
NV Domaine Carneros Brut Rosé, California (about $44)
2018 Belle Glos Brugioni Pinot Noir Rosé, (about $22)
2018 Domaine De Terrebrune Bandol Rosé, France (about $37)
2018 Daniel Chotard Sancerre Rosé, France (about $25)
Lorri Hambuchen is a member of London's Institute of Wines and Spirits. Email:
uncorked@thewinecenter.com
Food on 05/20/2020
Print Headline: Wine pairings for grilling on Memorial Day
Sponsor Content