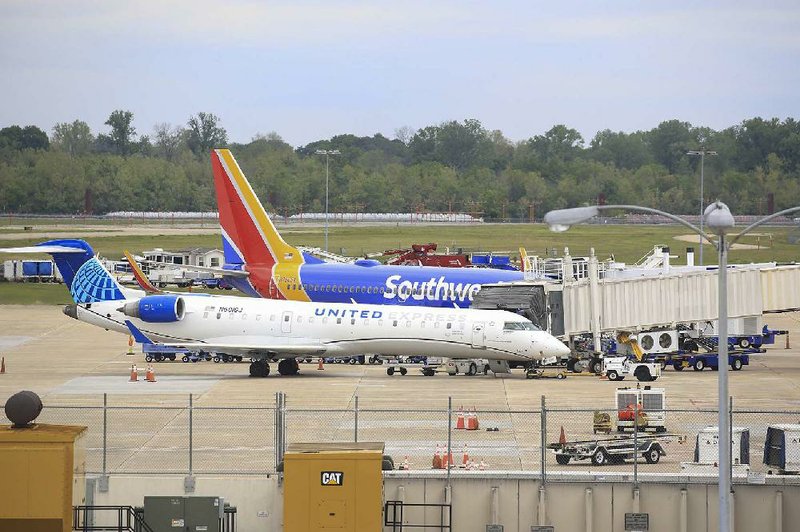 Planes sit at gates Tuesday at Bill and Hillary Clinton National Airport/Adams Field in Little Rock. (Arkansas Democrat-Gazette/Staton Breidenthal)
Bill and Hillary Clinton National Airport/Adams Field in Little Rock on Thursday began encouraging everyone entering the state's largest airport to wear masks as part of a series of protocols adopted to cope with the coronavirus pandemic as people slowly resume flying.
The airport also has mandated that all airport staff members, tenant employees and contractor employees wear face coverings.
Meanwhile, Northwest Arkansas National Airport has since May 11 required all people entering that facility to wear face coverings.
Most major airlines have adopted a policy of requiring boarding passengers to wear face coverings.
[CORONAVIRUS: Click here for our complete coverage » arkansasonline.com/coronavirus]
The U.S. Centers for Disease Control and Prevention recommends wearing cloth face coverings in public settings where other social-distancing measures are difficult to maintain. It further recommends the coverings in public settings to prevent the asymptomatic spread of the virus.
The steps were taken as passenger volume rises at the Arkansas airports and others around the nation after plunging in April because of pandemic protocols that all but shut down air travel.
Passenger traffic fall 93% at Clinton National in April, when just 11,968 passengers went through the airport. In the same month in 2019, 177,330 passengers went through the airport. Passenger traffic is off 38% for the year.
Northwest National had a similar decline in passengers, as did the rest of the commercial service airports in the United States and around the world.
[RELATED » Interactive: Economic impacts of covid-19 » arkansasonline.com/economy/]
Revenue has fallen precipitously as well. Clinton National pulled in $1.9 million in revenue last month, a 34% drop from the nearly $2.9 million it collected in April 2019.
Revenue from parking, rental car operations, restaurants and retail, ground transportation, terminal advertising and vending fell 65% to $516,231.
Parking revenue, the airport's most significant source of nonaviation revenue, fell even more steeply. Clinton National collected $60,168 in April, having budgeted for $782,185 in parking revenue.
Clinton National drew down $1.35 million in federal Coronavirus Aid, Relief, and Economic Security Act money last month to shore up its budget. The airport is scheduled to receive $25.1 million under the act.
"We intend to draw down that amount for the next 17 or 18 months," Bryan Malinowski, the airport's top executive, said at a meeting of the Little Rock Municipal Airport Commission. "It is being well documented, I can assure you."
Encouraging visitors to wear masks at the airport is part of a series of recommendations the commission adopted at Thursday's meeting as part of a safety action plan based on guidance from the CDC, Gov. Asa Hutchinson's team and the Little Rock Regional Chamber of Commerce.
The recommendations also included enhanced cleaning of all "high-touch points throughout the terminal," additional floor markings and signs to remind people to social distance in lines at ticketing, security checkpoints, food concessions, boarding and seating at the gates. Tables and chairs in dining and waiting areas and along the concourse also will be adjusted to "facilitate social distancing," according to the plan.
Stacy Hurst, a commission member who is a member of Hutchinson's Cabinet as secretary of the Arkansas Department of Parks, Heritage and Tourism, persuaded her commission colleagues to have the recommendations reviewed by the state Department of Health and adopt any recommendations the agency may develop.
The commission, which met electronically, also approved extending the suspension of requirements that some tenants pay a minimum annual guarantee, which in some cases is thousands of dollars per month higher than what they now are collecting in monthly revenue.
Malinowski said he has refused requests again from the airlines for abatements or deferrals on the charges the airport levies under their leases and agreements.
The airport is seeing a slight increase in passenger activity this month, he said.
Where once as few as 135 passengers per day were going through the airport, the number in recent days has reached 400, he said.
"It is a very good, positive indication," Malinowski said.
Clinton National has 13 flights daily, up from the dozen it had in April. Before the pandemic, the airport had 42 flights per day.
Construction at the airport has continued and, in some cases, has been fast-tracked because of the absence of passengers.
In and around the terminal, the work includes a $5.7 million project to overhaul the pre-security lobby area, including the addition of new escalators and a new elevator. It is scheduled to be completed in November.
Three gates in the concourse also are being retrofitted with new boarding bridges at a cost of $2.6 million.
On the airport itself, work is continuing on reconstructing Taxiway Papa, a $6.9 million job, and on expansion and repair of the ramp around the terminal, a $9.9 million project.
Business on 05/22/2020
Print Headline: Airport safety guides include masks
Sponsor Content