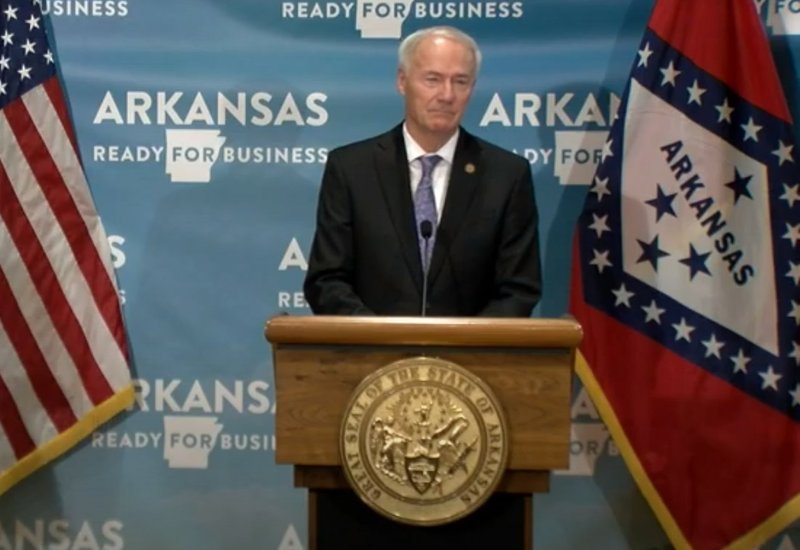 Arkansas Gov. Asa Hutchinson speaks to reporters on Friday, May 22, 2020, in Little Rock in this screen grab of video provided by the governor's office.
Gov. Asa Hutchinson said Friday that 154 new cases of covid-19 have been detected, and three additional Arkansans have died of the virus.
The total number of cases reported so far in Arkansas is 5,612, which includes 1,470 active cases, the highest tally since the outbreak began.
The death toll is now 113.
Of the active cases, 86 are in nursing homes, 510 are in correctional facilities and 874 are in the general population.
Department of Health Secretary Dr. Nate Smith said 13 additional cases were reported Friday at the federal prison in Forrest City, bringing the total there to 622. Cases from the prisons are usually verbally reported several days before being entered into the database totals.
Smith said 81 patients were hospitalized as of Thursday, including 14 on a ventilator.
Of the new cases, 22 were in Benton County, 19 were in Pulaski County, 11 were in Sevier County and 10 were in Crittenden County.
The largest number of new cases, 32, was in Washington County, Smith said. More than half of the cases were from just three households.
Greene County saw 8 new cases, Smith said, and all were among people living on one block.
Hutchinson said that of the new community cases reported Thursday, the state had already contacted 137 of them, or more than 60%, as of Friday afternoon to begin tracing.
Of the 137, Smith said 37 were connected to a cluster at a place of employment, and 24%, or about 33 cases, had been in contact with someone previously diagnosed with covid-19.
He said that only two of the 137 had been to a restaurant, and only two had been to a gym or fitness center.
11:48 a.m.: Gov, state health officials to give 1:30 p.m. virus update
Gov. Asa Hutchinson and state health officials will provide an update on Arkansas' covid-19 response at 1:30 p.m.
The state's total count of cases remained at 5,458 Friday morning, as did the death toll from the virus, at 110. The number of active cases dropped by one since Thursday's reported total, to 1,432.
Check back to watch the live video.
[Video not showing up above? Click here to view » https://www.youtube.com/watch?v=PB6sdJil9IY]
Sponsor Content