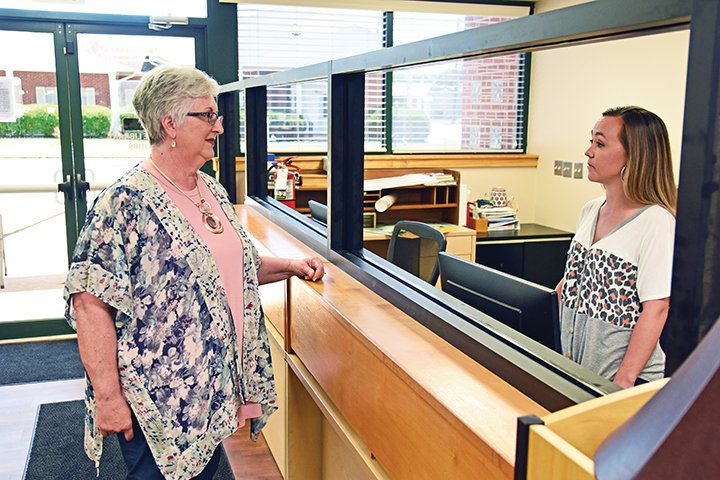 Deborah Moore, director of the Lonoke County Library System, left, visits with Ashlee Minson, the branch manager for the Lonoke Public Library. Moore said the library branches will begin a soft reopening phase Tuesday by opening their computer labs with social distancing and reservations. ( Staci Vandagriff)
Libraries in the Lonoke County Library System will soon begin their soft reopenings for the public after being closed since March 16.
On May 26, the library branches, which include Cabot, Carlisle,
England and Lonoke, will open their computer labs with social distancing and reservations. Guests can make reservations online, over the phone or in person at the front door. The libraries have already implemented curbside service with a table outside the library for patrons to pick up prepackaged bags of materials, including books, DVDs or other items, that patrons have requested ahead of time.
The library will also offer free copies or faxes for guests through their curbside service. Director Deborah Moore said all fines that have been incurred by guests will be waived to encourage them to return to the library.
"We want them to come back," she said. "If anybody has lost a library card, we are going to reissue one for free."
As of now, the libraries are expected to open back up to the public, including circulation, on June 8. Moore said guests are encouraged to maintain social distancing, library staff will wear face masks, and hand-sanitizing stations will be available.
Moore said the challenge right now is finding enough personal-
protection supplies, such as face masks, disinfectant spray and wipes, and garbage bags. She also said the library is encouraging guests to wear masks, but they are not required. She said one local pharmacist partnered with the library by including the library in an order for face masks.
"Our board of directors has put thought and consideration into our current time frame for returning," Moore said, "but all of these phases and goal dates are set to change."
Moore has been director of the library system for seven years. She is originally from Cabot but currently lives in Austin. She has been in
Lonoke County since 1969, graduating from Cabot High School in 1975 and earning an undergraduate degree from the University of Central
Arkansas in Conway in 1978. She taught at the secondary level for the Cabot School District for a few years before moving into the private sector.
Judie Bariola, chair of the Lonoke County Library System Board of Trustees, said Moore is a very good leader for the library's staff and board and has Lonoke County's best interests in mind.
"She has been wonderful. She has been the best director we have had," Bariola said. "[With this current pandemic], I think they are doing the best job they can with protecting the staff and customers.
"They are coming up with new ways to serve patrons and keep everybody safe."
The library will introduce a summer reading program this year, and because a lot of community residents do not have internet, take-home kits will be available.
"I think our staff has done a wonderful job of implementing a plan for our libraries," Bariola said. "It's all a work in progress, but it's a good start for us.
"We want to be back open and serve our patrons. We've ordered cleaning supplies, and we are trying to keep everything as clean as possible. This is a new experience for all of us. We have never had the experience of a pandemic, so we are introducing new polices that should work for our patrons and staff."
While the library was closed, Moore said, the staff used the library's social-media networks, including Facebook, Instagram and Twitter, to help patrons get necessary information or news about how to deal with COVID-19 or other health issues. She said the library offered databases and e-selections for guests, including books, magazines and audio selections.
"For those parents who are helping their children with AMI work (Alternative Methods of Instruction), we had Wi-Fi hot spots, and we are still ready to do that, now that we are going to open back up," she said. "But I was really proud of the amount of links we put up to access information."
Moore said one local business owner learned about a grant for minority women who owned a business through the library's social media, and she was able to receive a grant for $500 through the Winthrop Rockefeller Foundation.
"And at that point, she couldn't apply for unemployment, so she said it helped a lot," Moore said. "I'm sure there will be other success stories, and those are the ones we are going to capture."
Prior to being director of the library, Moore served on the board for nine years. She said she really enjoyed being on the board and the experience she had, so when the director position came available, she resigned from the board and applied for the job.
"I went back to get my degree at 67 years old," Moore said. "It was a challenge, but it has been very interesting. We help so many people, and we help people of all ages.
"We want to provide education to our guests from pre-K, with story time, all the way up to our adult section. People come to us looking for some sort of information."
Bariola, who was on the hiring committee when Moore was hired, said one of the things that stood out to her was the fact that Moore was willing to go back to college and get her master's degree in library science.
"She has a love for the library and a love for Lonoke County," said Bariola, a branch manager for the Bank of England in Carlisle. "She wanted to see the libraries grow, and it seemed liked the perfect fit for us.
"She has done a wonderful job. … She just handles every situation with calm and poise. She is just very thorough and has the best interest of the library and the employees in mind."
For more information, or to request materials for curbside pickup, call the library at (855) 572-6657, or visit www.youseemore.com/lonoke to search the library's catalog.
Staff writer Sam Pierce can be reached at (501) 244-4314 or spierce@arkansasonline.com.
Sponsor Content