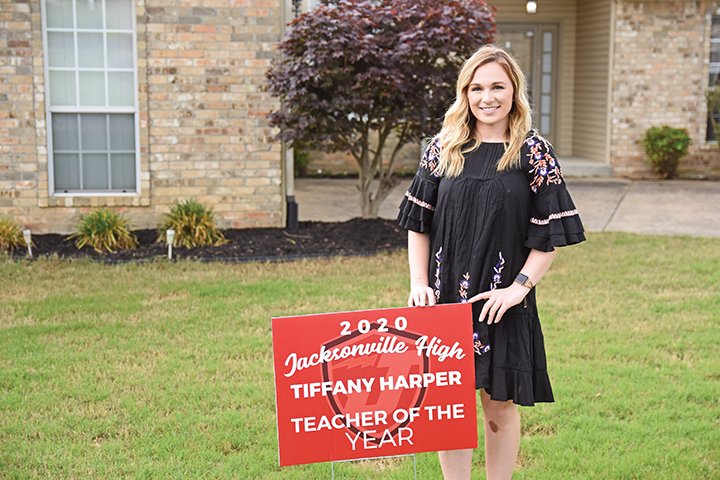 Tiffany Harper, who teaches oral communications, was recently named Teacher of the Year for Jacksonville High School. She has been with the district for four years, making the move to be closer to her family. ( Staci Vandagriff)
One day, in the middle of her English class when she was in high school, Tiffany Harper was asked to teach gerunds, or verbs functioning as nouns, to about 10 of her classmates at West Side High School in Greers Ferry.
"I taught gerunds, and I went on for about five minutes, and my teacher said I was a real natural at it," Harper said. "I thought it was a lot of fun, and I wanted to do it again.
"I like going into school every day and helping students find out who they are and what they are truly passionate about. It truly is the best job in the world."
Harper was recently named Teacher of the Year for Jacksonville High School.
"It was just a huge honor," she said. "The staff I work with there are all deserving of the award — any of them could have been named Teacher of the Year. It was just a really big honor. It meant a lot because I work with just incredible people."
Harper, who teaches oral communications at Jacksonville, was previously with the Dover School District, where she taught English and consumer science and coached cheerleading. She made the switch to Jacksonville four years ago to be closer to family.
"All my family is from central Arkansas, and I wanted to be closer to family," she said. "My grandfather was sick, and I was driving a lot, and I wanted to make the move to be closer to them.
"At Jacksonville, my kids push me to be a better teacher. Our administrators constantly push me to get better and invest in me and help us grow and become better in what we do. I really love being at Jacksonville. It is a really special place."
Harper graduated from West Side High School in 2009 and earned a bachelor's degree in secondary English education from Arkansas Tech University in Russellville in 2013. She said she originally wanted to be a speech-language pathologist, until she was asked to teach in front of her classmates.
Terrod Hatcher, the current principal at Lonoke High School, was an assistant principal at Jacksonville High School during Harper's first three years. He said Harper always looks for new ways to reach her students and see what she can change, before blaming circumstances.
"I think she is probably one of the better teachers in making sure she reaches all types of diversity," Hatcher said. "She allows them to rely on their own experiences without dictating what the writing should look like.
"She is absolutely deserving to be Teacher of the Year."
He said that in the three years he worked with her, she was always trying to improve on her craft and find ways to get better each year.
"She is just a phenomenal teacher," Hatcher said. "Her heart is always in the right place, and she is very detailed in her lesson planning, to where all of her students were learning, not just the ones who wanted to listen."
Harper said that right now, she misses being in a classroom and having her students give speeches on a regular basis. She laughed and said one of the biggest adjustments she has had to make during the COVID-19 pandemic is turning off her notifications on her phone.
"I woke up one morning at like 3:30 a.m. with 77 notifications from Google classroom," she said. "They are going to do work whenever they feel the most productive, and that is usually between midnight
and 4 a.m.
"Every single teacher is constantly calling parents on Wednesdays and Fridays because it is amazing how fast kids get work done when you call whoever is in charge at home."
Harper said Jacksonville has students from almost every different background, including military, urban or rural backgrounds, single-family homes or living with their grandparents.
"This is the first American school for one of my students," she said. "I have kids from every single background, and to me, it is really cool to see so much diversity and to help kids from all different backgrounds.
"You have to make the content relative to them. One of the things I try to teach them is empathy — to allow them to walk in someone else's shoes — and as a communication class, we do a lot of self-reflection and social emotional learning.
"A big part of it is learning empathy so they can actually relate and be able to talk to someone. It is really diverse for any given classroom that may have students from all walks of life."
She said that going from being a student at a small school such as West Side to being a teacher at a school the size of Jacksonville has definitely been a change. She said the very first time she really noticed it was when a sophomore, whose family was in the military, said Jacksonville was his eighth school.
"I had never dealt with that because I went to the same school my whole life," she said. "He told me how he had a hard time making friends because he moved around so many times — it broke my heart.
"I have to talk to these kids who have had parents pass away and have to deal with death. It is challenging and eye-opening to see students who have it way worse than others.
"But it made me a much better teacher."
Staff writer Sam Pierce can be reached at (501) 244-4314 or spierce@arkansasonline.com.
Sponsor Content