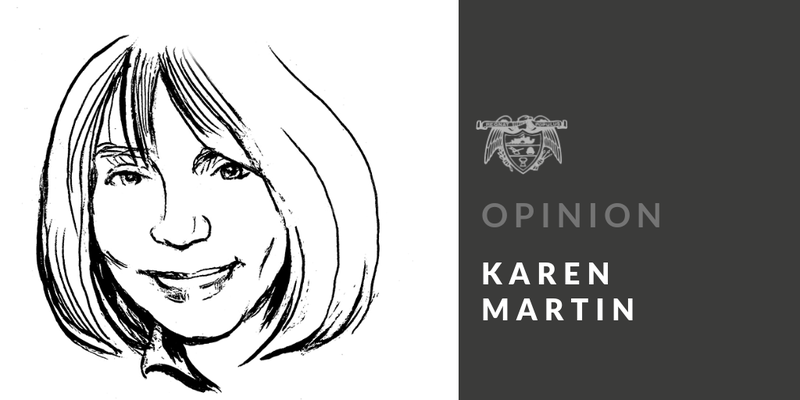 Karen Martin
My friend's daughter, who is heading to an Ivy League college this fall (we hope), is spending some of her unexpected at-home time baking.
So are a lot of people who find themselves stuck in their houses with too much time on their hands. But not like this.
A talented and creative dessert maker, she's concocting sweet rolls, cakes, brown butter brownies, mint chocolate chip ice cream, and cookies with caramel buttercream filling. She's auctioning orders of six desserts in each, and delivers her products to the highest bidder. All proceeds are being donated to World Central Kitchen to feed families in Little Rock.
In her spare time, she started a drive, with the support of Central Arkansas Library System, to collect and dispense books at CALS libraries and LRSD schools that are providing free grab-and-go lunches for anyone 18 and under. Oh, and she recently started an online tutoring program with CALS.
As a high schooler she worked on the Central High Civil Rights Memory Project, where she and other students researched, wrote and produced a walking tour tracing the Little Rock Nine's steps as they desegregated the school, including a phone app that the National Park Service uses to guide visitors to Central.
What motivates a teenager to do this? I wasn't the worst kid in the world, but outside of striving to get decent grades (in pursuit of a college scholarship) I was more interested in clothes and boys and cars and working part-time at Parmatown mall to earn cash for more clothes than I was in doing something useful for the community.
The closest I came was spending a summer tutoring our neighbor's Italian-born elementary schooler in basic stuff--she was bilingual, yet didn't know much about American history or geography--but I didn't do it for free.
Maybe I would have turned out differently if I'd grown up in the age of social media--according to commonsensemedia.org, it's a prime motivator for all sorts of behaviors, good and bad.
Although it's ridiculed and maligned for its emphasis on self-promotion and the posting of too-much-information videos, youngsters are using sites, apps, and other tech to promote social responsibility, community service, and global awareness.
Environmental activist Greta Thunberg, 17, is not alone. Neither is Malala Yousafzai (now 22), the Pakistani crusader for female education--shot in 2012 by a Taliban gunman in an assassination attempt in retaliation for her activism--and the youngest ever recipient of the Nobel (not Noble) Peace Prize in 2014.
The grounding for such passion goes beyond social media to home environments. My above-mentioned friend and her husband are both longtime community participants and game-changers, so their daughter has built-in role models.
My parents didn't volunteer for anything; their only concern was the welfare of our extended family. Apparently kids raised in households that emphasize and demonstrate community involvement have a much different attitude.
That attitude is produced, according to grownandflown.com, by exposing children through conversations about and observations of how to recognize situations that need addressing, and the best ways of working for change.
I don't know anything about how to motivate children--heck, I can barely manage getting my three little terriers to follow basic commands--so I'll defer to those who are much more qualified at grownandflown.com; it has the following suggestions on how to raise an activist:
Talk to your children about what's going on in the world, even if it seems remote from their lives. And don't back down from answering difficult questions.
Initiate discussions about what causes and issues matter to them, and brainstorm actions to make things better through raising money, writing letters and emails, joining an organization, volunteering. Make them feel like they're contributing.
Show examples of how others are taking action. These include social media campaigns, speeches, videos, and contacting government officials.
Be an activist yourself beyond complaining about stuff on Facebook.
Start local with a project that will benefit your neighborhood--pick up trash, bake something (even if you and your children are not as adept at it as my young friend), talk to local representatives about what changes should be considered.
Show emotion, even when frustrated and outraged, so kids can see how to channel that into renewed commitment and action.
Activism doesn't have to be a full-time job. Find a balance between social commitment and a pleasant rhythm of family life. Have some fun.
Even if her promising college future doesn't get off to a roaring start on schedule, I'm pretty sure my friend's daughter will find a way to make it work for her. And for others.
Karen Martin is senior editor of Perspective.
kmartin@arkansasonline.com
Editorial on 05/24/2020
Print Headline: Taking action to affect change
Sponsor Content