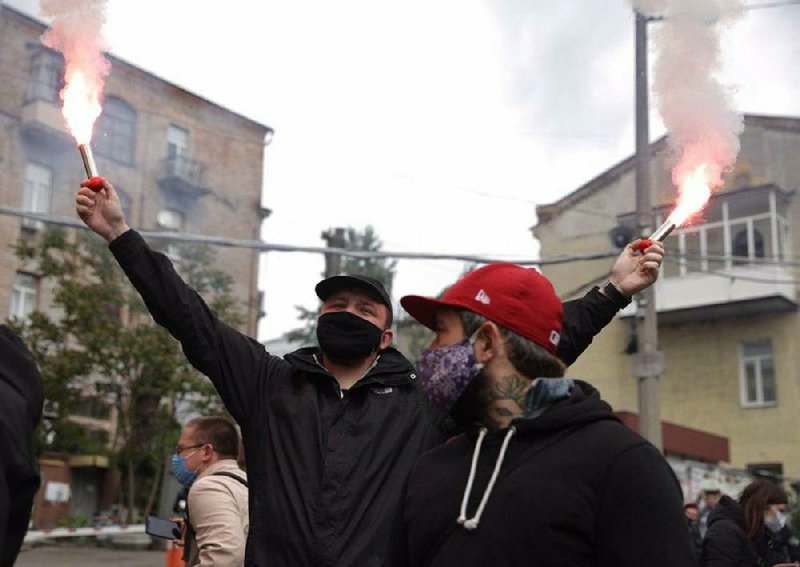 A member of a far-right group lights flares Saturday in Kyiv, Ukraine, during a protest at the headquarters of the Opposition Platform-For Life Party. (AP)
Party's Russia ties protested in Ukraine
MINSK, Belarus — Members of a far-right group threw fireworks and smoke bombs and clashed Saturday with security guards at the headquarters of Ukraine's largest Russia-friendly political party.
Police detained 17 people, including figures from both sides, in the disturbance outside the offices of the Opposition Platform-For Life Party.
The party is led by Viktor Medvedchuk, an associate of Russian President Vladimir Putin, who is the godfather of one of Medvedchuk's daughters. With 44 seats in Ukraine's 450-member parliament, it's the largest opposition party in the legislature.
The protest included several dozen members of the National Corps, a far-right group that accuses party leaders of treason for contacts with Moscow.
[CORONAVIRUS: Click here for our complete coverage » arkansasonline.com/coronavirus]
Trump talk with Turk covers key topics
ISTANBUL — Turkish President Recep Tayyip Erdogan and President Donald Trump spoke Saturday on the phone to discuss the coronavirus pandemic, bilateral relations and regional developments.
According to an account of the phone call released by Erdogan's office, the two leaders reiterated their solidarity in the fight against the virus.
They also discussed developments in Libya and Syria, agreeing to continue "close political and military cooperation" for regional stability, the statement said.
For its part, the White House said that the two leaders "discussed progress on reopening and boosting global economies in the wake of the coronavirus pandemic."
Trump also "reiterated concern over worsening foreign interference in Libya and the need for rapid de-escalation" and the presidents "reaffirmed the urgent need for a political resolution to the conflict in Syria, as well as unimpeded humanitarian access throughout the country," a White House statement said.
Turkey has noted a downward trajectory in infections and the death rate, but hundreds of people are still confirmed positive every day.
Turkey's transport minister said Saturday that some intercity trains will resume limited operations Thursday as the country readies to restart domestic tourism.
Gaza Strip reports 1st coronavirus death
GAZA CITY, Gaza Strip — The crowded Gaza Strip recorded its first death from the coronavirus on Saturday, officials said, as fear arise that an outbreak could paralyze the territory's already overstretched health care system.
The Palestinian Health Ministry said the deceased was a 77-year-old woman who had underlying health problems and had been placed at a special field hospital near the Rafah border crossing point upon arriving from Egypt.
Gaza's authorities, led by the militant group Hamas, reported 35 confirmed new cases last week, raising the total to 55. All of the infected have been in designated quarantine and isolation facilities hosting returnees from abroad. There were no reports of community transmission of the virus.
Gaza's health care system is fraying under the weight of an Israeli-Egyptian blockade, internal Palestinian division and repeated wars and skirmishes between Israel and Palestinian militant groups.
Home to 2 million people, the Gaza Strip's ventilator count is just a few over 60 and there's a chronic shortage of medication.
Since mid-March, Hamas has enforced mandatory quarantining at hotels, clinics and schools for all residents returning through Israel and Egypt. With the recent spike of cases, Hamas said it's closing Gaza's borders for all arrivals until the end of June.
But on Friday, mosques were reopened for noon prayers across the Gaza Strip, with worshippers providing their own prayer rugs, wearing masks, maintaining social distancing and receiving hand sanitizer.
Spain caravan decries lockdown actions
Several thousand followers of Spain's far-right Vox party gathered Saturday in their cars and on motorbikes in the center of Madrid and other Spanish cities to protest the Spanish government's handling of the nation's corona-virus crisis.
The party accuses the government of Socialist Prime Minister Pedro Sanchez of lying about the impact of the health crisis and of violating Spaniards' rights by confining people to their homes and closing businesses.
Vox called for protesters to attend the rallies in their vehicles and thus skirt the ban on social gatherings in effect under the nation's two-month-long state of emergency designed to reduce contagion risks.
Vox called the protest the "Caravan for Spain and Liberty."
"We will never forget what they have done," Vox leader Santiago Abascal said from the open-top bus leading the caravan as it inched down a Madrid boulevard.
"Do not doubt that we will make them face justice. They know it and fear our freedom. That is why they try to intimidate us."
Protests also were held in Barcelona, Sevilla and other provincial capitals.
Print Headline: The world in brief
Sponsor Content