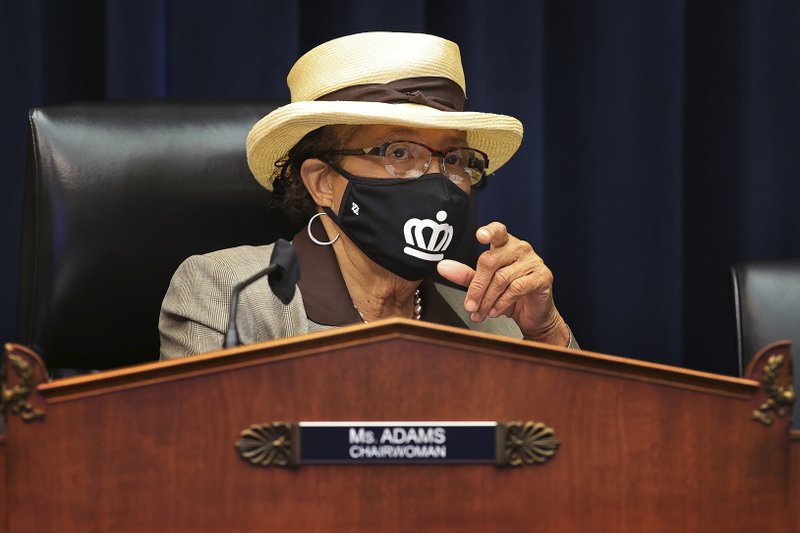 House Education and Labor Committee Workforce Protections Subcommittee Chair Rep. Alma Adams, D-N.C., wears a face mask during a House Committee on Education and Labor Subcommittee on Workforce Protections hearing examining the federal government's actions to protect workers from COVID-19, Thursday, May 28, 2020 on Capitol Hill in Washington. (Chip Somodevilla/Pool via AP)
WASHINGTON -- Democratic lawmakers lambasted the nation's workplace safety regulator Thursday during a House hearing, accusing the agency of failing to hold employers accountable while tens of thousands of essential workers fell ill during the coronavirus pandemic.
Rep. Alma Adams, D-N.C., chairwoman of the House Education and Labor subcommittee on workforce protections, said the Occupational Safety and Health Administration has been "invisible" during what she called the worst worker safety crisis of the agency's 50-year history.
OSHA has "failed to develop the necessary tools it needs to combat this pandemic and it has failed to fully use the tools it has," Adams said in opening remarks.
OSHA's existing enforcement tools, including standards that address respirators and personal protective equipment, are "inadequate and unused," Adams said.
[CORONAVIRUS: Click here for our complete coverage » arkansasonline.com/coronavirus]
Instead of an emergency standard, the agency has relied on voluntary guidance that recommends companies erect physical barriers, enforce social distancing and install more hand-sanitizing stations, among other steps. But the guidance is not mandatory.
Adams and other lawmakers called that inadequate, citing a spike in covid-19 cases at meatpacking plants, prisons, nursing homes and other workplaces deemed essential during the pandemic. More than 80,000 cases of covid-19 have been reported among health care workers, meatpacking employees and prison staff, including at least 372 deaths, Adams said.
The agency's "failure to take meaningful action has sent a clear message to workers across the country that they are on their own," Adams said.
Loren Sweatt, a top Labor Department official who oversees OSHA, said efforts to address covid-19 have been the agency's top priority since February.
"Our world changed with the arrival and spread of the coronavirus," she said. "OSHA quickly pivoted to focus intensely on giving employers and workers the guidance they need to work safely in this rapidly changing situation. Where appropriate, OSHA has also enforced safety and health requirements. Never before has OSHA staff been so focused on a single health risk."
Republican lawmakers and top-ranking OSHA officials say the agency has provided guidance for retail, construction, meatpacking, restaurant and package delivery businesses, because industry-specific guidelines are more effective than a single standard.
The agency has issued at least eight workplace guidance notices since March 9, including a joint statement April 26 with the federal Centers for Disease Control and Prevention intended to protect workers in meatpacking and processing industries. Guidance for construction workers was issued this week.
Information for this article was contributed by Matthew Daly of The Associated Press and by Taylor Telford of The Washington Post.
Business on 05/29/2020
Print Headline: OSHA rebuked on pandemic effort
Sponsor Content