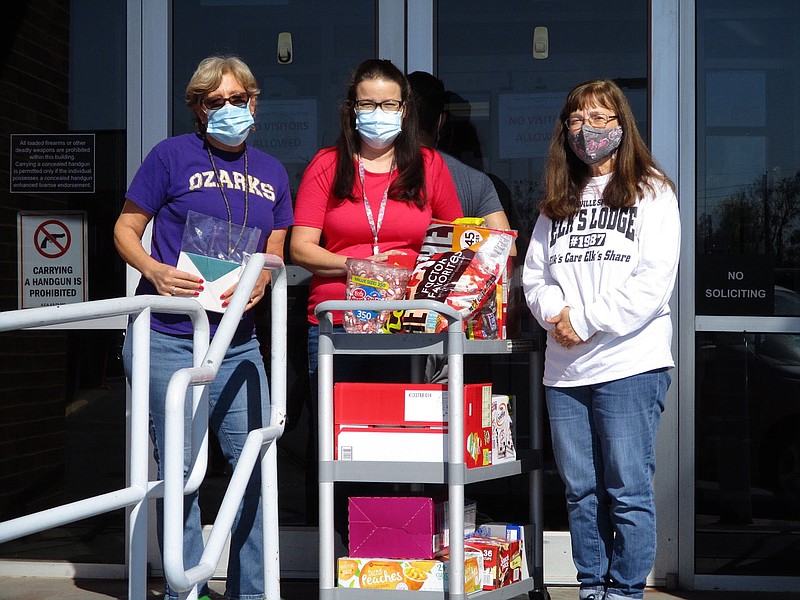 The Fayetteville-Springdale Elks Lodge donated $250 worth of snacks, birthday cards and Halloween candy to veterans at the Fayetteville Veteran's Home. Pictured from left to right are: Rebecca Dixon, activity director, Tara Griffith, activity assistant at the home and Marge Guist, lodge chaplain. (Submitted photo)
Civil War
The Bella Vista Civil War Roundtable will meet at 7 p.m. Nov. 5 at the American Legion building, 1889 Bella Vista Way, next to the Bella Vista Historical Museum.
The program will be presented by Tom Dillard on "Infrastructure Of Civil War Arkansas." Dillard is a native of Arkansas and is a retired archivist and historian. He served as director of Special Collections at the University of Arkansas in Fayetteville and created the Richard Butler Center For Arkansas Studies. For 15 years, he has written a column on Arkansas history for the Arkansas Democrat-Gazette.
The program is open to the public, but covid-19 protocols will be in place with properly distanced seating and masks being required. Attendance will be limited to 40 persons.
Information: Email cnpribb@yahoo.com.
Rotary
The Rotary Club of Fayetteville will meet at noon Nov. 5 via Zoom. The program will be given by University of Arkansas women's basketball coach Mike Neighbors. Email the club for a link to the meeting.
Information: Email fvillerotary@gmail.com.
Christian Women
The Christian Women's Connection will meet at 9 a.m. Nov. 11 at New Life Church, 103 Riordan Road in Bella Vista.
The speaker will be Dorothy Nigro, who will speak about "Uniquely You." The feature will be Stevy Stevens doing a presentation about mosaic art.
This brunch is held the second Wednesday of the month at New Life Church. Please note the change of location and day. At this time reservations are required, masks are required, and please bring exact change or check. Brunch is $10, and you need to bring your own beverage.
The program is sponsored by Stonecroft Ministries.
Information: (479) 876-5422 or email djlong45@cox.net.
Handweavers
The Northwest Arkansas Handweavers Guild has suspended the Nov. 14 meeting due to covid-19 restrictions. An online meeting for that date is being arranged. Members will receive notice via e-mail or phone messages for when and how to sign in. Smaller subgroups are meeting in appropriate settings with precautionary measures in place.
Information: nwahandweaversguild.com; email: nwahandweaversguild@gmail.com.
Altrusa
Altrusa International of Bentonville/Bella Vista initiated a new project with Socks and Cookies, a nonprofit that they are working with this holiday season. The project, Stars for Heroes, consisted of cutting out stars from salvaged flags and using them to create pocket cards that will be given to veterans and deployed active duty military.
They needed 350 Stars for Heroes pocket favors; 50 for the VA Hospital; 75 for VA Home residents and 225 to go to service men in combat areas via Socks and Cookies. On Oct. 24, Make A Difference Day, they met with Shannon Modisette of Socks and Cookies and delivered 225 Stars for Heroes pocket favors, 225 Christmas cards that members had put a personal greeting in, 800 pieces of candy from Mars, 54 paperback books, and 181 bags of beef jerky.
On the back of each pocket favor, this is printed: "I am part of our American flag that has flown over a home or business in the USA. I can no longer fly. The sun and winds have caused me to become tattered and torn. Please carry me as a reminder that you are not forgotten."
Information: info@altrusa-bb.com.
Naturalists
The Master Naturalist organization is for adults of all ages and skill sets who want to learn more about the natural world and participate in volunteer projects that contribute to conservation in Arkansas. Master Naturalists are volunteer educators, citizen scientists and stewards of the environment, striving to protect and preserve Arkansas' natural health and beauty.
Applications are now being accepted for the Northwest Chapter new members annual training. Classes start in late January preparing for graduation in May. Naturalists in Training 2021 will occur via Zoom, with approximately 50 hours of virtual lectures and interpreted hike videos, with time allowed for discussion. Naturalists in Training have a choice of attending either Saturday mornings or Wednesday evening classes, which typically last three to four hours. Topic-related field explorations for both individual and/or small groups, socially distanced, will vary in format and location.
Training focuses on a range of topics specific to the Ozarks, including eco-regions of Arkansas, fungi, geology, birds, trees, native plants, water quality and meteorology. To graduate to full Master Naturalist status, one must attend a minimum of 40 hours training/field instruction. Cost is $135 for the training and materials plus $30 annual dues. Cost is $80 for an additional household member if materials are shared. To become a Certified Master Naturalist, members must complete eight hours of continuing education and volunteer 40 hours annually.
Information: nwamn.org.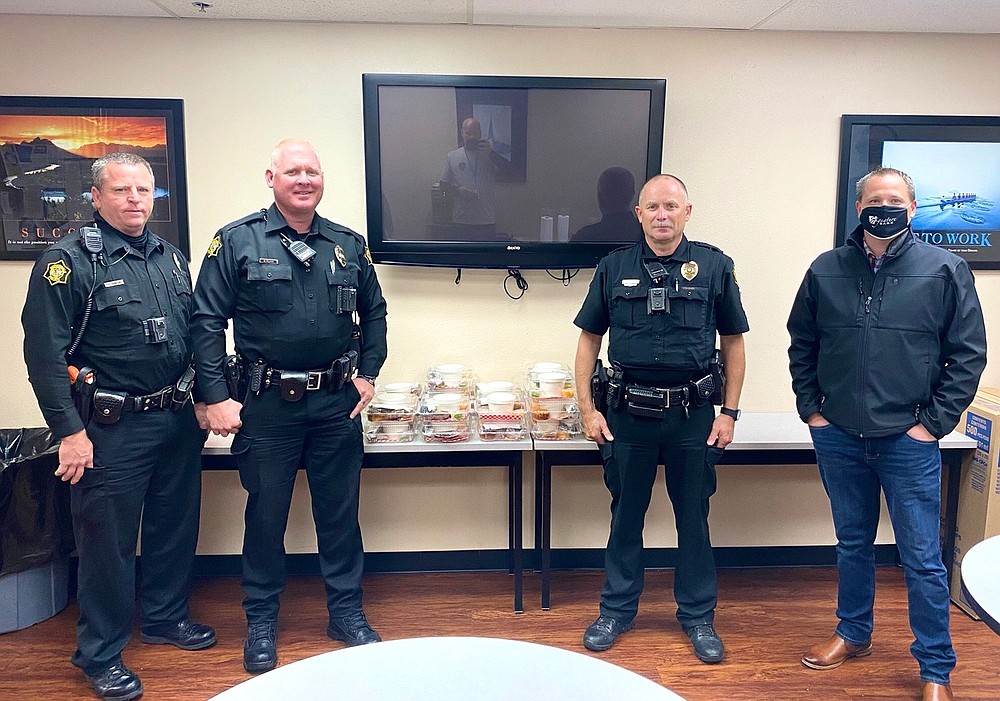 The Springdale Rotary Club makes approximately 50 meal donations each week to essential workers in fire, police, healthcare and senior citizens programs. This donation was made to the Springdale Police Department. Rotarian Randy Herriman is pictured on the right. (Courtesy photo) (Courtesy Photo)
Send Club News to ourtown@nwadg.com. Deadline is 4 p.m. Tuesday for Sunday publication. Please include a phone number or email address for publication.
Sponsor Content