Inspired by a concept called location-based learning where you use a place to teach a child, I explore our city with my 3-year-old daughter by focusing on one letter a day and safely visiting a neighborhood starting with the letter.
Starting in April, we went from A to Z through our city, the suburbs and are almost done visiting the area's off-the-beaten-path spots.
Once we're in an area, I explain its history in a way our daughter understands. Then we look for items starting with the letter.
Rather than being stuck at home, this parenting approach got us safely outside, taught my daughter the alphabet and our city's history creatively, and gave us a sense of travel.
Here's how we did it and how you can, too.
Do and Don't
The night before our adventures, I research a neighborhood using Wikipedia, Google Maps, blogs and historical societies. Once I understand the neighborhood's story, I map out our stops, adding in a local bakery or coffee shop for a midmorning snack break, a mural for color, and a playground for my daughter. From there, I create custom Google Maps to ensure we hit every spot in less than three hours.
Stay outside and wash your hands.
We're taking safety precautions during the pandemic. We have rules. Wear a mask, keep your distance from others and stay outside. Avoid going inside. After every stop, wash our hands with approved hand sanitizer.
Don't pack your itinerary.
Many of the places I visit are new to me. Wanting to see it all, I'd pack our itinerary. The result was rushing from place to place and an annoyed toddler.
Make sure your stops are near each other. If they aren't, only visit three to four places.
A lighter itinerary also leaves room for impromptu stops when you drive by a fun park or barbecue joint.
It's OK to start small.
Not every parent has the time or means to explore in the way we did but you can start small. Explore streets in your town through the alphabet or even numbers.
As we worked our way down the alphabet, a few letters were troublesome for finding a town or neighborhood: X, Y and Z. For those letters, I found streets starting with the letter. We'd wander down the street and explore the surrounding area.
Don't shy away from the dark side of history.
Local history in our area sometimes brought us to mansions on former plantations. Rather than shy away from learning about slavery, I use it as an opportunity to teach my daughter about the evil and how it helped create inequitable systems today.
Cities are full of nature.
Staying entirely outside opened our eyes to nature. In the middle of every city and town are biking/running trails, parks, gardens and even nature preserves. Use Google Maps to find green spaces in a city. Usually, parks come with water -- a river or creek to wade in (if the season permits). We kept bathing suits and bug spray in the trunk.
Suburbs are gems.
Being a proud city kid my entire life, I largely ignored exploring suburbs until the pandemic hit. I was convinced only big cities have places worth visiting. I was very wrong. Just outside of our city, Washington, there are suburbs filled with history, culture and good food.
Travel can be done in your backyard.
I grew up abroad and have been to more than 70 countries. My family has a trip booked to Japan this month but it doesn't looking promising. I miss travel. However, I'd miss it more if I didn't explore my own backyard. Like visiting a different country, I see new streets, people and ways of life every day without journeying far from home.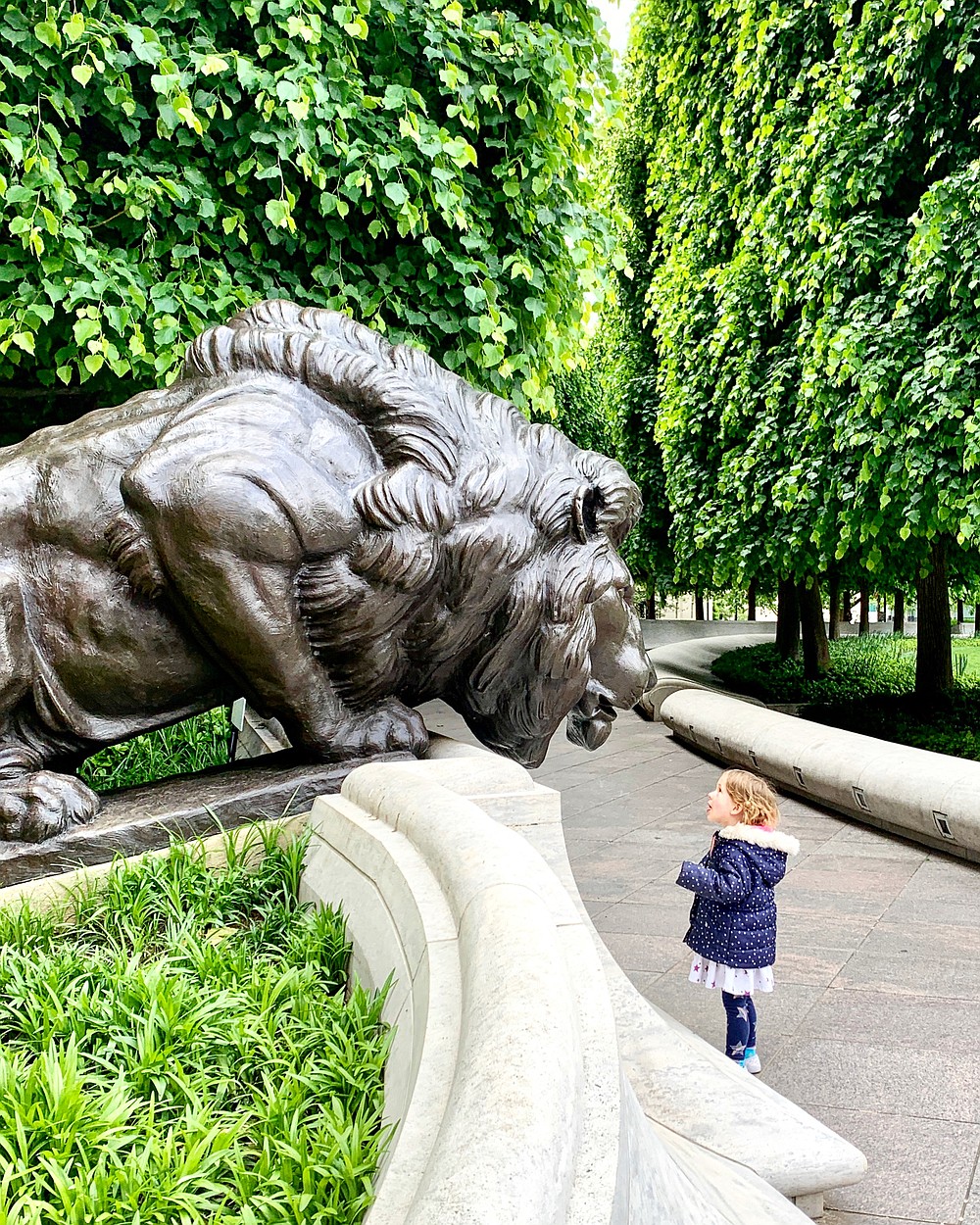 Adelynn Graff stares at one of the lion statues that are part of the National Law Enforcement Officers Memorial in Judiciary Square. (The Washington Post/Austin Graff)