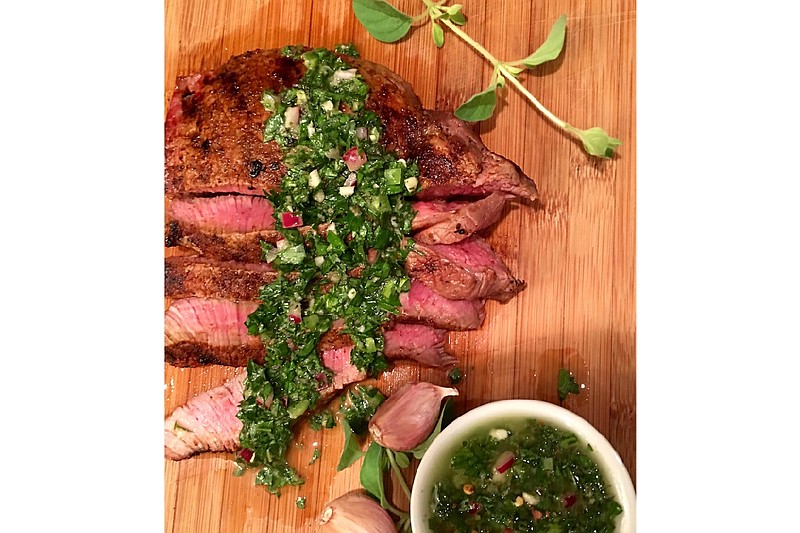 Spice-Rubbed Sirloin With Chimichurri Sauce (Gwynn Galvin, SwirlsOfFlavor.com)
A week's worth of quick, healthful meals for budget-minded families
SUNDAY: Serve the family Honey-Orange Glazed Ham today: Heat oven to 350 degrees. Place a 2- to 3-pound fully cooked boneless ham on a rack in a roasting pan. Roast uncovered 30 minutes or until internal temperature reaches 140 degrees. Meanwhile, mix together 1 tablespoon orange juice, ¼ cup honey, 1/8 teaspoon cinnamon and 1/8 teaspoon ground cloves. Baste ham with mixture before the last 10 minutes of roasting. Let stand 5 minutes; slice and serve. To accompany the family favorite, buy or make your own scalloped potatoes and add steamed fresh broccoli and dinner rolls. Buy apple cobbler for dessert and top it with whipped cream.
Plan ahead: Save enough ham and cobbler for Monday.
MONDAY: Make Fancy-Schmancy Ham-and-Cheese Sandwiches. In small bowl, combine 1 tablespoon whole-grain mustard with 1 tablespoon mayonnaise. Spread half of mayonnaise mixture on 4 slices Italian bread. Layer each slice with 1 ½ ounces leftover ham slices and ¼ cup shredded Gruyere cheese. Sprinkle with black pepper. Spread remaining mayonnaise mixture over each remaining bread slice. Place bread, mustard side down, on top of each sandwich. In shallow dish, whisk together 2 eggs and ¼ cup milk. Dip both sides of each sandwich in egg mixture. Heat a large skillet coated with cooking spray on medium. Add sandwiches; cook 3 minutes on each side or until lightly browned. Add a romaine salad. Warm the leftover apple cobbler for dessert.
TUESDAY: You can make Tomato Soup With Spinach and Corn in no time. Prepare 2 (10-ounce) cans condensed tomato soup according to package directions. Add 1 (10-ounce) package frozen chopped spinach (thawed and squeezed dry) and 1 cup frozen corn (thawed). Heat through. Serve with a lettuce wedge and cheese toast. Enjoy strawberry ice cream topped with chocolate syrup for dessert.
Plan ahead: Save enough chocolate syrup for Thursday. Save enough ice cream for Friday.
WEDNESDAY: This Baked Eggplant and Polenta (see recipe) was a hit and is going into our permanent collection of recipes. Serve with steamed green beans and an arugula salad with red onion rings. Add whole-grain bread. For dessert, plums are perfect.
THURSDAY: There's nothing like a good meatloaf to give your wallet a rest, and Barbecue Meatloaf (see recipe) fits the bill. Serve with oven fries and steamed zucchini. Make cornbread. For dessert, enjoy Chocolate Swirl Pudding: Prepare instant vanilla pudding and swirl leftover chocolate syrup over the pudding. Top with whipped cream.
Plan ahead: Save enough meatloaf for Friday.
FRIDAY: Show the kids how you use magic to transform the leftover meatloaf into Barbecue Tacos. Crumble the leftover meatloaf; heat and spoon into warmed taco shells. Top with shredded lettuce and any shredded cheese. Serve with vegetarian baked beans. Leftover strawberry ice cream is a favorite dessert, especially with fresh strawberries on top.
SATURDAY: The family will be thrilled with Spice-Rubbed Sirloin With Chimichurri Sauce for dinner. For the sauce: In a medium bowl, combine 1 cup finely chopped fresh parsley leaves, ½ cup extra-virgin olive oil, ¼ cup red wine vinegar, 2 cloves minced garlic, 2 tablespoons finely chopped fresh oregano leaves, 1 jalapeno pepper (seeded and minced), 1 tablespoon minced red onion and 1 teaspoon coarse salt. Season 1 boneless sirloin steak (¾ inch thick) with 1 teaspoon chili powder and ½ teaspoon coarse salt. Prepare grill for direct heat grilling or preheat broiler. Broil or grill, turning once, 7 to 11 minutes for medium-rare to medium doneness. Steak will register 135 degrees on meat thermometer when cooked to medium-rare. Let sirloin stand 5 minutes, then slice and serve with sauce. (Adapted from SwirlsOfFlavor.com.) Serve with roasted red potatoes, sugar snap peas and sourdough bread. Just wait for the applause when you present Berry Almond Cheesecake Tart (see recipe) for dessert. It's a showstopper!
THE RECIPES
Baked Eggplant and Polenta
1 (1 ½-pound) eggplant, peeled and cut lengthwise into 8 slices
1 (26-ounce) jar marinara sauce, divided use
8 ounces shredded part-skim mozzarella cheese, divided use
¼ cup freshly grated parmesan cheese, divided use
1 (17- or 18-ounce) tube ready-to-heat polenta, cut into 20 slices
Heat oven to 450 degrees.
Coat both sides of eggplant slices with cooking spray. Place on a baking sheet and bake 20 minutes or until tender. Reduce heat to 375 degrees. Place 4 slices eggplant in bottom of a 9-by-13-inch baking dish. Spread with 1 cup marinara sauce; sprinkle with 2/3 cup mozzarella and 1 tablespoon parmesan. Repeat once. Top with polenta slices, remaining sauce and both cheeses. Bake, uncovered, 20 minutes or until cheese melts and bubbles.
Makes 6 servings.
Nutrition information: Each serving contains approximately 235 calories, 14 g protein, 8 g fat, 26 g carbohydrate, 27 mg cholesterol, 599 mg sodium and 4 g fiber.
Carbohydrate choices: 2.
Barbecue Meatloaf
½ cup chopped onion
1 pound ground turkey breast
½ pound lean ground beef
½ cup dry bread crumbs
½ cup PLUS 2 tablespoons barbecue sauce, divided use
2 tablespoons Worcestershire sauce
1 teaspoon Dijon mustard
1 teaspoon minced garlic
½ teaspoon dried thyme
Heat oven to 350 degrees.
Microwave onion 1 minute on 100% power.
Combine cooked onion, turkey, beef, bread crumbs, ½ cup barbecue sauce, Worcestershire sauce, mustard, garlic and thyme; mix. Spoon into a 9-by-4-inch or 9-by-5-inch loaf pan. Brush with remaining barbecue sauce. Bake 50 to 60 minutes or until internal temperature reaches 165 degrees. Drain fat. Cover and let stand 10 minutes. Slice and serve.
Makes 10 slices.
Nutrition information: Each slice contains approximately 157 calories, 14 g protein, 5 g fat, 12 g carbohydrate, 46 mg cholesterol, 216 mg sodium and no fiber.
Carbohydrate choices: 1.
Berry Almond Cheesecake Tart
1 refrigerated piecrust (from a 15-ounce package)
¼ cup slivered almonds
12 ounces Neufchatel cream cheese, softened
½ cup granulated sugar
2 eggs
¼ teaspoon vanilla extract
¼ teaspoon almond extract
1 to 1 ½ cups fresh blueberries or chopped fresh strawberries
Heat oven to 450 degrees. Bring crust to room temperature; roll crust to 11 ½ inches. Place crust in 11-inch tart pan (with removable bottom) and press crust to sides. Sprinkle almonds over bottom and gently press them into crust. Bake crust according to package directions. Cool on wire rack. Reduce oven temperature to 350 degrees.
For the filling: In an electric mixer bowl, beat cream cheese and sugar on low until smooth. Add eggs, vanilla extract and almond extract; beat until smooth. Pour cheese mixture into cooled crust. Bake 20 minutes or until set. Cool on wire rack. Cover and refrigerate at least 2 hours. To serve, arrange berries decoratively on top. Remove bottom of pan. Slice and serve.
Makes 12 servings.
Nutrition information: Each serving contains approximately 208 calories, 5 g protein, 13 g fat, 19 g carbohydrate, 53 mg cholesterol, 226 mg sodium and 1 g fiber.
Carbohydrate choices: 1.5.
Susan Nicholson is an Atlanta-based cookbook author and registered dietitian. She can be reached by email: susan@7daymenu.com
Sponsor Content