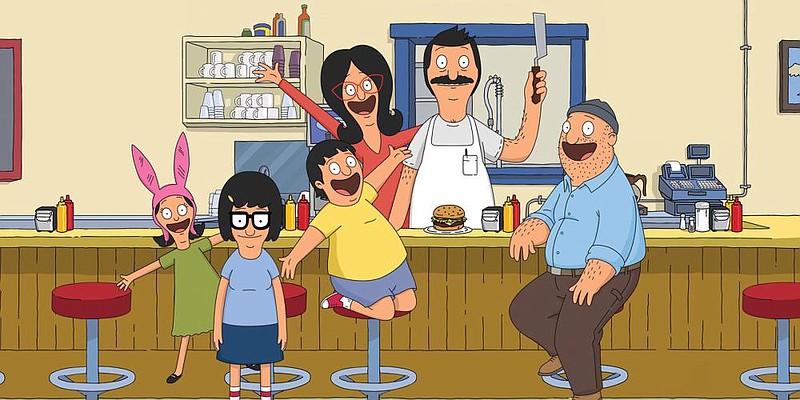 The "Bob's Burgers" movie is still slated to open theatrically instead of on a streaming channel, although our critic has no idea why.
Watching as the pandemic stole the 2020 summer blockbuster season, and now the holiday movie season, I've made peace with the fact covid-19 ruined movies for a bit. This is the first time in my 30 years I've seen an entire movie season upended.
I can remember when I was in high school, and television writers went on strike (which I blame for killing the momentum of "Heroes"), but I've never seen anything like this before.
In a perfect world free of covid-19, I would have already seen "Wonder Woman 1984" and "No Time to Die." I would have seen "Tenet" on opening night instead of sneaking in on a Sunday afternoon to avoid crowds.
But I've also watched this year as Hollywood struggled to adapt to movie theaters being shut down and folks mostly staying away from "Tenet."
The obvious option was right in front of Hollywood's nose. Send your products straight to digital. Let Netflix pay a couple hundred million dollars for your baby. Put it up for purchase and rental on iTunes and Amazon Prime. Simple solution.
And yet, so many Hollywood executives seemed to balk at this idea, like there was some sort of shame in going to streaming.
I try my hardest in life to be pragmatic. I recognize when things are outside of my control, and I try to be realistic about the future, even if outcomes aren't picture perfect. Hollywood should have done the same this year, cutting its losses and giving consumers what they wanted.
We're all trapped at home and looking for new content to stream. Go ahead and put out the movies you were going to at the original time. Just ... digitally. Sure, you might not make as much money, but it's better than endlessly shuffling your movies back hoping to ride out the storm.
How many times did I watch through 2020 as Disney changed the release date for its (now awful) "Mulan" remake? Finally, after several months of bouncing around, the House of Mouse decided to "graciously" release its movie on Disney+. The catch? You had to pay an additional $30 to watch it, on top of your monthly subscription cost. Yeah, no thanks.
That was one of the dumbest moves I saw this year with regards to films. Another was bouncing "Tenet" around like a tennis ball, trying to pick the perfect time to "revitalize" the movie industry.
Christopher Nolan's latest flick was inevitably going to disappoint at the box office, no matter when it was released. So Warner Bros. should have just sucked it up and put it out digitally long before its delayed Memorial Day release.
I know Hollywood wanted its movies to hit theaters and make lots of money. That's just business. But looking at the pandemic this country has failed all year to contain, that was never going to happen. More movie executives should have had the foresight to realize this and swallowed their pride, releasing their products to streaming services and other digital platforms.
I went to the movies five times this year to see "Birds of Prey," "Sonic the Hedgehog," "Tenet," "Call of the Wild" and "Onward." I enjoyed all of those films (a little less for "Call of the Wild"), but would I pick any of them as my favorite movie of 2020 so far? Nope!
You want to know which title gets the honor of being my favorite movie for 2020 (right now)? It's a Netflix movie called "The Old Guard." This is a movie that was based on a pretty solid graphic novel, had a kick-butt heroine in Charlize Theron and left me excited for movies in a way I hadn't felt all year.
Now that "Dune" has been rescheduled (damn you, covid-19), the #1 movie I'm most looking forward to this year isn't a theatrical release. It's an animated film called "The Wolfwalkers." I'm just as excited for this movie as I was when I finished "The Old Guard." As in, a 12/10 in the energy department. And while it'll be released in some theaters, I imagine most people will see it on Apple TV+ (assuming enough subscribe to the little-known streaming service).
I don't think it'll be shameful if my two favorite movies of the year come out on streaming platforms. I believe covid-19 has forced people to adapt in a variety of ways, including their entertainment. And Hollywood should have been more in tune with that.
Instead, all the blockbusters got delayed. "Wonder Woman 1984" and "Dune" should have been released on HBO Max this year, given they're both from Warner Bros, and WarnerMedia has the streaming service.
United Artists should have put "No Time to Die" on Amazon Prime. Lord knows Mr. Bezos could have thrown enough money to make it worth the company's time.
And while Disney has decided to put Pixar's "Soul" out on Disney+ on Christmas Day, I have to wonder if the company held its nose making that decision. Disney had a long time to consider whether "Soul" would be released digitally or in theaters. I feel like the company had too much resistance to making this decision.
Is it the perfect decision? No. Is it the pragmatic decision given the circumstances? Yup.
Then there's the "Bob's Burgers" movie (which I know Karen Martin is dying to see). Its director, Loren Bouchard, is really determined to see it get a theatrical release. And I just don't see the logic.
Here's what Bouchard told Variety:
"We talked about [streaming] as it pertains to the movie, and we decided we really want the movie to come out in theaters because 'Bob's' is already on TV. Of course, we want everyone to be able to safely see it in movie theaters. We don't want anyone to put themselves at risk. But assuming there's a point at which everyone can go back to theaters safely, we're excited about 'Bob's' the movie being seen in the theater, in the dark with other people, because that's something we've never been able to do before."
You don't want to put it on streaming because the show is already on television? You want people to see it in movie theaters because they've never been able to watch it in the dark with other people before? I don't think you're making this decision for the right reasons.
Fans of "Bob's Burgers" aren't going to care what screen the show is on. And it's not like the animation is dazzling enough that seeing it on the big screen will make a difference in quality.
Disney essentially owns "Bob's Burgers" now and a good chunk of Hulu. The company can just put it on Disney+ or Hulu, and fans will watch it because they love Bob Belcher and his family (but let's be honest, mostly Louise).
If "Bob's Burgers" fans really care that much about seeing it in the dark with friends, they can just have company over and turn off the living room lights while the movie plays. There. Ambience achieved.
There's no telling how far into 2021 it'll be before Americans will feel comfortable returning to the theaters. But Hollywood has movies ready to go, and for the sake of consumers, they should drop whatever resistance they hold to making those films available for streaming and digital purchase.
These decisions should be about getting these movies in front of fans, not calculating how to resurrect movie theaters. That isn't the responsibility of movie fans, and while the films we want to see are delayed, we're the ones shuffling our feet knowing dinner is ready, but we can't eat it until Hollywood decides the timing is optimum. Ring the bell, already. We're starving.
Sponsor Content