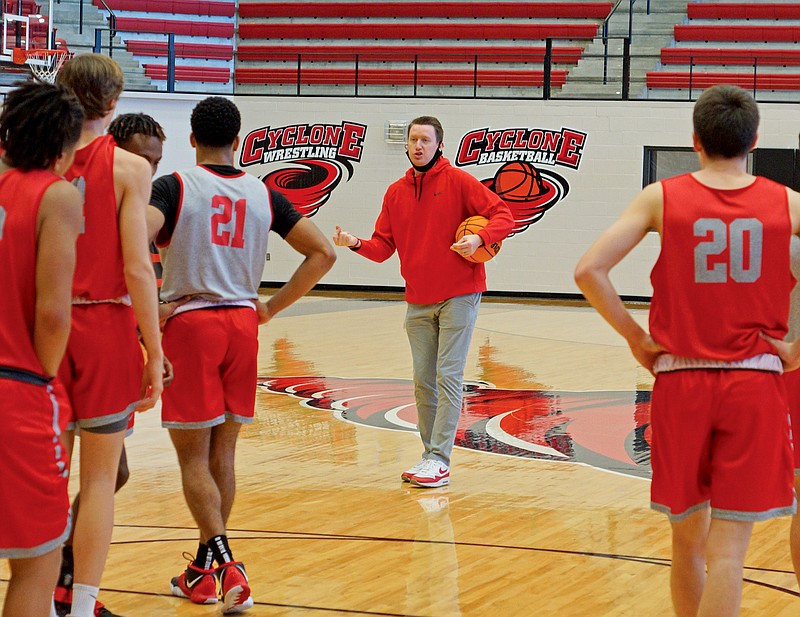 Russellville head coach Kyle Pennington talks to his team during a recent practice. The Cyclones finished last season with a 23-6 record but lost in the opening round of the Class 5A State Tournament. ( Jennifer Ellis)
With four starters back from a 23-6 run last season, the Russellville Cyclones are looking to rebound from a disappointing ending for an even better campaign in 2020-21.
They won the 5A-West last year, starting 13-0 before falling in the conference finale to Little Rock Christian, 72-67. They took the league's top seed into the Class 5A State Tournament but lost to Jonesboro, fourth seed from the East, in the opening round of the tournament.
Those two were the only back-to-back losses of the season for the Cyclones.
Seniors Trey Allen, a 6-foot guard; and Sayvion Brock, a 6-6 forward; will rejoin junior point guard Donyae May (6-0) and junior guard Grayson Sims (5-10) in the starting lineup under third-year coach Kyle Pennington.
"This group of seniors were sophomores when I took the job here at Russellville," said Pennington, who is 43-13 over his career. "They understand our system and how we want to play. We have a talented group overall and are focused on getting better each day."
Allen, Brock and May are college prospects, the coach said.
Allen averaged 14 points, 6 rebounds and 3 assists per game last season. May added 10 points, 3 rebounds and 4 assists per game. Others expected to help outside include Marccus Jackson, a 6-6 junior; Michael Jones, a 5-10 senior; and Levrone May, a 5-10 senior, Pennington said.
Brock will be the go-to player inside, the coach said, and the Cyclones will also look to Jayden Berry, a 6-4 sophomore; and Trent Stokes, a 6-4 junior, near the basket.
Pennington said other Cyclones expected to contribute are Connor Bailey, a 6-0 senior; Xavier Fox-Diaz, a 5-10 junior; Hayes Vines, a 6-0 junior; Victor Purifoy, a 6-0 junior; Brett Wilbers, a 5-10 junior; and Caleb Carter, a 6-1 sophomore.
After conference realignment this season, Russellville will compete against Alma, Greenbrier, Greenwood, Mountain Home, Siloam Springs, Van Buren and Vilonia in the 5A-West. Last year, Russellville was the league's top seed to the state tournament, followed by Little Rock Christian, Vilonia and Beebe.
"We have built a very tough nonconference schedule with 10 games against teams in the 5A or 6A classification," Pennington said. "Our conference will be tough and physical. We are looking forward to the opportunity to compete."
Russellville is scheduled to open the season against Ozark at Cyclone Arena on Tuesday.
"We aren't overlooking any of our opponents," Pennington said. "We want to be prepared to play one game at a time."
Pennington came to Russellville from Springdale Har-Ber, where he was an assistant as the Wildcats finished 23-7 in the Class 7A state semifinals. He took the Cyclones to a 20-7 mark during his debut run in 2018-19.
So in his third season atop the Russellville High School program, Pennington has a senior class that knows him and knows how to win.
"We are looking forward to the opportunity to play this year," he said. "We have a good group of guys back who all get along. We have experience with some depth behind them. We're excited about the upcoming season."
Sponsor Content