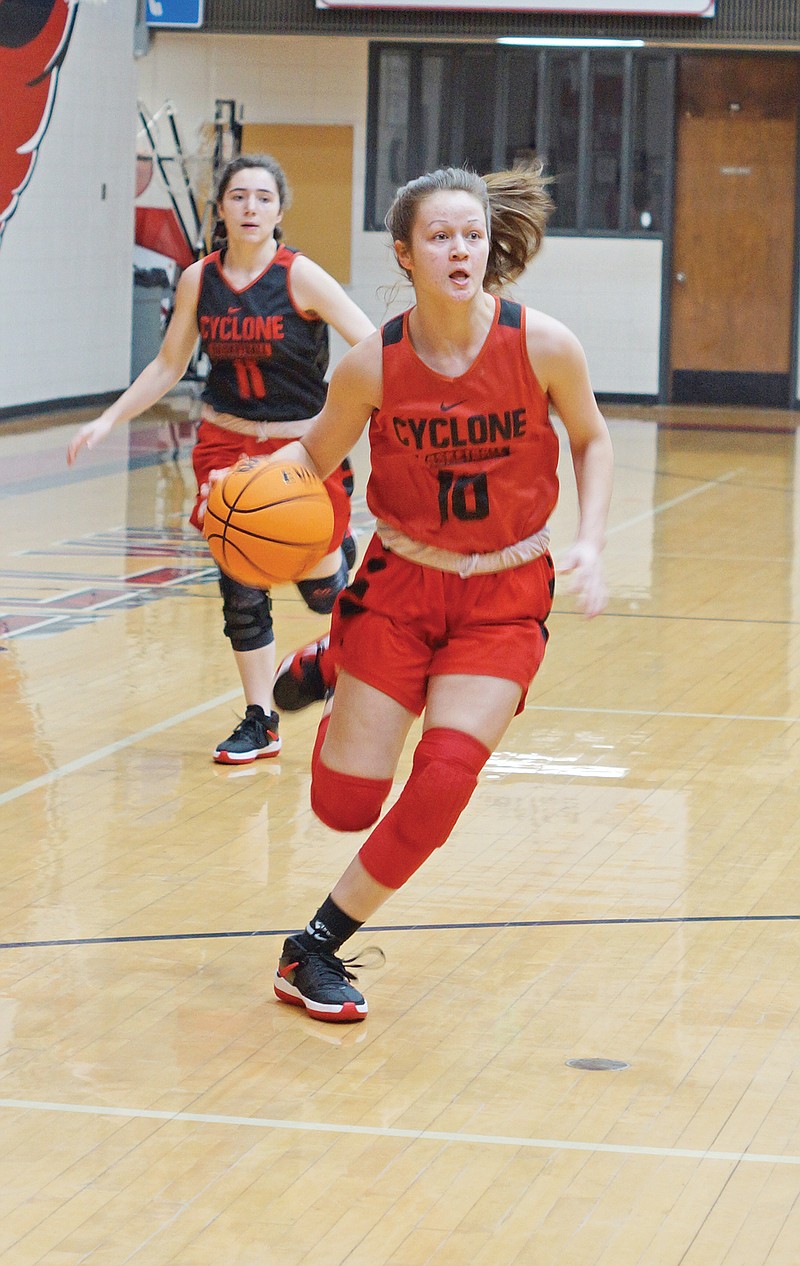 Russellville junior Jaidyn Koerdt drives toward the paint during a recent scrimmage. As a sophomore, Koerdt averaged more than 19 points per game last season at White County Central. Her dad, Ryan Koerdt, is the new head coach at Russellville. ( Jennifer Ellis)
With a new coach and an almost completely new roster, Russellville's Lady Cyclones look to improve from a 9-16 mark last season.
Ryan Koerdt was hired in the spring to replace Sherry White, who retired after five seasons at Russellville, ending a 38-year career that yielded five state championships. Koerdt came from White County Central, where he coached the boys team for the past seven years.
"We are super young," he said. "With only two seniors returning with experience, this is an entirely different team. We will be nothing like a year ago.
"If the girls will pay attention to details and play hard every play, we have a chance to have a good year. If they do not, it could be another 9-16 year without a state-tournament trip."
With no returning starters, the Lady Cyclones are starting fresh.
Russellville will have several options inside, including 5-11 Pe'Lar Handie, 6-0 Taleigha Ealy, 5-11 Gracie Campbell and 5-11 Paige Thomas.
"Handie is an active forward who is good around the basket," Koerdt said. "She is a good rebounder who runs the floor well. Ealy is long-armed and has great size, great hands and is athletic. She has all the potential in the world to be special before she leaves Russellville High School. Campbell is a leader on and off the floor. She can score on the inside and hit a jump shot. Thomas is physical and a banger on the inside."
Outside, the Lady Cyclones also have depth with 5-11 Jaidyn Koerdt, the coach's daughter; 5-8 Sara Velazquez; 5-9 Courtney Nesbitt; 5-7 Rayne Thone; 5-4 Zariyah Willis; and 5-6 Brenna Burk.
Jaidyn Koerdt averaged 19.6 points, 6 rebounds and 4 assists last season as a sophomore at White County Central.
"She led a dormant program to 22 wins," the coach said. "She can score at all three levels. She can handle the ball if needed. She already has three Division II offers and is receiving interest from 14 Division I programs.
"Velazquez is an athletic slasher. She was the most consistent player last year. She is a terrific driver and has a knack to play bigger than she is. Nesbitt is a tremendous athlete with loads of upside. She is a lock-down defender who has the body type to cause fits defensively. Thone will not back down from anyone. She is a high-energy player who does not mind defending at a high level. Willis is a strong athlete who will help with on-ball defense. She can get to the rim when needed and is a great young leader. Burk is a freshman guard who is highly skilled and a relentless competitor."
Team strengths will be size and athleticism. Inexperience and the adjustment to a new coach will be weaknesses, Coach Koerdt said.
"We have more experience and an overall better roster than what legendary coach Sherry White had a year ago," Koerdt said. "These girls are hungry and have worked extremely hard from day 1. They have a chance to be the surprise team in the conference."
Several on the roster are college prospects, he said.
Sponsor Content