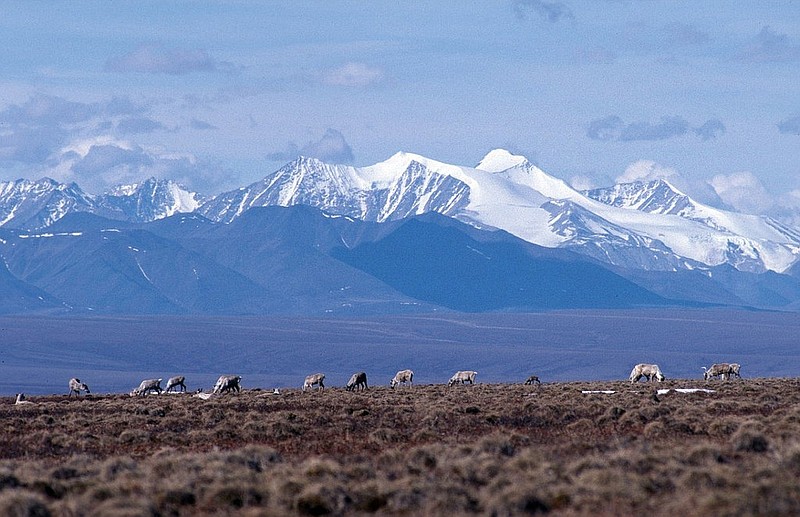 The coastal plain of the Arctic National Wildlife Refuge, with the Brooks Range as a backdrop. MUST CREDIT: U.S. Fish & Wildlife Service photo
WASHINGTON -- The Trump administration is asking oil and gas firms to pick spots where they want to drill in Alaska's Arctic National Wildlife Refuge as it races to open the pristine wilderness to development and lock in drilling rights before the end of President Donald Trump's term.
The "call for nominations" to be published today in the Federal Register allows companies to identify tracts on which to bid during an upcoming lease sale on the refuge's nearly 1.6 million-acre coastal plain, a sale that the Interior Department aims to hold before Joe Biden takes the oath of office in January. The move would be a capstone of Trump's efforts to open up public lands to logging, mining and grazing -- something Biden strongly opposes.
A GOP-controlled Congress in 2017 authorized drilling in the refuge, a vast wilderness that is home to tens of thousands of migrating caribou and waterfowl, along with polar bears and Arctic foxes.
The administration is pressing ahead with other moves to expand energy development and scale back federal environmental rules over the next few weeks. It aims to finalize a plan to open up the vast majority of the National Petroleum Reserve-Alaska to drilling, as well as adopt a narrower definition of what constitutes critical habitat for endangered species and when companies are liable for killing migratory birds.
At the Energy Department, officials may weaken energy-efficiency requirements for shower heads, as well as washers and dryers before Inauguration Day.
It is unclear how much appetite there is in the oil and gas industry for drilling in the refuge, given the lack of infrastructure there and the public backlash that could accompany such a move. The area provides habitat for more than 270 species, including the world's remaining Southern Beaufort Sea polar bears, 250 musk oxen and 300,000 snow geese.
Bernadette Demientieff, executive director of the Gwich'in Steering Committee, whose people have traveled with the caribou on the refuge for thousands of years, said in a statement: "Any company thinking about participating in this corrupt process should know that they will have to answer to the Gwich'in people and the millions of Americans who stand with us. We have been protecting this place forever."
But smaller players might be willing to bid on leases, which would be difficult to claw back once they are finalized. Some Alaska Native tribal corporations have already expressed an interest in conducting seismic tests to identify oil reserves on the coastal plain, and they aim to complete that work this winter.
The Bureau of Land Management will hold a 30-day comment period once the call for nominations is published today. Once that period closes, the agency could publish a lease sale notice, which must be published 30 days before an auction takes place. Under that timeline, drilling rights could be sold before Jan. 20, Inauguration Day.
Several environmental groups are challenging the administration's overall oil and gas leasing program for the refuge in four separate lawsuits. If one of those challenges prevails, it could effectively void the leases.
Information for this article was contributed by Dino Grandoni and Steven Mufson of The Washington Post.
Sponsor Content