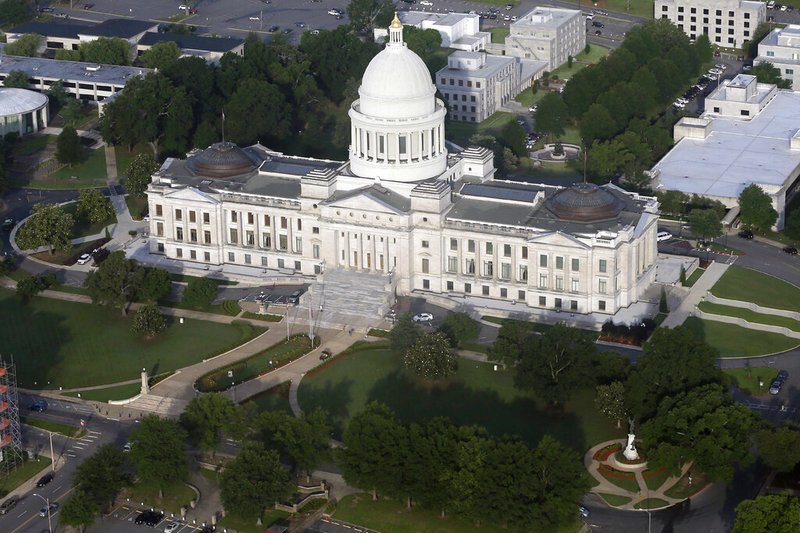 FILE — The state Capitol is shown in this file photo.
On the first day for state lawmakers to file bills in advance of next year's regular session, Senate President Pro Tempore Jim Hendren, R-Sulphur Springs, on Monday filed legislation that would create a sentence enhancement for hate crimes.
Hendren filed his Senate Bill 3 on the same day that the FBI reported that hate crimes in the United States rose to the highest level in more than a decade.
SB3 would create a sentence enhancement for offenses committed because of a victim's race, color, religion, ethnicity, ancestry, national origin, homelessness, gender identity, sexual orientation, sex, disability or service in the U.S. armed forces.
Hendren said his hate-crimes legislation is a good idea because he doesn't believe that Arkansas wants to be known as one of three states without that type of law. Hendren added that the situation puts businesses here in a difficult position of explaining why Arkansas doesn't take steps to protect individuals like other states do.
South Carolina and Wyoming also have no hate-crimes law, according to the U.S. Department of Justice.
Hendren said similar legislation has failed to clear the Arkansas General Assembly over the past few decades, and "it is going to be an uphill battle" for his legislation in the regular session starting Jan. 11.
"But we are going to try," he said in an interview.
Family Council President Jerry Cox, who has been a leading foe of hate-crimes legislation, said the conservative faith-based advocacy group opposes SB 3.
"No law has ever stopped hate, and no law ever will," Cox said Monday in a news release. "It's a matter of the heart. The experience of other states proves that hate crimes laws do not work. Over the past few years we've seen despicable crimes committed in states that have hate crimes laws."
House Speaker Matthew Shepherd, R-El Dorado, said, "On the hate crimes issue, I am open to the discussion."
Some House members have floated various ideas for hate-crimes legislation, he said in an interview.
"I want to continue to have that discussion and listen to members of the House," Shepherd said.
Sen. Jimmy Hickey, R-Texarkana — who will succeed Hendren as Senate president pro tempore starting in January — could not be reached for comment by telephone on Monday afternoon.
In August, Hickey said he hadn't read what was then Hendren's draft legislation nor discussed it with other lawmakers.
Gov. Asa Hutchinson and Attorney General Leslie Rutledge, both Republicans, signaled support for proposed legislation that would make Arkansas one of the last states in the country to penalize hate crimes.
To seek a sentence enhancement under Hendren's SB 3, the state would be required to set out the factual predicate in the information or indictment filed with the court indicating that, upon a finding of guilt, the defendant is subject to a sentence enhancement.
If the defendant is found to have purposely selected the victim of the offense, he or she is subject to the following sentence enhancements:
• An additional term of imprisonment equal to 20% of the original term.
• An additional fine equal to 20% of any assessed fine.
• An additional term of probation, suspended sentence or suspended imposition of sentence equal to 20% of the person's probation, suspended sentence and suspended imposition of sentence.
A sentence enhancement under these provisions "shall not exceed twenty percent (20%), despite the number of the victim's attributes," under SB 3.
The bill would require the attorney general to establish and maintain a central depository for the collection, analysis and dissemination of hate-crime data.
On Monday, Hendren also filed Senate Bill 2, which he estimated would provide about $100 million a year in income tax relief largely targeted for low- and moderate-income Arkansans and paid for with tax increases on tobacco products.
Two years ago, similar legislation narrowly cleared the 35-member state Senate but failed to get traction in the House Revenue and Taxation Committee.
SB 2 would create a refundable state earned income tax credit; increase the standard deduction; and eliminate a bracket in the tax table for people with incomes up to $22,200 a year. The bill also would levy a special excise tax on cigarettes and a privilege tax on e-cigarettes and vaping products.
Hendren said Monday that his bill aims to provide income tax relief to people who disproportionately carry the tax burden from the state having a high sales tax that's regressive.
Incoming Senate Revenue and Taxation Committee Chairman Bill Sample, R-Hot Springs, said he wants to study Hendren's bill before taking a stance on it.
House Revenue and Taxation Committee Chairman Joe Jett, R-Success, said, "At the end of the day, I can't see [earned income tax credit legislation] picking up steam in the House."
Jett said he's committed to pushing legislation that would eliminate the state's lower-income tax table to provide about $80 million a year in income tax relief to about 700,000 Arkansans.
Information for this article was contributed by staff members of The Associated Press.
Sponsor Content