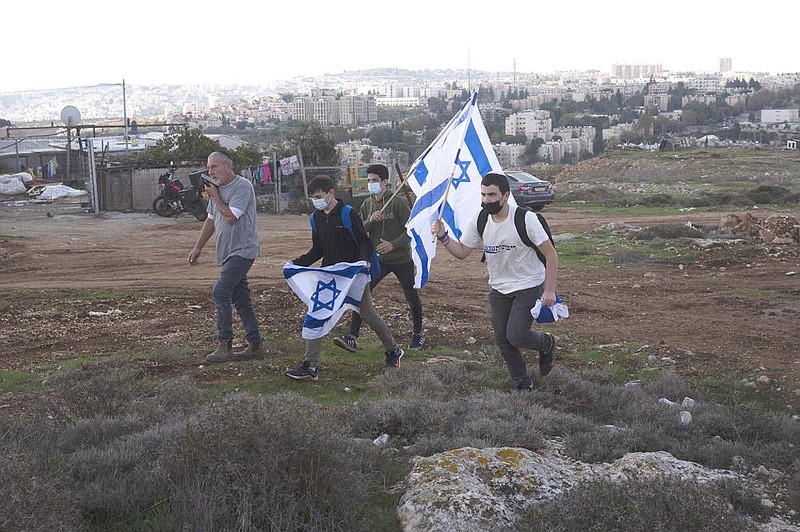 Protesters arrive at Monday's news conference at the Givat Ha- matos settlement in east Jerusalem.
(AP/Maya Alleruzzo)
Israelis drown out EU foes of settlement
JERUSALEM -- Israeli protesters shouted down a group of European diplomats on Monday who were visiting the site of a planned settlement expansion in east Jerusalem that would make it even harder to establish a viable Palestinian state.
The diplomats went to Givat Hamatos, in east Jerusalem, to voice their opposition a day after Israeli authorities announced tenders for more than 1,200 new homes. The new construction would further sever east Jerusalem from the nearby Palestinian town of Bethlehem and the southern West Bank.
They were met by around 50 right-wing protesters who waved Israeli flags and chanted "EU, shame on you!" The protesters chanted so loudly that members of the delegation were unable to deliver public statements and had to relocate to another part of the city.
Sven Kuhn von Burgsdorf, the EU representative to the Palestinian territories, said the planned settlement expansion "gives some observers the impression" that Israel is trying to create "facts on the ground" before Democrat Joe Biden could assume office in January.
"It's very important to demonstrate unity in the international community that any such project, any such construction, which is illegal under international law, cannot go forward," he said.
Kurds free families from Syrian camps
BEIRUT -- Kurdish-led authorities Monday released dozens of Syrian families from one of the largest camps in northeastern Syria holding tens of thousands of women and children, many of them linked to the Islamic State.
The release of 120 families comes a month after senior Kurdish officials said all 25,000 Syrian nationals in the sprawling al-Hol camp will be allowed to leave as part of a general amnesty to ease pressure on authorities maintaining the camp.
The release, announced through the Kurdish-led Syrian Democratic Council, is voluntary. Unlike previous releases it doesn't require sponsorship agreements with local Arab tribes to which those detained belong. Only identification papers are needed, according to the council.
The camp is also home to about 30,000 Iraqis, most of them children, and 10,000 additional foreign nationals.
Those released Monday are from Deir el-Zor province, a majority Arab province that has seen protests against the Kurdish-led administration. The Rojava Information Center, a media group that covers Kurdish-administered territories, said 17,000 of the 25,000 Syrians in the camp are children.
Sheikmous Ahmed, a Kurdish administration official in charge of displaced, said the Monday release is the first in a series.
Germany says worker spied for Egypt
BERLIN -- German prosecutors say they have formally charged an employee of the government's press office with spying for an Egyptian intelligence service.
Federal prosecutors said Monday that the man, identified only as Amin K. for privacy reasons, had used his position in the press office's visitor service to obtain information for Egypt's General Intelligence Service.
Prosecutors said the suspect, a German citizen with family roots in Egypt, took up his espionage activity from July 2010 on instructions from the Egyptian Embassy in Berlin.
He is accused of compiling reports on Germany's domestic and foreign policy relating to Egypt, including through the use of research tools available to him at the press office. Prosecutors say he was also involved in an unsuccessful attempt to recruit agents for the General Intelligence Service in 2014 and 2015.
In exchange, the suspect hoped that his family in Egypt would receive special treatment from authorities there. Prosecutors said his handler helped the suspect's mother obtain pension rights in Egypt, and he was occasionally invited to receptions at the embassy.
No deal as Libyan rivals complete talks
GAMMARTH, Tunisia -- Libya's rival sides wrapped up a week of U.N.-brokered talks without agreeing on a transitional government that would lead the county to an election in December next year, the top U.N. official for Libya said Monday.
The political forum, which concluded late Sunday in Tunisia, was the latest effort to end the chaos that engulfed the oil-rich North African nation after the 2011 overthrow and killing of dictator Moammar Gadhafi.
The main goal of the gathering was to draw a road map for presidential and parliamentary elections. The participants agreed to hold the vote on Dec. 24, 2021, but failed to name a transitional administration to lead the war-torn country.
U.N. acting envoy for Libya Stephanie Williams told reporters in Tunisia the 75-member forum did not discuss names during the week-long talks -- even though a draft handed out at the start said they were to agree on the names of a president of the presidential council, two presidential deputies and that of the prime minister.
"Ten years of conflicts cannot be resolved in one week," Williams said. "We still have a lot of work to do."
-- Compiled by Democrat-Gazette staff from wire reports
Print Headline: The World in Brief
Sponsor Content