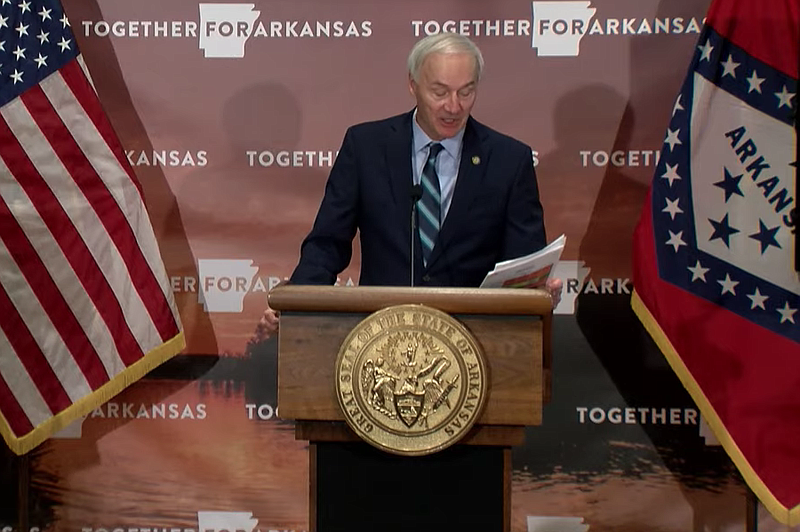 Arkansas Gov. Asa Hutchinson speaks to reporters at the state Capitol in Little Rock on Tuesday in this still of video provided by the governor's office.
3:55 p.m.
Covid-19 hospitalizations and ventilator use in the state set daily records Tuesday as total hospitalizations rose by 34 to 895, and those requiring ventilators rose by 14 to 137, according to Health Department data.
Another 1,554 new cases were added Tuesday, bringing the cumulative total to 135,902. Deaths from the virus rose by 20 to 2,245.
Gov. Asa Hutchinson, at the weekly coronavirus news conference Tuesday from the state Capitol, referenced a report released earlier this morning from the White House Coronavirus Task Force that said they shared a "strong concern" for the worsening current situation in Arkansas.
The national task force leaders suggested increased restrictions on restaurant capacity, bar hours and other businesses.
Hutchinson quoted from the report that the last two weeks of increasing covid-19 cases and hospitalizations puts Arkansas on the "precipice of a rapid accelerating increase in cases which will be followed with new hospital admissions."
"Now that's a statement that will get your attention as a leader," Hutchinson said. "We look at the holiday season that is approaching and we have to be mindful that if Arkansas continues at the present pace over the last two days, then Arkansas will have an additional 1,000 Arkansans that will die as a result of covid-19 between now and Christmas."
The prediction is a "cloud that hangs over" anyone who wants to enjoy the "cheer of Christmas," he added.
"That should inspire us to do well, to follow the guidelines, to do everything that we can to break that trend," Hutchinson said.
Read Wednesday's Arkansas Democrat-Gazette for full details.
[LIVES REMEMBERED: Read stories of Arkansans who have died of covid-19 » arkansasonline.com/livesremembered/]
EARLIER:
Gov. Asa Hutchinson and state health officials will provide an update on Arkansas' covid-19 response at 1:30 p.m.
The total number of coronavirus cases reported in Arkansas remained at 134,348 Tuesday morning, according to a state website. The death toll remained at 2,225.
Check back to watch the live video.
[Video not showing up above? Click here to view » https://www.youtube.com/watch?v=HmdXQJTgmoE]
Sponsor Content