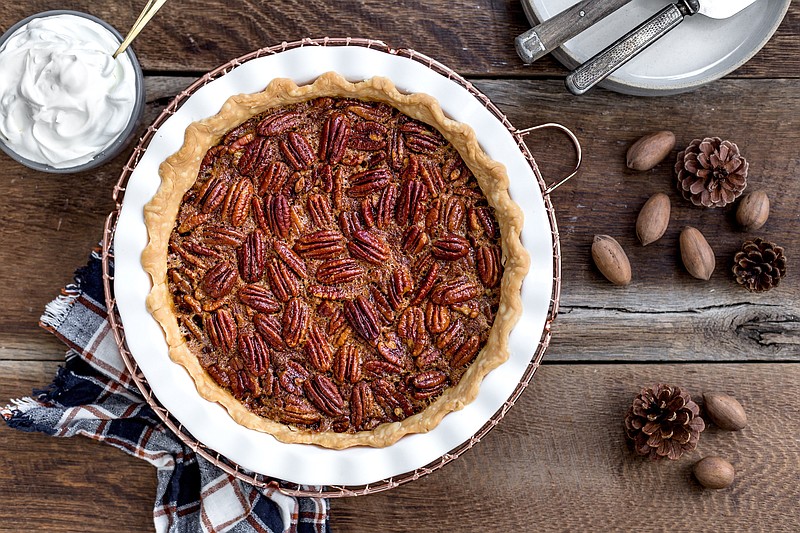 Pecan Pie (Courtesy of American Pecans)
A week's worth of quick, healthful meals for budget-minded families
SUNDAY: The wonderful aromas of Apple and Spice Pork Loin Roast (see recipe) will draw the family to the table in no time. A perfect side dish is Roasted Sweet Potatoes: Heat oven to 400 degrees. Scrub and halve sweet potatoes lengthwise; place in baking dish, cut side up. Drizzle with extra-virgin olive oil, chopped fresh thyme, coarse salt and pepper to taste. Bake 35 to 45 minutes or until golden-brown and tender. Add frozen green peas and dinner rolls alongside. For dessert, top Gingerbread with Molasses Cream. Mix 1 cup any frozen whipped topping (thawed) with 2 tablespoons molasses and spoon over the gingerbread.
Plan ahead: Save enough pork and gingerbread for Monday.
MONDAY: Use the Sunday leftovers for Baked Pork and Sauerkraut. Heat oven to 350 degrees. Rinse and drain 2 pounds refrigerated sauerkraut and spoon into a 2-quart baking dish coated with cooking spray. Stir in 1 teaspoon caraway seeds. Top with sliced cooked (leftover) pork. Cover tightly with foil. Bake 25 minutes or until hot. Serve with mashed potatoes, deli carrot salad and rye bread. Dessert is leftover gingerbread.
Plan ahead: Buy enough carrot salad for Wednesday.
TUESDAY: Make dinner a light one tonight with Penne With Spinach and Olives (see recipe). Add a lettuce wedge and garlic bread. Peaches are a simple dessert.
WEDNESDAY: Look for any packaged frozen Philly cheesesteaks and follow the directions. Add o'brien potatoes (from frozen) and leftover carrot salad. Try plums for dessert.
THURSDAY: Enjoy all the family favorites, including turkey, dressing, gravy, mashed potatoes, green beans and cranberry sauce, as you gather for Thanksgiving. For dessert, Pecan Pie is classic and is always welcome (see recipe), especially when topped with whipped cream.
Plan ahead: Save enough turkey and cranberry sauce for Friday and enough pie for Saturday.
FRIDAY: Use some of the Thanksgiving leftovers for Cranberry-Ancho Turkey Sandwiches. For one sandwich: Toast 2 slices sourdough bread. Spread 2 tablespoons reduced-fat cream cheese on the toast. Spread both sides with ¼ cup leftover cranberry sauce. Top one slice with sliced (leftover) turkey; sprinkle with ancho chile powder and add romaine. Cover with other toast slice and cut on diagonal. Serve with baked chips and celery sticks. For dessert, lighten up with fresh pineapple chunks.
SATURDAY: Entertain the family with Grilled Burgers and Onions for a change of pace from the holiday eat-a-thon. Grill the (lean ground beef) burgers 13 to 15 minutes for medium. Grill thick (½-inch) slices of Vidalia onions (or other sweet onions) 10 to 12 minutes or until tender. Before grilling, brush onions with canola oil and season burgers and onions with coarse salt and pepper. Serve the burgers and onions on grilled whole-grain buns along with sliced tomatoes and lettuce and roasted red potatoes on the side. For dessert, leftover pie is as easy as it gets.
THE RECIPES
Apple and Spice Pork Loin Roast
1 cup unsweetened applesauce
5 tablespoons packed brown sugar
2 teaspoons cider vinegar
1 teaspoon prepared mustard
¼ teaspoon ground cloves
1 tablespoon flour
½ teaspoon coarse salt
¼ teaspoon sugar
Generous pinch garlic powder
Generous pinch ground black pepper
1 (3-pound) well-trimmed boneless pork loin roast
Heat oven to 350 degrees.
Mix together applesauce, brown sugar, vinegar, mustard and cloves; refrigerate half of mixture and set aside the remainder.
In a small bowl, combine flour, salt, sugar, garlic powder and pepper. Rub flour mixture evenly over entire surface of pork. Place pork on rack in shallow roasting pan. Roast 40 minutes, uncovered, or until internal temperature is 135 degrees. Spoon reserved applesauce mixture over pork. Continue roasting until internal temperature reaches 145 degrees (8 to 12 minutes). Transfer roast to cutting board; cover with foil and let stand for 5 minutes before slicing. In a small pan, heat refrigerated applesauce mixture to a boil; boil 1 minute. Spoon heated applesauce mixture over pork slices and serve.
Makes 12 servings.
Nutrition information: Each serving contains approximately 200 calories, 23 g protein, 8 g fat, 9 g carbohydrate, 64 mg cholesterol, 133 mg sodium and no fiber.
Carbohydrate choices: 0.5.
Penne With Spinach and Olives
12 ounces penne or other tube-shaped pasta
2 tablespoons extra-virgin olive oil
1 tablespoon balsamic vinegar
3 cloves garlic, crushed
2 cups chopped fresh spinach
¼ cup kalamata olives (pitted, chopped)
2 tablespoons rinsed capers
1 (3.5-ounce) package (about ¾ cup) crumbled Greek feta cheese with tomatoes and basil (or plain)
Cook pasta according to package directions.
Meanwhile, in a large bowl, combine oil, vinegar and garlic; mix and let stand while pasta cooks. Add cooked pasta, spinach, olives, capers and feta; toss and serve.
Makes 6 servings.
Nutrition information: Each serving contains approximately 309 calories, 11 g protein, 9 g fat, 45 g carbohydrate, 5 mg cholesterol, 415 mg sodium and 2 g fiber.
Carbohydrate choices: 3.
Pecan Pie
1 (9-inch) refrigerated pie crust
6 tablespoons unsalted butter, melted and cooled
1 cup light corn syrup
1 cup light brown sugar
2 teaspoons pure vanilla extract
3 eggs, lightly beaten
½ teaspoon granulated salt
2 ½ cups pecan halves
Place baking sheet in oven. Heat oven to 350 degrees.
Arrange crust in pie pan according to directions; set aside.
In a large bowl, whisk together butter, corn syrup, brown sugar and vanilla. Add eggs and salt; whisk until mixture is even. Fold in pecan halves. Pour mixture into pie crust and spread evenly with spatula. Gently cover edges of crust with aluminum foil. Place pie pan on preheated baking sheet and bake 60 to 70 minutes or until pie is set in center. Remove foil for browning 10 minutes before pie is done. Remove pie; allow to cool completely before serving.
Makes 10 servings.
Nutrition information: Each serving contains approximately 526 calories, 5 g protein, 32 g fat, 62 g carbohydrate, 77 mg cholesterol, 277 mg sodium and 2 g fiber.
Carbohydrate choices: 4.
Susan Nicholson is an Atlanta-based cookbook author and registered dietitian. She can be reached by email: susan@7daymenu.com
Sponsor Content