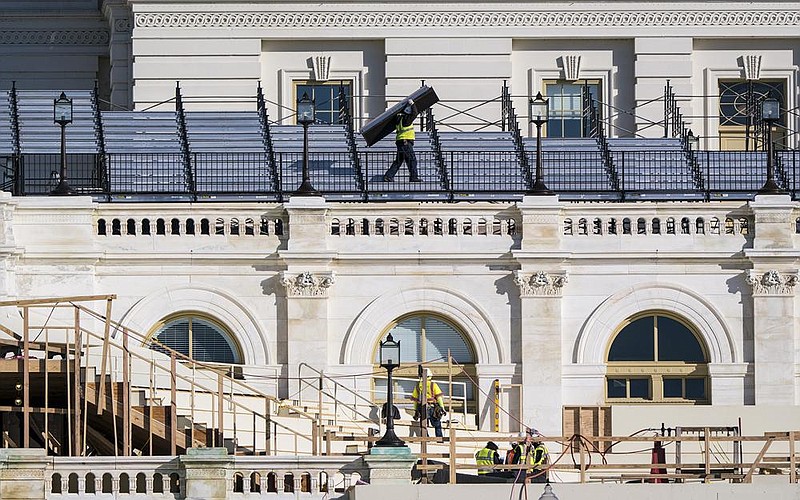 With Inauguration Day two months away, construction crews work Wednesday outside the U.S. Capitol building on the platforms where the president-elect will take the oath of office. (AP/J. Scott Applewhite)
MADISON, Wis. -- President Donald Trump filed Wednesday for a recount of Wisconsin's two largest Democratic counties, paying the required $3 million cost and alleging that they were the sites of the "worst irregularities."
The recounts in Milwaukee and Dane counties will begin Friday and must be done by Dec. 1. Democrat Joe Biden received 577,455 votes in those two counties compared with 213,157 for Trump. Biden won statewide by 20,608 votes, based on canvassed results submitted by the counties.
"The official canvass results reaffirmed Joe Biden's clear and resounding win in Wisconsin after Wisconsin voters turned out to cast their ballots in record numbers," said Biden campaign spokesman Nate Evans. "A cherry-picked and selective recounting of Milwaukee and Dane County will not change these results."
Milwaukee County is the state's largest, home to the city of Milwaukee, and Black people make up about 27% of the population, more than any other county. Dane County is home to the liberal capital city of Madison and the flagship University of Wisconsin campus.
"The people of Wisconsin deserve to know whether their election processes worked in a legal and transparent way," said Wisconsin attorney Jim Troupis, who is working with the Trump campaign. "Regrettably, the integrity of the election results cannot be trusted without a recount in these two counties and uniform enforcement of Wisconsin absentee ballot requirements. We will not know the true results of the election until only the legal ballots cast are counted."
Gallery: Vote counting, protests continue
[Gallery not loading above? Click here for more photos » arkansasonline.com/1119count/]
Dean Knudson, a Republican member of the Wisconsin Elections Commission, said Trump raised "significant legal questions that have never been adjudicated in Wisconsin."
But a fellow commission member, Democrat Mark Thomsen, said Trump was trying to change the rules of the election after he lost, but only in two counties.
"That's like losing the Super Bowl and then saying 'I want a review of a certain play using different rules than what applied to the rest of the game,'" Thomsen said. "That is the essence of hypocrisy and cheating and dishonesty."
Milwaukee Mayor Tom Barrett, a Democrat, called the recount "an attack on cities, on minorities, on places that have historically voted Democratic. Don't let anyone fool you that this is about irregularities."
The Wisconsin recount will be done as the state continues to ride a surge of coronavirus cases, breaking records this week for deaths, new positives and hospitalizations. Recount organizers were planning to do the work in large convention centers so workers and observers could be properly distanced.
"It's not surprising at all that Donald Trump, the Trump campaign, wants to have one last mass gathering that will put people's health in peril," Barrett said.
TRUMP ALLEGATIONS
Trump's campaign made a variety of claims Wednesday, including that clerks wrongly added missing information on returned absentee ballots.
But guidance from the Wisconsin Elections Commission, in place since 2016, says that clerks can fix missing witness address components on the envelopes that contain absentee ballots if they have reliable information. That guidance, passed unanimously by the bipartisan elections commission, has been in place for 11 statewide elections without objection.
The elections commission said that there were no corrections to actual absentee ballots contained inside the envelopes, as some have claimed. The witness signature and address information is all contained on the envelope in which the ballot is sent.
The Trump campaign is also alleging that thousands of voters improperly got around Wisconsin's photo ID requirement by claiming they were indefinitely confined and therefore didn't have to present a photo ID in order to return their absentee ballot.
Wisconsin law requires all voters to show an acceptable photo ID to vote both in person and by mail. It does provide exceptions for citizens who are indefinitely confined because of age, physical illness or infirmity or are disabled for an indefinite period.
The Wisconsin Republican Party sued Democratic Dane County Clerk Scott McDonell in March, before the state's spring primary, over advice he had posted on his Facebook page that voters could declare themselves indefinitely confined as a result of the pandemic. The Wisconsin Supreme Court ordered McDonell to stop issuing guidance that is different from official language approved by the Wisconsin Elections Commission. The Trump campaign alleged that "the damage was already done" before McDonell was ordered to remove the language.
The Trump campaign also alleges that local election clerks issued absentee ballots to voters without requiring an application, in violation of state law. Trump's complaint alleges that 60,000 votes were cast by people who didn't submit a written application.
Milwaukee County Clerk George Christenson said there was "no proof" to back up that claim.
"I would encourage them to provide the proof," he said.
Elections commission members Knudson and Thomsen both said they did not know what Trump was referring to in that portion of the complaint.
Trump also claimed that observers in Milwaukee were kept too far away to observe the counting of ballots.
"Once observational access is provided during a recount, mistakes, violations of the law (in addition to the open access violations already known) and fraud will be discovered," the complaint said.
Election leaders in Milwaukee and Dane counties said they would live stream the recount to be done at convention centers in both Milwaukee and Madison, with room for observers in person. The recount will continue in both cities over the weekend, taking off only for Thanksgiving, until complete.
GEORGIA WRAPPING UP
Meanwhile, election officials across Georgia were expected to complete a hand tally of the presidential race Wednesday night, which would allow state officials to begin the process of certifying the election results, a top elections official said.
The hand recount of about 5 million votes stems from an audit required by a new state law and wasn't in response to any suspected problems with the state's results or an official recount request.
The deadline for the counties to complete the audit was 11:59 p.m. Wednesday, ahead of the Friday deadline for state certification. Gabriel Sterling, who oversaw the implementation of the state's new voting system, said he expects the counties to meet that deadline. He said the secretary of state's office plans to release a report on the audit today.
The hand count is meant to ensure that the state's new election machines accurately tabulated the votes and isn't expected to change the overall outcome, state election officials have repeatedly said.
Going into the count, Biden led Trump by a margin of about 14,000 votes. Previously uncounted ballots discovered in four counties --Douglas, Fayette, Floyd and Walton -- during the hand count will reduce that margin to about 12,800, Sterling said.
A law passed last year requires the audit but leaves it up to the secretary of state to select the race to be audited. Secretary of State Brad Raffensperger said he chose the presidential race because of its significance and tight margin. Because of the close results, he said, a full hand recount would be needed to complete the audit.
Once the results are certified, if the margin between the candidates remains within 0.5%, the losing campaign has two business days to request a recount. Sterling said he hoped the hand tally affirming the result of the election would be enough to convince everyone that the election results were sound, but he said a recount would be done if requested.
"I'm hoping that we won't have to put the counties through that level of work," Sterling said. "But if that request comes through, it's a lawful request."
PAUSE IN MICHIGAN
On Tuesday in Michigan, Republicans on a canvassing board for the county that includes Detroit temporarily stopped certification of the vote after claiming that poll books in certain parts of the majority-Black city were out of balance. The deadlock brought claims of racism from Democrats before the board later voted unanimously to certify the results.
Republicans Monica Palmer and William Hartmann initially voted against certification Tuesday, leaving the Wayne County Board of Canvassers deadlocked at 2-2 along party lines. Palmer complained that certain Detroit precincts were out of balance, meaning that absentee ballot books sometimes did not match the number of ballots cast.
The meeting's public comment period brought a swift and sharp rebuke, with the Detroit NAACP president, the Rev. Wendell Anthony, calling Palmer and Hartmann "a disgrace."
"This is the deadly political virus attacking our election process," Anthony said Wednesday. "It should not take such actions on the part of the people to get our public officials to adhere to the express will and intent of the people."
Biden beat Trump in Wayne County, a Democratic stronghold, by a more than 2-1 margin on his way to winning Michigan by 146,000 votes, according to unofficial results. His victory reversed Trump's 2016 gains in the industrial Midwest and put Biden on the path to achieving the 270 Electoral College votes needed to win the White House.
The county canvassers later voted again and certified the results 4-0.
Information for this article was contributed by Doug Glass, Kate Brumback, Corey Williams, John Flesher, Ed White and Katrease Stafford of The Associated Press.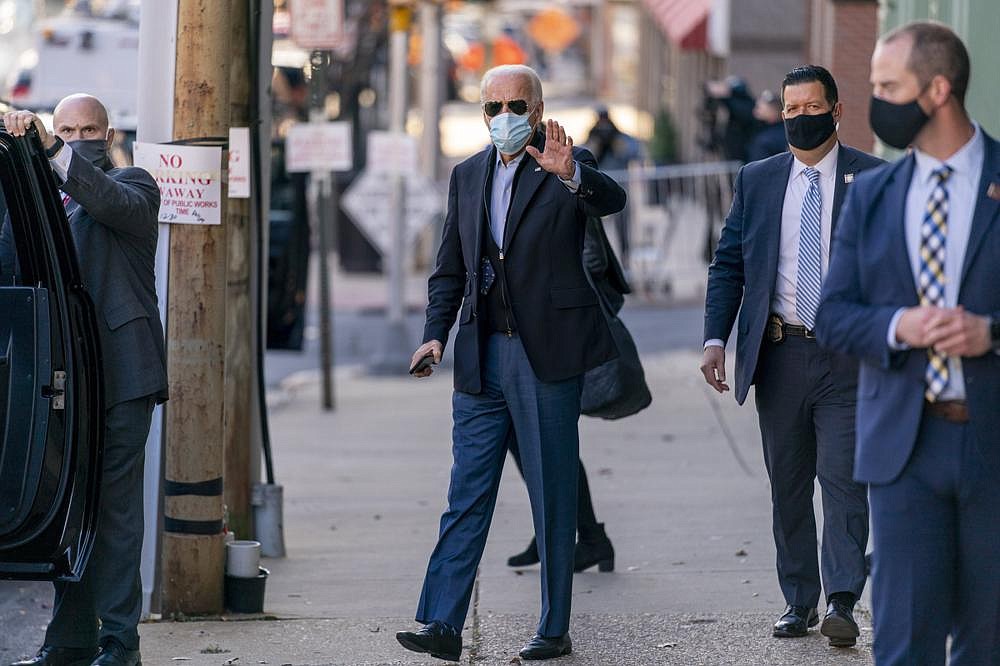 President-elect Joe Biden leaves The Queen theater Wednesday in Wilmington, Del. Blocked from official intelligence briefings traditionally afforded to incoming presidents, Biden has been meeting virtually in the theater with staff members and various intelligence, defense and diplomatic experts. More photos at arkansasonline.com/1119count/. (AP/Andrew Harnik)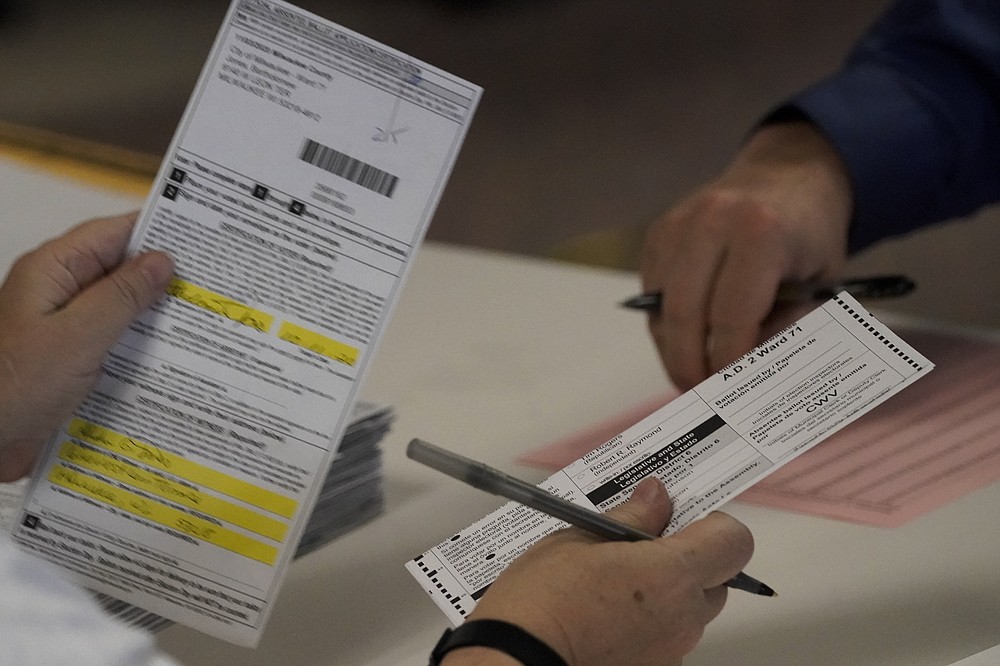 FILE - In this Nov. 3, 2020 file photo, workers count Milwaukee County ballots on Election Day at Central Count in Milwaukee. President Donald Trump's campaign has paid $3 million for a recount of two heavily Democratic Wisconsin counties, saying Wednesday, Nov. 18, 2020, that they were the site of the "worst irregularities" although no evidence of wrongdoing has been presented and state elections officials have said there was none. (AP Photo/Morry Gash File)
Sponsor Content