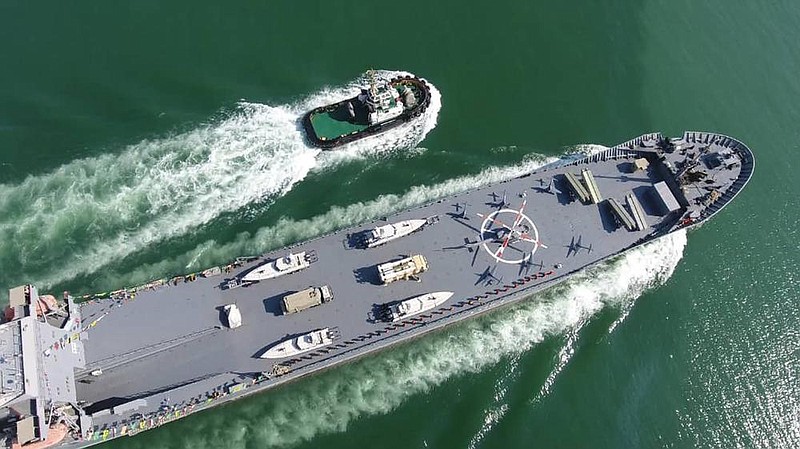 In this photo released by the Iranian Revolutionary Guard, the Guard's warship, named after slain Guard naval commander Abdollah Roudaki, sails Thursday into Iranian southern territorial waters. (AP/Sepahnews)
Iran shows off copter-capable warship
TEHRAN, Iran -- Iran's paramilitary Revolutionary Guard said it launched a heavy warship Thursday capable of carrying helicopters, drones and missile launchers as tensions persist with the U.S.
Photographs of the ship, named after slain Guard naval commander Abdollah Roudaki, showed it carrying truck-launched surface-to-surface missiles and anti-aircraft missiles. It also carried four small fast boats, the kind the Guard routinely uses in the Persian Gulf. Sailors manned deck-mounted machine guns.
The Guard said the ship has a length of 492 feet. By comparison, a U.S. Nimitz-class aircraft carrier has a length of 1,092 feet. The Guard's ship does not have a runway, but includes a landing pad for a helicopter.
The commander of the Guard's navy, Adm. Ali Reza Tangsiri, suggested his forces wanted to move beyond the waters of the Gulf into deep-water patrolling. Typically, the Guard covers the waters of the Persian Gulf, while Iran's navy patrols the Gulf of Oman and beyond.
"Presence and assignments in the Indian Ocean is our right," Tangsiri said.
The ship appears to be an answer to U.S. Navy patrols in the region by its Bahrain-based 5th Fleet.
China defiant after outcry on Hong Kong
BEIJING -- China on Thursday rejected the latest attack on its Hong Kong policy by the U.S. and several of its allies, saying they "should face up to the reality" that the former British colony has been returned to China.
Foreign Ministry spokesman Zhao Lijian was responding to a statement on Hong Kong issued by the U.S., U.K., Australia, Canada and New Zealand, which together make up an intelligence partnership known as the Five Eyes.
"No matter if they have five eyes or 10 eyes, if they dare to harm China's sovereignty, security and development interests, they should beware of their eyes being poked and blinded," he said at a daily briefing.
The foreign ministers of the five nations said that a new Chinese government resolution that led to the disqualification of four pro-democracy lawmakers in Hong Kong appears to be "part of a concerted campaign to silence all critical voices."
The joint statement called the resolution a breach of China's international obligations and its commitment to grant Hong Kong a high degree of autonomy and freedom of speech.
Hong Kong, a city of 7.5 million people, was promised autonomy over its affairs for 50 years after its return to China in 1997.
Greece charges refugee as ISIS fighter
ATHENS, Greece -- A 27-year-old Syrian man accused of taking part in executions carried out by the Islamic State group was arrested Thursday at a refugee camp in Greece's capital.
Authorities said the suspect was arrested at the camp in Athens early in the day and that a police anti-terrorism division was leading the investigation. They did not name the man.
"The suspect ... is accused of being a member of a terrorist organization and participating in acts of terrorism, with participation in multiple acts of willful homicide," a police statement said.
He was charged later Thursday with membership in a terrorist organization and complicity to murder. He remained in police custody before an appearance scheduled for Monday to answer the charges.
Police said the man moved to Greece in March 2018, traveling from Turkey to the Greek island of Lesbos and later to Athens. They said he kept a "digital record" of his alleged criminal actions which forensic experts were examining. The evidence included video recordings on a mobile device, police said.
The police gave no further details of where and when the killings in which the suspect allegedly participated took part.
Belarus companies next sanctions target
BRUSSELS -- The European Union plans to prepare a new round of sanctions against Belarus that will target businesses, the EU's foreign-policy chief said Thursday as a security crackdown on protesters continues in the ex-Soviet nation.
European foreign-policy chief Josep Borrell said after a meeting of the bloc's foreign affairs ministers that EU member nations agreed in principle on the extra measures as a response to the "brutality of authorities."
More than 17,000 people have been detained -- thousands of them brutally beaten -- since the Aug. 9 presidential election in Belarus, human-rights advocates have reported. Over the past three months, the country has been rocked by mass anti-government protests that were sparked by official election results that gave authoritarian President Alexander Lukashenko a sixth term in office.
The EU already has imposed sanctions on Lukashenko and more than 50 officials over their role in the protest crackdown. Noting that the repression by Lukashenko's government has not stopped, Borrell said the new set of sanctions should not only target individuals but also "institutions, entrepreneurs and firms."
Borrell did not elaborate on the sanctions but said that they could have an impact on "the developing of a normal economic activity."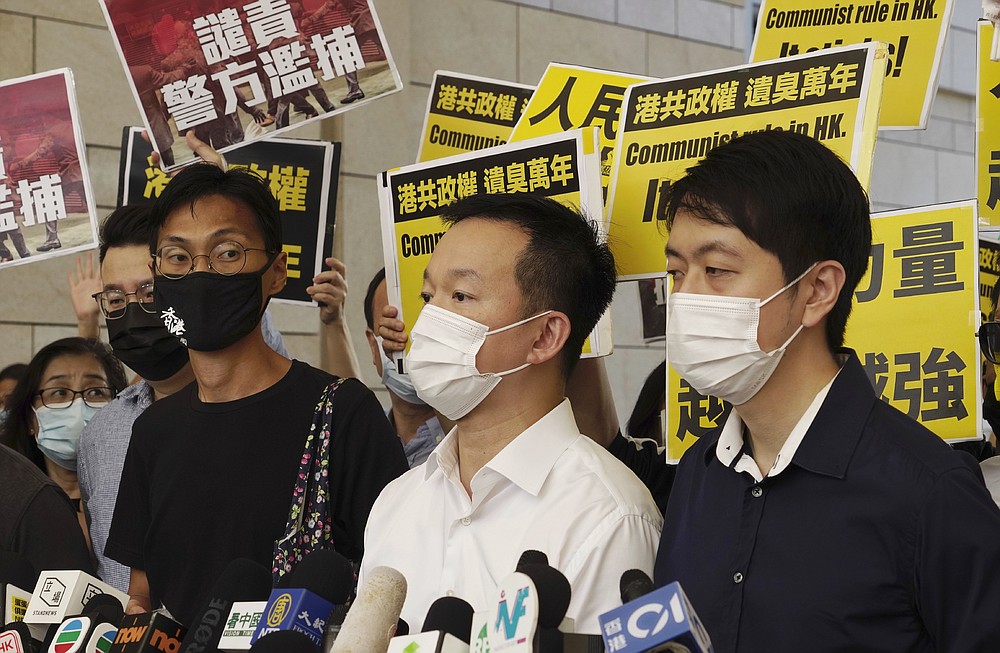 Pro-democracy lawmakers, from left, Eddie Chu, Raymond Chan and Ted Hui speak outside a local court in Hong Kong, Thursday, Nov. 19, 2020. Three former pro-democracy lawmakers appeared in court Thursday, one day after they were arrested for disrupting the legislature during debate on a national anthem bill earlier this year. (AP Photo/Vincent Yu)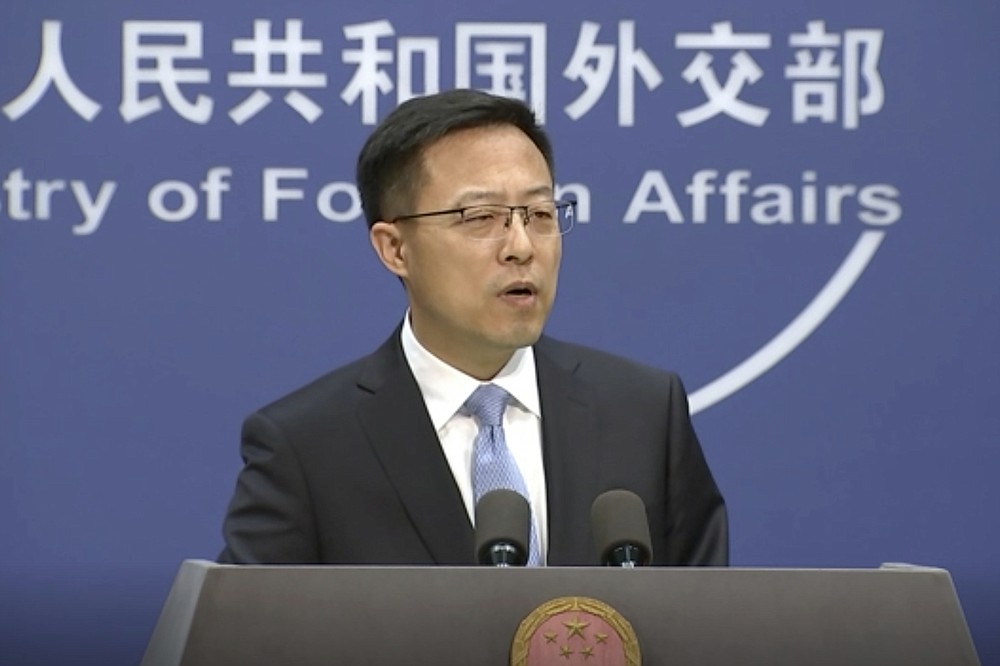 In this image from video, Chinese Foreign Ministry spokesperson Zhao Lijian speaks at a briefing in Beijing Tuesday, Nov. 17, 2020. Lijian said Australia should do something "to promote mutual trust and cooperation" between the two countries, in response to the call from Australia's trade minister Simon Birmingham for dialogue and discussion with China to stop the trade disruptions over tensions. Australia is the first country to ban China's Huawei from its 5G network and Canberra led a global effort calling for an independent probe into the origins of the COVID-19 pandemic, which first emerged in China's Wuhan city. (AP Photo)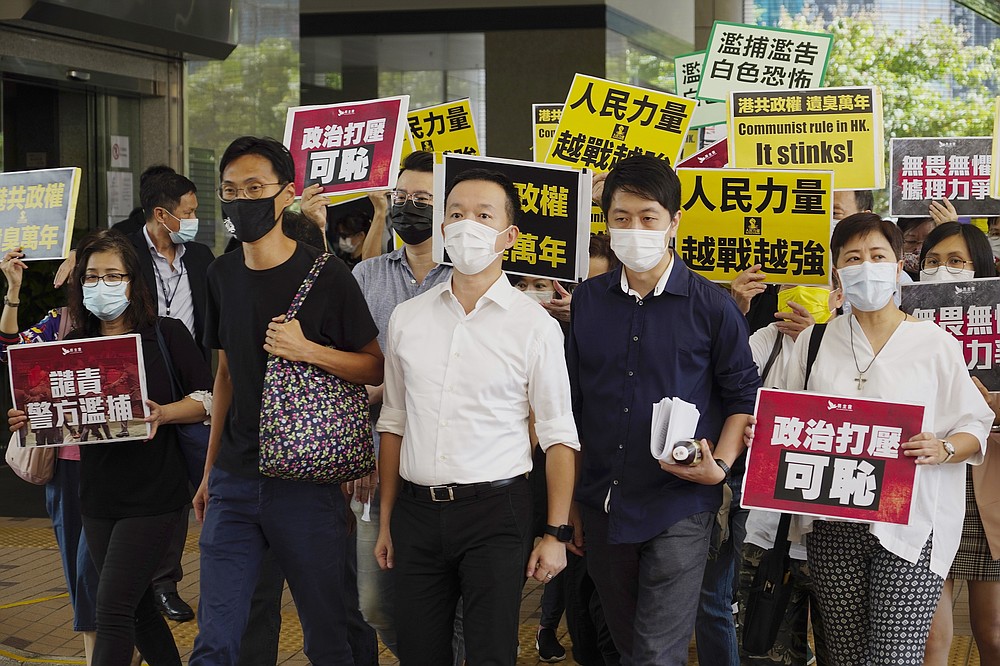 Pro-democracy lawmakers, from second left to right, Eddie Chu, Raymond Chan, and Ted Hui walk with supporters at a local court in Hong Kong, Thursday, Nov. 19, 2020. Three former pro-democracy lawmakers appeared in court Thursday, one day after they were arrested for disrupting the legislature during debate on a national anthem bill earlier this year. (AP Photo/Vincent Yu)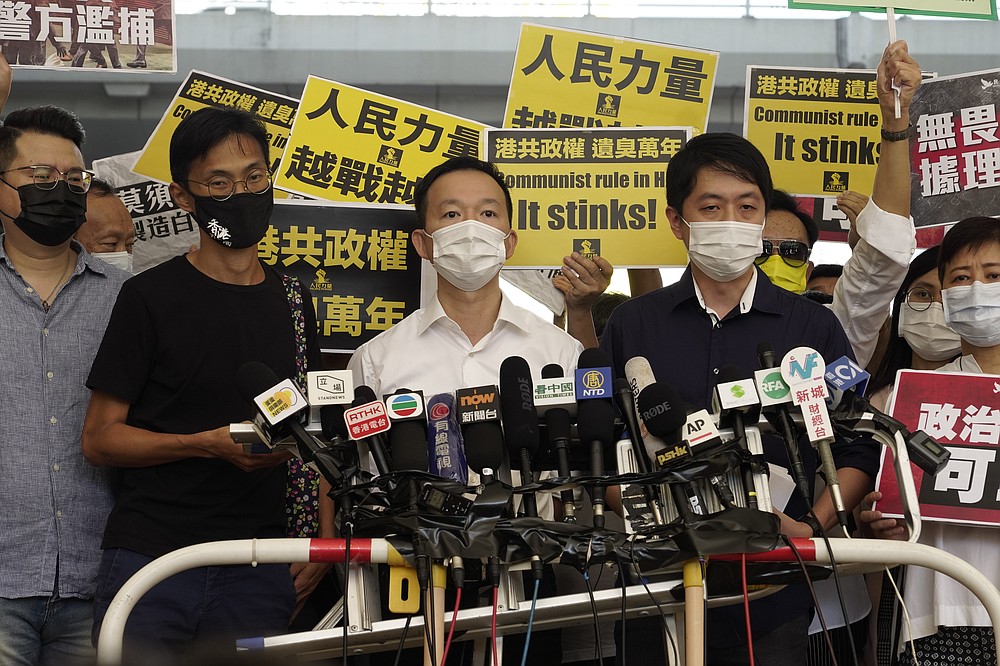 Pro-democracy lawmakers, from second left to right; Eddie Chu, Raymond Chan and Ted Hui speak outside a local court in Hong Kong Thursday, Nov. 19, 2020. Three former pro-democracy lawmakers appeared in court Thursday, one day after they were arrested for disrupting the legislature during debate on a national anthem bill earlier this year. (AP Photo/Vincent Yu)
Sponsor Content