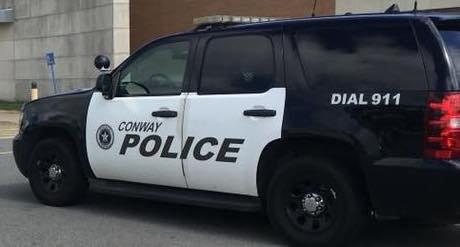 A Conway Police Department vehicle is shown in this file photo.
Conway Police Department officers are not getting paid enough, which is causing a staff shortage and putting the safety and security of citizens of the central Arkansas community in jeopardy, according to an open letter Thursday to residents from the Conway Fraternal Order of Police.
"The retention issue stems from there being no pay scale in place, combined with compensation that is not sensible with departments of comparable size in the State of Arkansas," Ryan Britton, vice president of the Conway Fraternal Order of Police Martin-McDaniel Lodge 42, said in the letter. "Officers with 20+ years of experience are making little to no pay difference than a day one officer that has yet to complete the police academy. This is causing our department to be a training ground for other agencies."
Conway Police Chief William Tapley was not available for comment, according to public information officer LaTresha Woodruff.
Tapley took over the chief's seat in July, after Chief Jody Spradlin retired after 29 years with the department.
Bobby Kelly, spokesman for Conway Mayor Bart Castleberry, said the mayor was not available for comment.
In an interview, Britton said the Fraternal Order of Police has been attempting to improve the pay scale and retention efforts for "a few years."
"The city needs to retain our trained officers so we aren't wasting tax dollars training our officers for other departments," he said.
According to Britton, the Conway Police Department has lost 30 officers in the past two years.
"Of those officers, 16 of them left the department because of lack of fair compensation," Britton said.
Woodruff did not respond to requests from the Arkansas Democrat-Gazette for information about salaries.
Britton claimed in the letter that Conway is also seeing spikes in violent-crime calls and that the department's Crime Suppression Unit was disbanded due to a lack of officers to help answer emergency calls.
He added that four detectives have left the department in the last eight months, taking 32 years of experience with them, and eight of the 10 detective positions are filled.
The Democrat-Gazette was unable to verify Britton's claims as of late Thursday.
"Detectives are inundated with cases, which means CPD has to prioritize violent cases with victims, leaving other felonious cases with little attention or uninvestigated," the letter said. "Twenty officers have been hired in the last year alone, which brings concern to the experience that will be answering emergency calls."
Patrol is understaffed, "exhausted and consistently needing officers to work overtime shifts to ensure the absolute minimum amount of officers" are on duty at a time, the letter said.
"Officers at CPD do not want to leave the community most of them live in, but are doing so to better their families and their future," Britton's letter said. "This crisis is also lessening the promised services to the citizens of Conway."
Britton said in the letter that Castleberry has repeatedly assured the officers that the issue would be addressed, but the mayor "has still done nothing."
Leadership at the department developed a pay proposal to retain officers and gave it to Castleberry, the letter said.
The 2021 city budget will be reviewed at City Council meetings Tuesday and Dec. 8.
"This will be a pivotal decision for CPD, its citizens, and the businesses in the City of Conway," Britton's letter said, and he pleaded with citizens to contact Castleberry and City Council members.
"We are also urging that these leaders sit down the FOP leadership to come up with a plan for the future to ensure this retention problem does not continue," Britton's letter said.
Sponsor Content