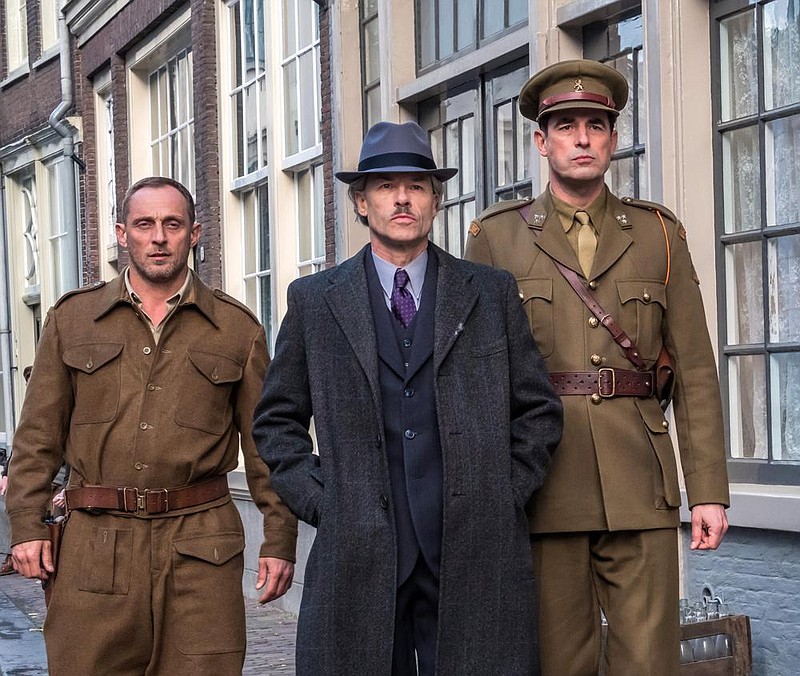 Dutch artist Han Van Meegeren (Guy Pearce, center) is escorted by Capt. Joseph Piller (Claes Bang, right) an Allied officer in post-World War II Holland tasked with investigating whether Meegeren conspired with the Nazis in "The Last Vermeer."
The Danish actor Claes Bang has made a small cottage industry for himself appearing in art-house dramas that concern fine art itself: in Ruben Ostland's "The Square," he played a vain, debonair director of a Stockholm modern art museum, facing existential crisis. In this year's excellent thriller, "The Burnt Orange Heresy," he was a vain, opportunistic art critic, who forges a work by an enigmatic artist. With his tall frame and oft-sneering charm, he's excellent at playing men who professionally preen for a living, while trying to mask their myriad nasty flaws in the process.
In "The Last Vermeer," based on a true story, is easily the most straightforward of the unofficial trilogy (and, it must be said, the least exciting); and, for once, Bang gets to play the straight man. His character is Captain Joseph Piller with the Allied Forces Command, who spends a chaotic few months just after the Nazis' surrender in 1945, attempting to return some of the vast hoard of stolen art that the Germans largely looted from their Jewish victim's homes.
Instead of Bang, the actor who gets the fun part here is Guy Pearce, who plays Han Van Meegeren, a flamboyant, eccentric art dealer, who may or may not have helped the infamous Nazi leader Hermann Göring acquire "Christ and the Adultress," considered a masterwork by legendary Dutch artist Johannes Vermeer, a painter who famously only made 30 or so works in his lifetime.
Initially infuriated with the bohemian "Van," with his giant mansion, array of fine liquors, and beautiful young mistress, Cootje (Olivia Grant), Piller, along with his intimidating partner, Dekker (Roland Møller), come to appreciate the redoubtable artist, even as he remains vague about his connections to the Nazi party. The pair are enjoined by Piller's dedicated assistant, Minna (Vicky Krieps), a war widow, in order to unravel the mystery even as the temporary Allied Command begins restoring power back to the elected government, and convicted sympathizers are routinely shot by firing squad as public spectacles.
Based out of Amsterdam, Piller gradually unravels the mystery as Van is locked up by the Dutch Ministry of Justice, led by Agent De Klerks (August Diehl), a nasty inspector whose intent is to have Van convicted as a sympathizer and war criminal, leading to his execution.
The question for Piller concerns Van's actual character: Is he a "raging narcissist and conniving devil" as a rival art historian suggests, or the philosophical-to-the-point-of-cavalier artistic con man who sold the Nazis fake masterpieces by his own hand, suckering them into paying enormous sums of money for forgeries that managed to fool even the most adept experts?
The screenplay, by several writers, based on the nonfiction book "The Man Who Made Vermeers" by Jonathan Lopez, struggles to properly center its mystery. At times, it plays a bit like courtroom thriller along the lines of "A Few Good Men," with the backstory of the lawyers themselves -- Piller becomes estranged from his wife (Ria Fend) because of her undercover work as a Nazi mistress as part of the resistance -- working their way into the prime position of the narrative.
As a piece of dramatic entertainment, the pacing's off, and the rising tensions of the courtroom case undercooked, such that when the verdict is revealed, it has the anticlimactic feel of a fait accompli. There is more to come, to be fair, but because the court scenes come across as perfunctory, the final twist of the mystery doesn't hit as powerfully as it could have.
Still, as a reasonably accurate history of a fascinating man who briefly became one of the Dutch heroes of the resistance in the aftermath of the war, there are pleasures to be had here. Those include the expansive work of Pearce, a character actor's character actor, who has often belied his preternatural good looks with peculiarly specific facial detail (shaving his eyebrows and hair part for the evil-minded Charley Rakes in 2012's "Lawless;" adding an enormous amount of age-prosthetics for Ridley Scott's "Prometheus"). Here, he sports a wild, gray Einstein-like mane of hair, a carefully tapered mustache, and eyebrows shaved to single dark lines. He plays Van as a coquettish bohemian, with a wry sense of dramatics and flair, a crowd-pleaser with whom the crowd should be extremely wary.
Ironically, it's essentially the kind of part that Bang has so effortlessly presented on-screen before: an egoist whose own self-awareness ensures his fate, despite his best efforts to alter its course. One gets the sense a thousand similarly fascinating stories have come out of this most chaotic period in Europe's history, in which many formerly occupied countries had to come to grips with the allies, resistance fighters, and collaborators in their midst after the Nazi's cornucopia of horrors finally came to a close. This particular one gets by largely on the strength of the historic material itself, rather than much of its own creative efforts, helped immeasurably from the backdrop of a continent stumbling along at last in the dawn of what had been a most horrifying and long night.
More News
'The Last Vermeer'
82 Cast: Claes Bang, Guy Pearce, Vicky Krieps, Roland Møller, August Diehl, Olivia Grant, Susannah Doyle
Director: Dan Friedkin
Rating: R, for some language, violence and nudity
Running time: 1 hour, 57 minutes
Playing theatrically
Sponsor Content