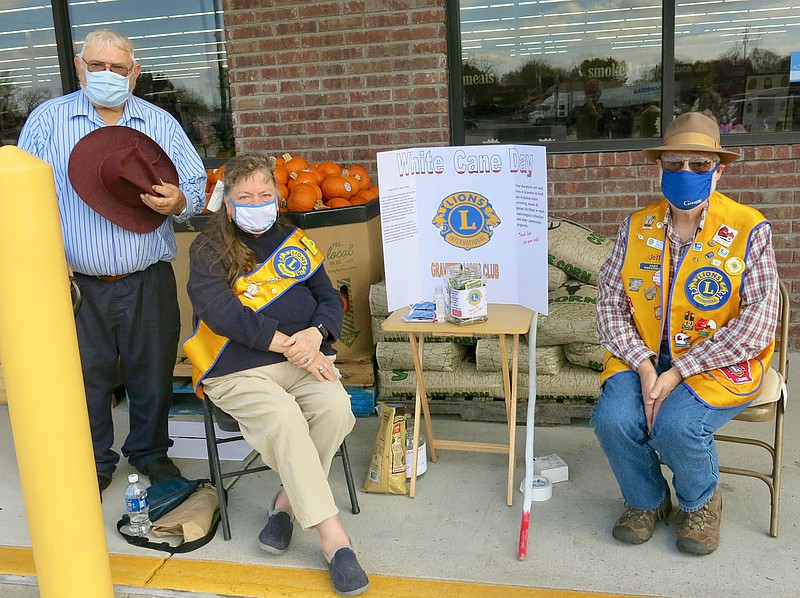 Westside Eagle Observer/SUSAN HOLLAND Members of the Gravette Lions Club pause for a photo during their annual White Cane Day event Saturday, Nov. 7. Over $115 was raised at this year's fundraiser and proceeds will be used to help fund an eye exam and glasses for a needy individual. Pictured are club tail twister Bill Mattler, club president Linda Damron and club treasurer Jeff Davis.
Lions Club
The Fayetteville Lions Club will meet for their final meeting of the year at noon, Dec. 2, at Mermaids Seafood Restaurant on North College Avenue.
District 7-1 Gov. Jeff Davis will present service awards and pins to several Lions, including Don Yandell for 50 years service.
The Fayetteville Lions will serve as Salvation Army Bell Ringers from 10 a.m. to 7 p.m. Dec. 9 at Sam's Club, 3081 N. Arkansas 112 in Fayetteville.
Information: (479) 301-4341.
Beta Sigma Phi
Laureate Alpha Mu Chapter, Beta Sigma Phi, will meet at 11 a.m. Dec. 9 at Connie Hinton's home for a potluck lunch. Each member is asked to bring a can of veggies or fruit or meat for the food pantry in lieu of a gift to secret sister.
At the last meeting, officers were installed for 2020-21: Connie Hinton, president; Jean Jones, vice president; Sharon Outhouse, secretary; Judi Shannon, treasurer; and Suzanne Wresche, corresponding secretary.
Information: (479) 876-1370.
Andante
Future meetings of the Bella Vista-based Andante Music Club will be posted on Andante's website at andantemusicclub.org. Please visit the site for more information or contact Betty Pierce at (479) 621-3414 or email at piercebl834@att.net.
Legion 341
Veterans affiliated with any branch of the military interested in becoming members of Bella Vista American Legion Post 341 are asked to call Brad Kennell for membership details and information at (605) 440-0255.
Radio Club
The Bella Vista Area Radio Club is conducting virtual meetings on the first Thursday of each month via YouTube Live. In-person monthly license testing has resumed on the second Saturday of the month.
All amateur radio enthusiasts and prospective hams are invited. Details are online at www.BellaVistaRadioClub.org, on the club's Facebook Group, at www.YouTube.com/BellaVistaRadioClub, or by calling Ron Evans at (479) 270-5584.
Computer Club
The Bella Vista Computer Club continues to meet over the internet using Zoom and does not conduct in-person meetings or classes.
Visitors and guests are welcome to obtain the Zoom meeting connection information in advance of the meeting from the membership chairman at membership@bvcomputerclub.org or by checking the BVCC website the day before the meeting.
Yearly BVCC membership is $25 for the first member in a household and $10 for each additional member in the same household. Join or renew membership online on the BVCC website at https://bvcomputerclub.org. The benefits of club membership include remote help for members with their computerized devices and free classes on a variety of computer topics.
Scheduled online classes may be found on the website. Advance signup is required to attend classes. The website also contains the most current issue of the "Bits & Bytes" newsletter, minutes of the previous month's general meeting, membership forms, detailed directions to meeting rooms and updates to scheduled classes.
Perfect Harmony
Perfect Harmony Women's Barbershop Chorus meets from 3:30 to 5 p.m. every Monday, in the Fellowship Hall (enter at the north door) of the Highland Christian Church, 1500 Forest Hills Blvd. in Bella Vista. Social distancing and mask-wearing will be observed.
No previous experience or tryouts are required to join. Women of all ages and voice ranges are invited to experience barbershop singing.
Information: Karen Frankenfeld, director, at (479) 876-7204.
Legion 29
American Legion Post 29 will play bingo at the Siloam Springs Community Building on Monday evenings. Doors open at 5 p.m., and early bird games start at 5:30. The regular games will follow. Everyone 18 and older is invited to join in the fun. There will be concession items for sale.
Gentry Lions
Members of the Gentry Lions Club are having a jacket and mittens donation drive. They are asking for new or slightly used items for elementary school students in the Decatur school district. Drop-off locations are at the library and at the Decatur Ace Hardware store.
The club will meet Dec. 3 at the Gallery Cafe. All business owners and residents who are interested in helping others in their community are invited to come, meet and greet.
Information: (479) 445-2775.
Kiwanis
Kiwanis Club meetings are held at 7 a.m. on the first and third Fridays of each month at the Gravette Civic Center and are open to the public. Visitors are asked to wear a mask when arriving and until seated when physical distancing is not possible.
Send Club News to ourtown@nwadg.com. Deadline is 4 p.m. Tuesday for Sunday publication. Please include a phone number or email address for publication.
Sponsor Content