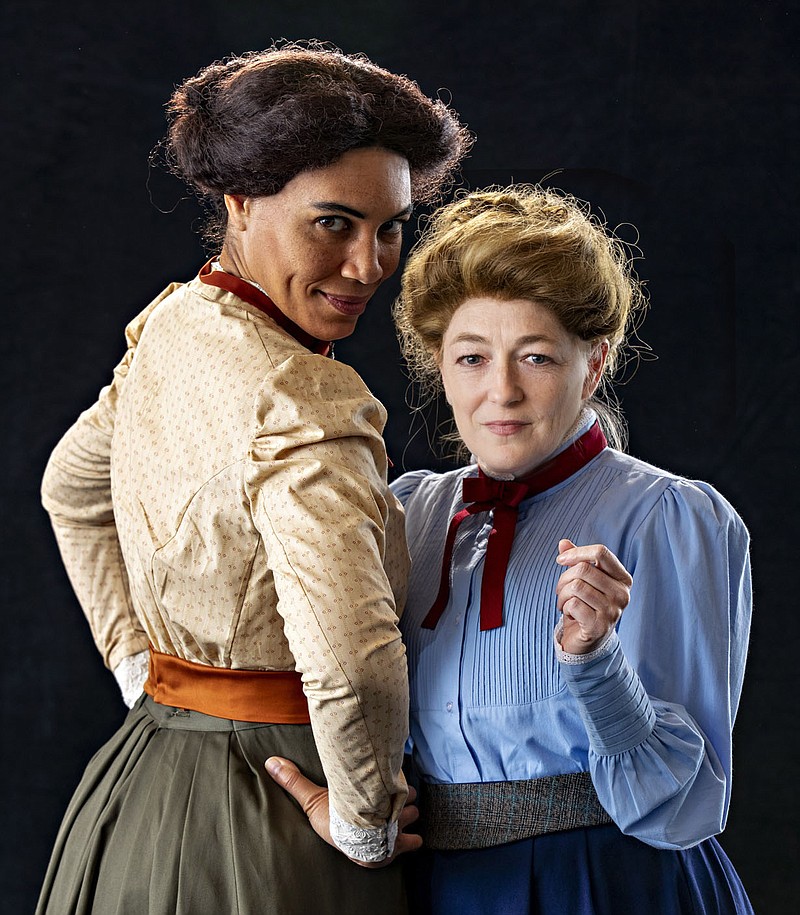 "I think [playwright Lauren Gunderson] is very bold in the way she uses language," says actor Rebecca Harris (right) playing Marie Curie with Leontyne Mbele-Mbong as Hertha Ayrton in the TheatreSquared production of "The Half-Life of Marie Curie." "She allows the characters to be candid and passionate. Curie and Ayrton were real women, living with real impulses and adversity as well as joy and achievement. Gunderson allows for all of that." The docu-drama opens Nov. 28 online via theatre2.org. Tickets are $20. (Courtesy Photo/Wesley Hitt via T2)
Red Cross
needs blood
The American Red Cross and country music star Martina McBride are reaching out to country music fans and all eligible individuals: "If nobody has ever asked you to give blood before, I'm asking you to give blood – especially during this trying time."
As a thank-you for helping meet the need for blood donations through Dec. 15, Suburban Propane is offering blood, platelet and plasma donors a chance to win an Outdoor Living Experience, powered by propane, to enable a lucky winner to enjoy socially distanced celebrations with family and friends this holiday season. The prize includes a propane-powered pizza oven, fire pit, outdoor heater and stipend towards propane.
Upcoming blood donation opportunities Nov. 16-Dec. 15:
• Bentonville: 9 a.m.-2 p.m. Nov. 24, Bentonville Plaza, 609 S.W. Eighth St.; 9 a.m.-3 p.m. Dec. 4, Bentonville Church of Christ, 904 N. Walton Blvd.; 10:30 a.m.-3:30 p.m., Genpact, 2600 N.E. 11th St.; 9 a.m.-3 p.m. Dec. 15, 5G Consulting, 1005 Beau Terre Drive
• Gravette: 9 a.m.-2 p.m. Dec. 7, Gravette High School, 325 Lion Drive.
• Rogers: Noon-5 p.m. Nov. 23, Walmart, 4208 Pleasant Crossing Blvd.; 9 a.m.-2 p.m. Nov. 24 and 2-6 p.m. Nov. 25, Sunnyside Baptist Church, 210 E. Locust St.; 1-6 p.m. Dec. 4, First Baptist Church Rogers, 3364 West Pleasant Grove Road; 10 a.m.-3 p.m. Dec. 8, John Q Hammons, 3303 S. Pinnacle Hills Parkway; 9 a.m.-2 p.m. Dec. 9 and 10 a.m.-2 p.m. Dec. 10, Center for Nonprofits, 1200 W. Walnut St.; noon-5:30 p.m. Dec. 15, Rogers Christian Church, 2501 W. Oak St.
• Siloam Springs: 1-5 p.m. Dec. 11, Walmart, 2901 Highway 412 East
• Huntsville: 1-6 p.m. Dec. 9, Huntsville Masonic Temple, 300 Main St.
• Jasper: 11 a.m.-4 p.m. Dec. 15, Jasper United Methodist Church, 400 Clark St.
• Farmington: 11:30 a.m.-5:30 p.m. Nov. 30, Brand New Church, 271 W. Main St.
• Fayetteville: 10 a.m.-3:30 p.m. Dec. 1, The Garden Room, 215 W. Dickson St.; 11 a.m.-4 p.m. Dec. 4, Fayetteville Auto Park, 1418 W. Showroom Drive; 10 a.m.-4 p.m. Dec. 8 and 9, Walton Arts Center, 495 W. Dickson St.
• Springdale: Noon-6 p.m. Dec. 1, Don Tyson School of Innovatoin, 2667 Hylton Road
Information: (800) 733-2767 or redcrossblood.org..
Hope Cancer
offers support
• Lung Cancer Awareness Month: Throughout the month of November, Hope Cancer Resources will shine a light on lung cancer with materials from the GO2 Foundation for Lung Cancer.
• Free Tobacco Cessation Program: Hope Cancer Resources' certified health education specialist is available to support members of the community who are looking to quit smoking with nicotine replacement therapy and counseling.
• Emotional Support Through Cancer Battle: Hope Cancer Resources' team of counselors and social workers are supporting cancer patients and their families every day with a focus on emotional health, no matter the circumstance.
• Virtual Wellness Classes For Cancer Patients and Caregivers: The Wellness Center for Hope at Hope Cancer Resources has created a yoga and fitness class schedule via Zoom and Facebook Live.
Information: (479) 361-5847.
Blood center
seeks donors
Leadership from area hospitals are strongly urging people that have recovered from covid-19 to give convalescent plasma (CCP) with Community Blood Center of the Ozarks, the sole supplier of blood and plasma to all area hospitals, to help others currently in local hospitals suffering from the virus. Usage of CCP in area hospitals has skyrocketed over the past several weeks, causing a critical shortage. There has been a 337 percent increase in CCP usage in area hospitals between August and October of this year. Usage levels have continued to increase during the first few weeks of November as well.
The FDA has authorized the usage of CCP for covid-19 patients because of the tremendous promise it has shown in helping the critically ill. Antibodies present in plasma from recently recovered covid-19 victims has been found to help those who currently have the virus and for some, it may be their only hope for recovering from the virus.
CBCO is taking steps to make it easier to give. Referrals by area physicians used to be required, but now if a potential donor has either written or electronic proof of a positive covid-19 test and have recovered from the illness for 14 days, they can give if they meet general donation requirements. CBCO is now also able to provide up to a $100 Visa gift card thanks to FDA funding for this incentive due to the critical need for these very specific donors.
Information: (417) 227-5324 or cbco.org/covid19.
Medicare
info offered
During the Medicare annual election period, Medicare recipients can change existing health or drug plans, which may lower the cost of medical insurance, prescription drugs and preventive care. Starting in 2021, many plans will also offer dental and vision coverage. Recipients may even be eligible for free over-the-counter medications, home health supplies and meal delivery service. The annual election period ends Dec. 7.
Mercy Medical System wants you to have the best health coverage possible. To help you with the confusing process of selecting the right coverage for you, Mercy is hosting free informational sessions with licensed, independent insurance broker who will:
Evaluate your current coverage;
Discuss your current and future needs;
Present your options clearly and simply;
Review prescription medications;
Determine if you need vision or dental insurance;
Decide if you would like free over the counter medications and meal delivery service;
Help you choose the plan that gives you the best coverage at the lowest cost to you.
For your safety and convenience, Mercy is offering both in-person and online sessions (phone or video). This means you can visit with an independent broker from the safety and comfort of your home and still have access to the expertise of our independent brokers. There are also two livestream webinars available on Dec. 1 and 15. All broker consultations are free and carry no obligation to buy any health insurance coverage. The only thing participants must do is register and select an appointment time that is convenient for them.
Information: (833) 401-6421, mercy.net/MedicareFtSmith or mercy.net/MedicareNWA.
OLLI sets
new classes
The Osher Lifelong Institute at the University of Arkansas announces the following classes for the upcoming week:
• Nov. 30: "Fighting Medicare Scams" (online). Kathleen Pursell, the Director of the Arkansas Senior Medicare Patrol, will lead a session about the work of the Arkansas Senior Medicare Patrol and how they inform and train Medicare beneficiaries in how to protect themselves from Medicare fraud; how to detect Medicare fraud of their own Medicare accounts; and how to report Medicare fraud and errors. Participants will learn about current Medicare frauds/scams as well as how to read their individual Medical Summary Notices. Participants may wish to become SMP volunteers and receive further training. $25 members, $40 nonmembers.
• Dec. 1: – "Pandemic Series: Smallpox" (online), $29. All are welcome.
Information: (479) 575-4545 or olli.uark.edu.
Send news about local events, charity fundraisers and family or class reunions to ourtown@nwadg.com. Deadline is 4 p.m. Tuesday for Sunday publication. Please include a phone number or email address for publication.
Sponsor Content