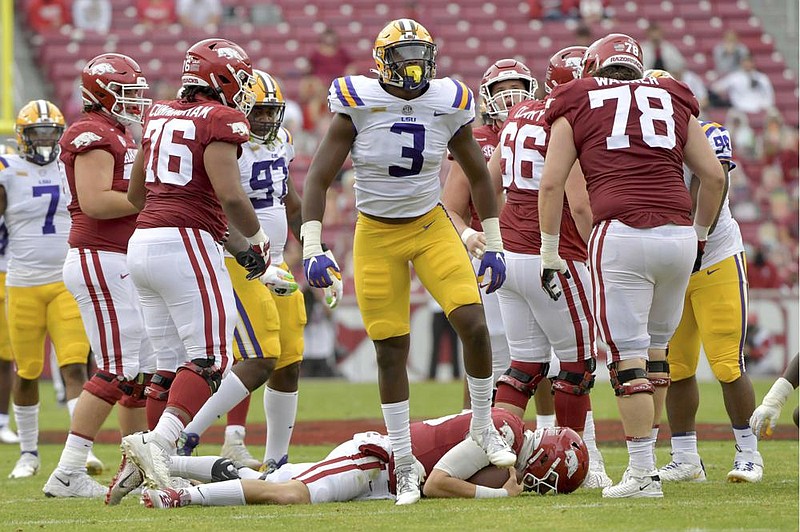 LSU defender Andre Anthony (3) reacts after tackling Arkansas quarterback Feleipe Franks for a loss during the first half of an NCAA college football game Saturday, Nov. 21, 2020, in Fayetteville, Ark. (AP Photo/Michael Woods)
FAYETTEVILLE -- Asked for his initial thoughts on the University of Arkansas' 27-24 loss to LSU on Saturday, Razorbacks quarterback Feleipe Franks took a deep breath before speaking.
Sustaining drives and an inability to convert on third down were the main points of emphasis in Franks' response. Those remarks essentially were repeated in each answer during his six-minute postgame interview.
The Razorbacks' offense failed to convert a single third down in 10 attempts. Saturday's game marked the first time since Arkansas' 20-17 overtime victory against East Carolina in the Liberty Bowl to cap the 2009 season that the Razorbacks did not convert one third down in a game.
"I thought it was a bunch of different things," Franks said. "They did a good job. They schemed, and they scheme just like us.
"But they were on a couple of our third downs, and I tried to make something happen with my legs a couple of times. Ultimately, it just comes down to staying on the field and doing whatever you've got to do to move the chains and get a new set of downs."
LSU, playing its first game since Halloween, entered the Arkansas game 11th in the SEC in defensive third-down conversion rate, allowing opponents to pick up necessary yardage on 47% of their tries.
The Razorbacks, meanwhile, placed 11th in the SEC in converting on third downs at 36%. It was an aspect of the game that Arkansas Coach Sam Pittman said was a focus throughout the week.
Pittman noted the Tigers brought pressure and covered Arkansas receivers well on some third-down plays, but he could not pinpoint the root causes for those inefficiencies.
Mike Woods, who finished the game with a career-high 140 receiving yards on four catches, also had a difficult time identifying the root cause.
Gallery: LSU defeats Arkansas 27-24
[Gallery not loading above? Click here for more photos » arkansasonline.com/1122hogs/]
"I'm not sure, but you go 0 for 10 on third down, I mean, you're asking for it," he said. "We've just got to come back and go to work and do better on third down, and put ourselves in more manageable third-down situations. That's probably a big part of it."
Franks threw incomplete on his four third-down pass attempts -- three times to running back Trelon Smith -- and Arkansas gained only 12 yards on five rushing plays on third down. The Razorbacks finished 0 of 3 when needing 1-4 yards to extend drives.
[Video not showing up above? Click here to watch » https://www.youtube.com/watch?v=7AJGuzzwuyM]
On average, 5.6 yards were required to move the chains on Arkansas' third-down attempts.
"Well, whether we had focus on it or didn't, I would imagine we would be disappointed in third down. We have to just keep working on it," Pittman said. "We'll just keep working at it."
LSU's offense finished the game 12 of 23 on third downs. The 12 conversions were LSU's most since a 13-of-19 performance against TCU in the 2013 season opener.
"They just found our weak spots," said Arkansas linebacker Grant Morgan, who finished with a career-high 19 tackles. "It really was us. It was really just us kind of not executing all the way."
Sponsor Content