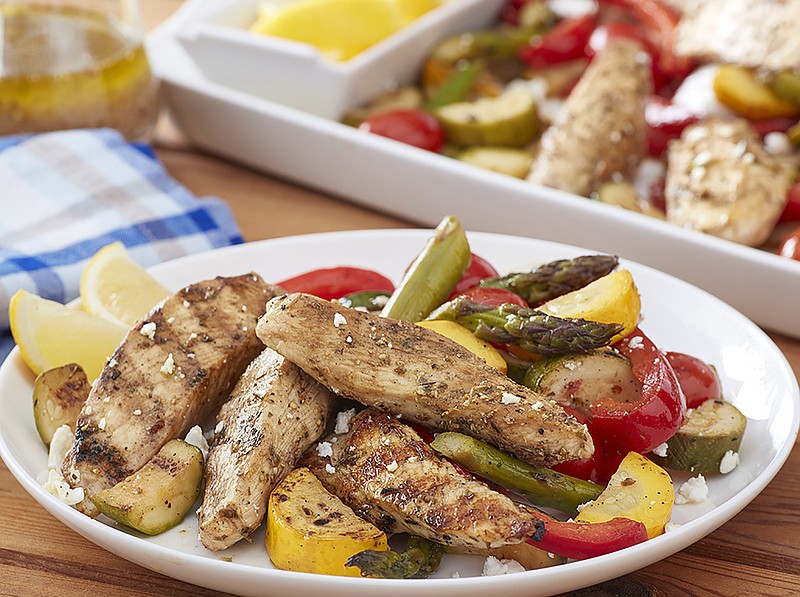 Grilled Chicken and Vegetables (Courtesy of Perdue)
A week's worth of quick, healthful meals for budget-minded families
SUNDAY: For a different family dinner, try Cinnamon Broiled Chicken With Raita (see recipe). Add basmati rice, steamed fresh broccoli and naan. For dessert, buy a lemon meringue pie.
Plan ahead: Cook extra plain chicken and extra rice, and save some pie for Monday.
MONDAY: Make your own Chicken and Rice Soup with Sunday's leftovers. Chop the leftover chicken; add it and the leftover rice to regular chicken broth. If you have any leftover broccoli, chop that and add along with frozen peas and carrots. Heat; add coarse salt and pepper to taste. Serve with a mixed green salad and cheese toast. Slice the leftover pie for dessert.
TUESDAY: For a quick meal, pick up bratwurst and German potato salad from the deli. Serve warmed bratwurst over Sweet-and-Sour Cabbage and Apples: Melt 2 tablespoons butter in a large skillet on medium-high. Add 2 medium Granny Smith apples (cored, unpeeled and cut into ½-inch slices). Cook 1 minute, stirring occasionally. Add 3 tablespoons packed brown sugar and ½ teaspoon cinnamon; cook 2 more minutes. Add 1 (16-ounce) jar drained sweet-and-sour cabbage. Cook 2 minutes or until hot. Add rye bread on the side. Spicy mustard is a must. Fresh pineapple spears are your dessert.
WEDNESDAY: Sometimes we're surprised how good a kid-tested recipe turns out. Beefy Peanutty Wraps (see recipe) works for adults, too. Serve the wraps with canned pinto beans and deli carrot salad. The children can help make Chocolate Pudding With Bananas for dessert: Add sliced bananas to instant chocolate pudding.
THURSDAY: Turkey Picadillo (see recipe) with sofrito has wonderful flavor. Serve it over brown rice. Add mixed greens and whole-grain rolls. Fresh or canned tropical fruit is good for dessert.
FRIDAY: Grilled Vegetable Sandwiches are always welcome around our house. In a large bowl, mix together ¼ cup light soy sauce, ¼ cup fresh lemon juice, 1 tablespoon honey and ½ teaspoon ground cayenne pepper. Add 2 medium zucchini (cut into ½-inch-thick, diagonal pieces), 1 medium red onion (cut into ¼-inch slices) and 2 red bell peppers (cut into 1-inch-wide strips); toss to coat. Let stand at room temperature 15 minutes to 1 hour. Coat grill rack with cooking spray; place rack on medium grill. Grill vegetables, uncovered, 6 to 8 minutes on each side. Meanwhile, toast 8 slices focaccia on grill; coat slices with goat cheese. Cover bottom halves with vegetables; top with other halves of focaccia. Cut sandwiches in half and serve immediately with oven-fried potatoes and a romaine salad. Pears are dessert.
SATURDAY: The family will be thrilled with Grilled Chicken and Vegetables for dinner. In a large measuring cup, whisk together 1/3 cup red wine vinegar, 2 teaspoons dried oregano, 1 teaspoon Dijon mustard, 1 teaspoon sugar, ½ teaspoon coarse salt and ¼ teaspoon black pepper. Continue whisking and slowly drizzle in 2/3 cup olive oil until well combined. Heat grill with a grill basket to medium-high. Spoon 4 tablespoons of vinaigrette over 1 ¼ pounds chicken breast strips and marinate while grilling vegetables: 8 asparagus spears cut into 2-inch pieces, 1 pint cherry tomatoes, 2 medium zucchini (halved lengthwise and sliced into ½-inch-thick rounds), 1 medium Vidalia onion sliced into rings and 1 red bell pepper sliced into thick strips. Toss vegetables with ¼ cup of vinaigrette and place in grill basket. Grill vegetables 6 to 8 minutes. Transfer to platter; keep warm. Place chicken into basket; grill 5 to 7 minutes or until internal temperature reaches 170 degrees. Transfer to vegetable platter. Drizzle remaining vinaigrette over chicken and vegetables. Sprinkle with ½ cup crumbled Greek feta cheese and 2 tablespoons fresh basil. Serve with a romaine salad and sourdough bread. Just wait for the applause when you present coconut cake for dessert.
THE RECIPES
Cinnamon Broiled Chicken With Raita
For Chicken:
¾ teaspoon coarse salt
¼ teaspoon pepper
¼ teaspoon cinnamon
4 (4-ounce) boneless skinless chicken cutlets (about ½ inch thick)
For Raita:
1 medium cucumber (peeled, seeded and chopped)
¼ cup plain yogurt
¼ cup sour cream
2 tablespoons chopped cilantro (or flatleaf parsley)
¼ teaspoon coarse salt
¼ teaspoon ground black pepper
¼ teaspoon cumin
Heat broiler. In a small bowl, mix salt, pepper and cinnamon. Sprinkle on both sides of chicken. Coat rack of broiler pan with cooking spray; broil cutlets 6 inches from heat for 3 minutes. Turn and broil 2 to 3 more minutes or until internal temperature reaches 165 degrees.
In a small bowl, stir together cucumber, yogurt, sour cream, cilantro (or parsley), coarse salt, pepper and cumin. Serve chicken with raita on the side.
Makes 4 servings.
Nutrition information: Each serving contains approximately 170 calories, 26 g protein, 5 g fat, 4 g carbohydrate, 81 mg cholesterol, 635 mg sodium and 1 g fiber.
Carbohydrate choices: 0.
■ ■ ■
Beefy Peanutty Wraps
1 pound lean ground beef
½ cup chopped red bell pepper
½ teaspoon black pepper, plus more to taste
½ cup sliced green onions
2 ½ tablespoons chunky or smooth peanut butter
1 tablespoon grape jelly
2 tablespoons lower-sodium soy sauce
4 (8- to 10-inch) flour tortillas, warmed
Sour cream for garnish
In a large skillet on medium heat, cook beef 5 minutes; drain. Add bell pepper; cook 3 to 5 minutes or until beef is no longer pink; drain again. Season with ½ teaspoon black pepper. Stir in onions, peanut butter, jelly and soy sauce; cook and stir 2 to 3 minutes or until peanut butter and jelly are melted. Spoon beef onto tortillas; roll. Add additional pepper and sour cream if desired.
Makes 4 servings.
Nutrition information: Each wrap contains approximately 357 calories, 32 g protein, 11 g fat, 33 g carbohydrate, 62 mg cholesterol, 673 mg sodium and 4 g fiber.
Carbohydrate choices: 2.
■ ■ ■
Turkey Picadillo
1 pound ground turkey breast or lean ground beef (or mixture of both)
¼ cup golden raisins
¼ teaspoon dried oregano
1/8 teaspoon cumin
1 tablespoon cider vinegar
1 teaspoon capers, drained
1 teaspoon olive oil
¾ cup sofrito (see note)
1 tablespoon chopped fresh flatleaf parsley
In a large skillet, cook turkey or beef on medium-high for 5 minutes or until no longer pink. Stir in raisins, oregano and cumin; cook 3 minutes, stirring frequently. Stir in ½ cup water, vinegar, capers, olive oil and sofrito; cook 5 minutes or until slightly thick. Remove from heat. Stir in parsley and serve.
Note: Sofrito is a sauce made from a variety of cooked ingredients, such as oil, chopped onions, tomatoes, green bell peppers, garlic and various herbs. It is used as flavoring. Look for it on the international aisle.
Makes 4 servings.
Nutrition information: Each serving contains approximately 163 calories, 28 g protein, 3 g fat, 17 g carbohydrate, 45 mg cholesterol, 492 mg sodium and 1 g fiber.
Carbohydrate choices: 1.
Susan Nicholson is an Atlanta-based cookbook author and registered dietitian. She can be reached by email: susan@7daymenu.com
Sponsor Content