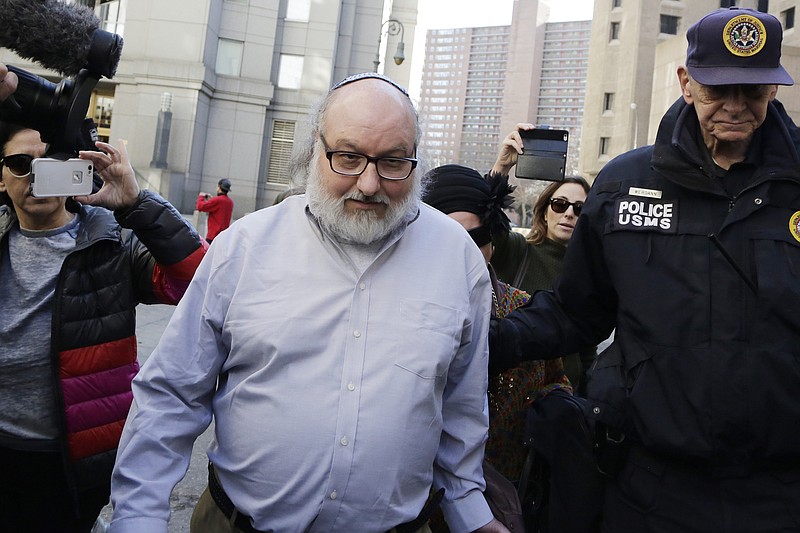 Convicted spy Jonathan Pollard leaves a federal courthouse in New York Friday, Nov. 20, 2015. Israeli Prime Minister Benjamin Netanyahu has phoned Pollard, the former U.S. Navy analyst convicted of spying for Israel in the 1980s. In call Tuesday, Nov. 24, 2020 Netanyahu told Pollard that "we're waiting for you." The U.S. Justice Department announced last Friday that Pollard had completed his parole, clearing the way for him to move to Israel 35 years after he was arrested. (AP Photo/Mark Lennihan)
France orders inquiry on camp ousters
PARIS -- France's interior minister ordered an internal police investigation Tuesday after officers were filmed tossing migrants out of tents while evacuating a protest camp in Paris.
Aid groups and the government were working to find temporary lodging for hundreds of migrants forcibly removed Monday night from the short-lived camp on the Place de la Republique in eastern Paris.
The evacuation, filmed by journalists and activists, drew nationwide attention as tensions rose over a draft law beefing up police powers that easily passed a vote Tuesday in France's lower house of parliament.
Interior Minister Gerald Darmanin ordered an internal police investigation into "certain incidents," promising to make the results public.
In the Monday night evacuation, police lifted tents with migrants inside, shaking them until they tumbled to the ground, and those who resisted were kicked or beaten with batons, according to the head of aid group Doctors Without Borders in France, Corinne Torre.
The Paris police headquarters said in a statement that the Republique camp was evacuated because it was illegal.
Spy for Israel receives Netanyahu call
JERUSALEM -- Israeli Prime Minister Benjamin Netanyahu on Tuesday phoned Jonathan Pollard, the former U.S. Navy analyst convicted of spying for Israel in the 1980s, telling him: "We're waiting for you."
The U.S. Justice Department announced Friday that Pollard had completed his parole, clearing the way for him to move to Israel 35 years after he was arrested.
"You should have now a comfortable life where you can pursue, both of you can pursue your interests," Netanyahu said in a conversation with Pollard and his wife, Esther.
Esther Pollard is undergoing treatment in New York for cancer. It is not yet clear when the couple will be able to move to Israel.
Pollard, a civilian intelligence analyst for the U.S. Navy, sold military secrets to Israel while working at the Pentagon in the 1980s. He was arrested in 1985 after trying to gain asylum at the Israeli Embassy in Washington and pleaded guilty.
Pollard was given a life sentence and U.S. defense and intelligence officials consistently argued against releasing Pollard. But after serving 30 years in federal prison, he was released on Nov. 20, 2015, and placed on a five-year parole period that ended last week.
Battles said to leave Kurds, Syrians dead
BEIRUT -- Clashes between Kurdish forces and Turkey-backed opposition gunmen in northern Syria left at least 18 fighters dead in some of the most intense battles in weeks, an opposition war monitor and a Kurdish news agency said Tuesday.
Exchanges of fire and shelling between the Kurdish-led Syrian Democratic Forces and Turkey-backed opposition gunmen who identify as the Syrian National Army have not been uncommon since Turkish troops invaded parts of northern Syria in October last year.
The clashes began before midnight Monday near the town of Ein Issa and were triggered by an assault from Turkey-backed gunmen on Syrian Democratic Forces positions, according to the Britain-based Syrian Observatory for Human Rights, an opposition war monitor, and the Kurdish ANHA news agency.
The Observatory said Turkey-backed fighters lost 18 gunmen in the battle and an unknown number of Syrian Democratic Forces fighters were killed or wounded.
The news agency said dozens of Turkey-backed fighters were killed or wounded.
Maj. Youssef al-Hammoud, an official with the so-called Syrian National Army, said the fighting started when Syrian Democratic Forces fighters attacked their positions on two fronts. He denied losing any fighters, saying only two were wounded.
U.K. immunity ruling favors American
LONDON -- The parents of a young British man who was killed in a crash lost a court battle with the U.K. government Tuesday over whether an American woman involved in the crash had diplomatic immunity.
The family has been seeking justice for 19-year-old Harry Dunn, who died after his motorbike crashed into a car driven on the wrong side of the road outside a U.S. air base in central England in August of 2019.
The car's driver, Anne Sacoolas, left for the U.S. several weeks after the collision. Officials said she was entitled to diplomatic immunity because her husband worked at the base.
Sacoolas, 43, was charged in December with causing death by dangerous driving, but the U.S. State Department rejected a request to extradite her to Britain to face trial.
Dunn's parents, Charlotte Charles and Tim Dunn, filed the court case to argue that Britain's Foreign Office wrongly decided Sacoolas had diplomatic immunity and unlawfully obstructed the police investigation into their son's death.
But two judges rejected that Tuesday, ruling that the American had diplomatic immunity "on arrival in the U.K." under the Vienna Convention on Diplomatic Relations, and that she "enjoyed immunity from U.K. criminal jurisdiction at the time of Harry's death."
-- Compiled by Democrat-Gazette staff from wire reports
Print Headline: The World in Brief
Sponsor Content