If you're anything like me, even with all the planning and talk of a small Thanksgiving, you're likely planning on cooking a little extra for the sole purpose of enjoying the leftovers.
After all, what's the point of spending all that time and effort preparing a Thanksgiving feast if the fruits of your labor last for just one meal?
Most Thanksgiving leftovers — if they've been cooked and stored properly — will be safe to eat for three to five days. This means foods cooked and served on Thursday (Thanksgiving Day) will be safe to eat until Monday. Any dishes that were cooked in advance should be eaten within three to five days of when they were originally prepared. The exception being homemade cranberry sauce, which is acidic enough to last a week or more.
Second, third or even fourth plates piled high with sliced roast turkey, dressing, sweet potatoes, cranberry sauce are often just as satisfying as the first.
Soups and casseroles top my list of the best ways to enjoy leftover turkey. Basically any recipe where I'd normally use rotisserie or leftover roasted chicken is game.
To ensure that I wasn't missing out on any tasty ways to use leftover turkey I recently polled friends and family on and off Facebook about their favorite recipes with Thanksgiving leftovers.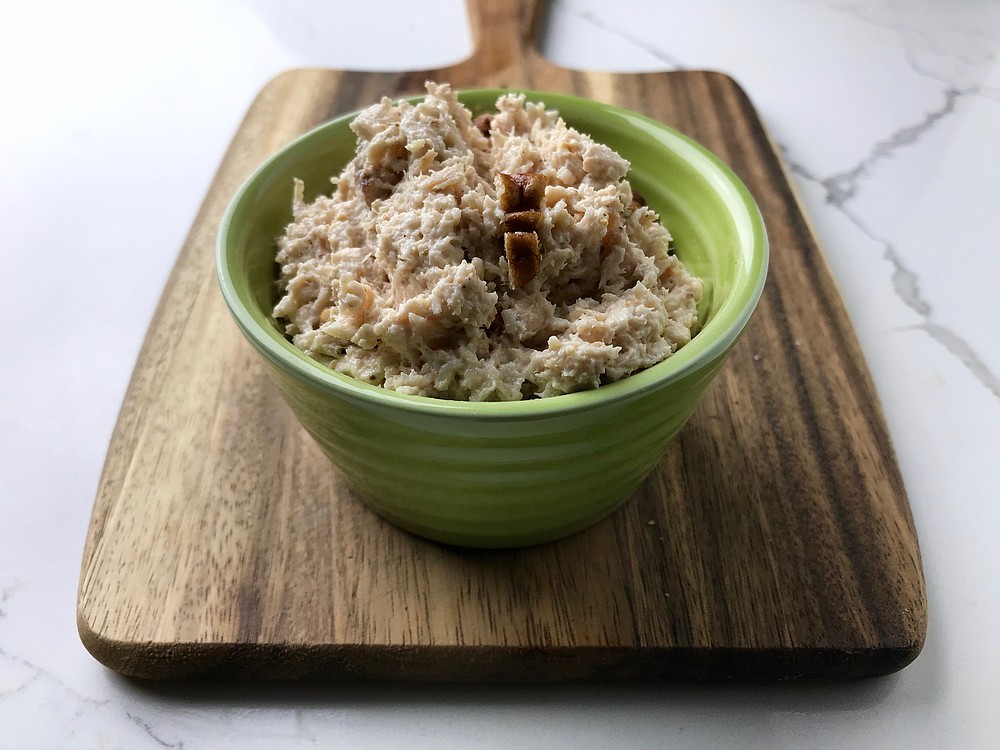 Mitchell's Turkey Salad (Arkansas Democrat-Gazette/Kelly Brant)
Pot pie and enchiladas were the most popular answers, but one that stood out is Mitchell Hughes "turkey crack" salad, that he says, is even better than Burge's. And considering it stars another Arkansas favorite, many of you may agree.
Here's how Mitchell makes it:
"Grind white smoked turkey to desired consistency in a food processor. Add Helmann's or Dukes mayo to desired consistency also along with Cavender's Greek Seasoning, fresh cracked black pepper and garlic powder to taste. You can also add chopped pecans and/or chopped jalapeno peppers."
Mitchell notes the salad can be made with the no-salt version of Cavender's, but it's better with the regular and if adding jalapenos, opt for mild ones.
I made it using regular (i.e. not smoked) turkey and added just pinch of smoked salt to compensate. I didn't get quite enough mayonnaise in it, but it was delicious nonetheless.
Another friend suggested turkey and dumplings, and honestly, I'm a little disappointed I didn't think of this myself.
Turkey and Dumplings
2 tablespoons butter
¼ cup finely diced onion
¼ cup finely diced celery
¼ cup finely diced carrot, optional
1 can cream of chicken soup (I use chicken w/herbs)
6 cups chicken or turkey broth, divided use
1 cup thinly sliced or shredded leftover turkey
2 cups Bisquick
Salt and ground black pepper, to taste
Fresh herbs such as thyme, sage, parsley or rosemary, optional garnish
In a soup pot, melt the butter over medium heat and add the onion, celery and carrot and saute until vegetables are tender. Stir in the cream of chicken soup add 5 1/3 cups broth. Bring to a boil. Stir in leftover turkey.
In a bowl, stir together the Bisquick and remaining 2/3 cup broth to form a soft, sticky dough. Drop dough by the spoonful into boiling broth. Cook, uncovered, for 10 minutes, adjusting the heat as necessary to maintain a vigorous simmer; cover and cook 10 minutes more, continuing to monitor the heat.
Season with plenty of ground black pepper and a sprinkle of herbs, if desired.
Makes about 4 servings.