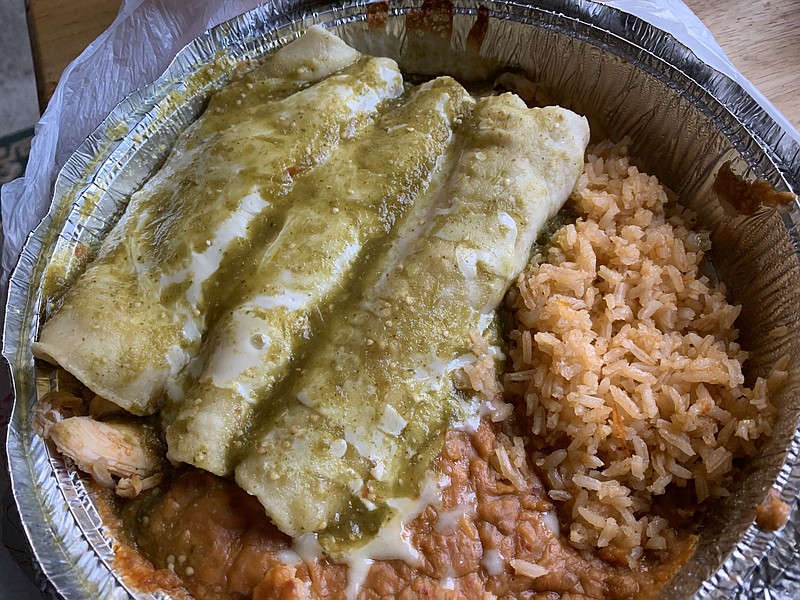 Enchiladas Verdes, with rice and beans, provided a fully fillilng lunch from El Porton on West Markham Street. (Arkansas Democrat-Gazeette/Eric E. Harrison)
Yes, today is Thanksgiving, and yes, today's food focus for most folks is going to be the turkey they're planning to consume.
But that doesn't mean that once Thanksgiving is over and you're starting to get sick of leftover turkey, you won't be seeking alternatives such as the ones you're reading about here.
(Yes, some of our friends will be eating Indian food, or even sushi today, but they're obviously not bound by tradition. And yes, restaurants serving those cuisines are among the places that are open today — see the list in Restaurant Transitions.)
Usual operating system applies: We're avoiding chains, we're staying within a reasonable keep-the-food-hot radius and we're paying for all our meals.
◼️ EL PORTON, Rock Creek Shopping Center, 12111 W. Markham St., Little Rock, (501) 223-8588, elportonmex.com
WHAT WE GOT: Enchiladas Verdes ($10.25)
Three plump flour-tortilla-wrapped enchiladas filled with spicy, shredded chicken (beef is the other option), topped with a layer of melted cheese and a tomatillo-based green salsa really hit the spot. (Somebody will helpfully let us know how to say that in Spanish for next time.) The accompanying refried beans were tasty and had real texture, and there was even some zip on the rice, which in too many places is blander than if nothing had been added to it.
HOW IT WENT: The dining room is open, so we placed our order — the menu is posted on the window as a huge, easy to read banner — and paid for it in person. The people who run El Porton have to-go orders down to a precise science and manage it effortlessly so that it doesn't in any way affect seating dine-in customers. We were told our order would take 7 minutes, and maybe it did, but it certainly didn't feel like that long.
HOW IT'S GOING: The restaurant was busy in the midst of a weekday lunch, including several to-go orders. Proper social distancing in the small waiting area, with to-go customers and diners-in waiting for tables, got a bit complicated.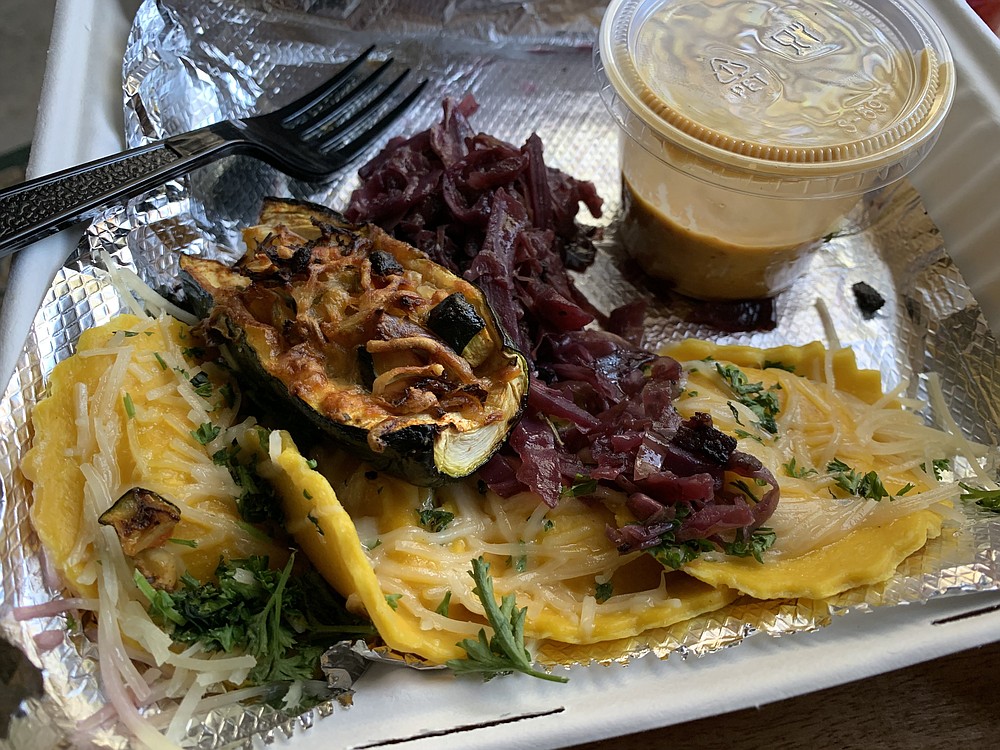 Brave New Restaurant's lunchtime Lobster Ravioli came with purple cabbage and a zucchini chunk topped with bacon and bell peppers. (Arkansas Democrat-Gazeette/Eric E. Harrison)
◼️ BRAVE NEW RESTAURANT, 2300 Cottondale Lane, Little Rock, (501) 663-2677, bravenewrestaurant.com
WHAT WE GOT: Lobster Ravioli ($15.50)
This was a big chunk of food for lunch: four large yellow pasta pockets stuffed with lobster meat, served with delicious red-bell-pepper pesto that complemented the ravioli perfectly. Unexpected: a side of vinegary purple cabbage that complemented the pasta and which we actually enjoyed, and a piece of zucchini stuffed with a bacon-bell-pepper admixture which we pried out (leaving the zucchini).
HOW IT WENT: We ordered over the telephone and paid for the order, which was ready when we arrived. The restaurant is on the second floor of a bank building set back from the street; it has been long enough since we visited that we got a little bit lost en route.
HOW IT'S GOING: The dining room and patio are open, and there were several occupied tables at lunch.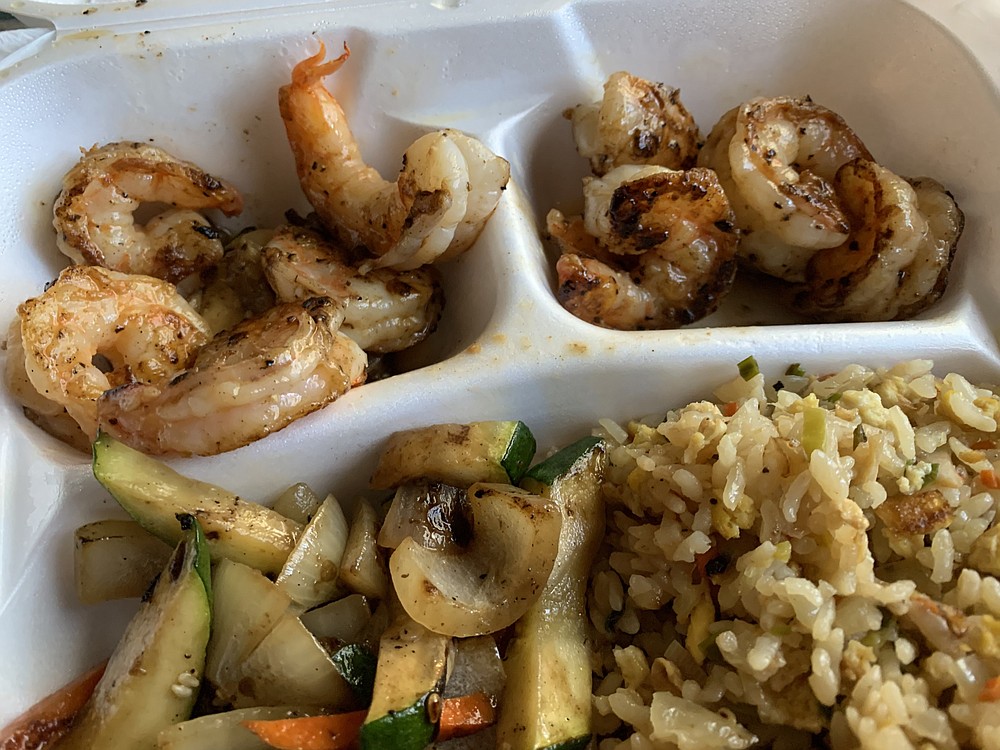 We found 10 shrimp, grilled veggies and fried rice in our Shrimp Hibachi Lunch from Sky Modern Japanese. (Arkansas Democrat-Gazeette/Eric E. Harrison)
◼️ SKY MODERN JAPANESE, Pleasant Ridge Town Center, 11525 Cantrell Road, Little Rock, (501) 224-4300, skylittlerock.com
WHAT WE GOT: Shrimp Hibachi Lunch ($14.99)
We opened our white foam clamshell container to find 10 plump, medium-size, hibachi-grilled shrimp that, alas, were only lukewarm when we got them home, but still tasty; we didn't need the plastic cups of hibachi sauces to enhance them. Accompanying them: a pile of grilled vegetables (zucchini, carrots, onions and mushrooms) garnished with sesame seeds, and some fairly flavorful fried rice, also infused with tiny carrot and onion chunks.
HOW IT WENT: We placed our order by phone and paid when we got there. (Note: The online menu prices are somewhat out of date.) Our order was ready right on time — 20 minutes promised, and it came out as we were signing the credit-card slip.
HOW IT'S GOING: The dining room is open; there were a couple of occupied tables in the middle of the lunch "rush." We didn't see any other to-go customers.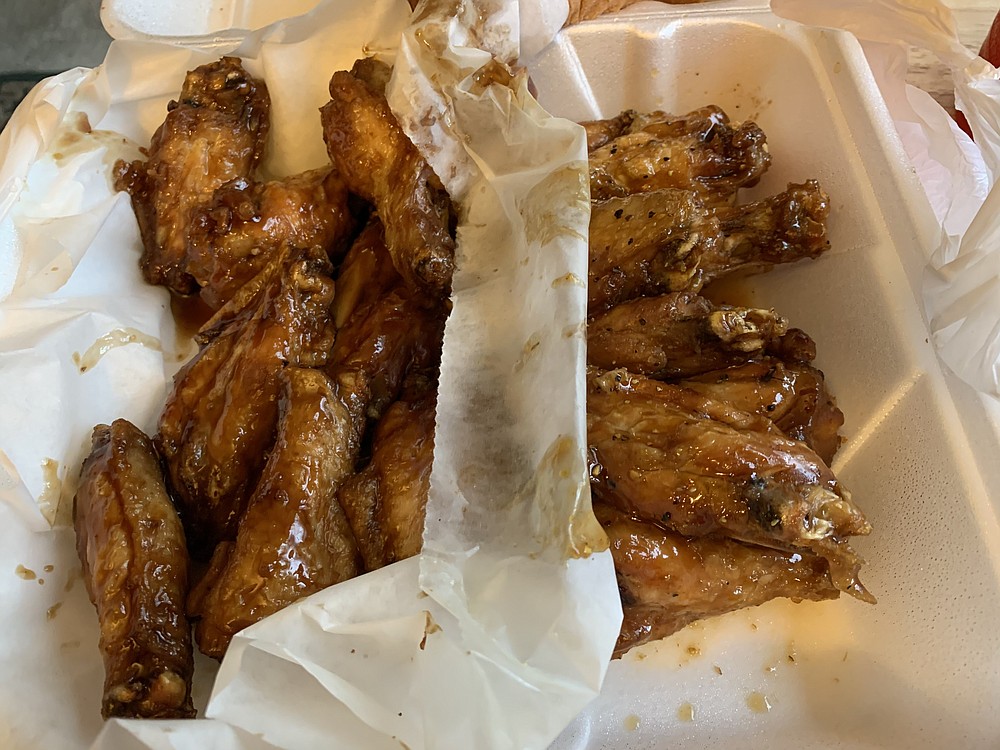 We split our order of 16 wings from Jacob's Wings & Grill into two sauce flavors: teriyaki (left) and lemon pepper. (Arkansas Democrat-Gazeette/Eric E. Harrison)
◼️ JACOB'S WINGS & GRILL, 5200 John F. Kennedy Blvd., North Little Rock, (501) 508-5783, jwgkitchen.com
WHAT WE GOT: 16-piece wings combo ($17.49), with fries and a drink
We took advantage of a visit to the north side of North Little Rock to make a long-wished-for stop on the way back at Jacob's, whose wings we fondly remember from our 2017 review, and besides, they're right there in the name of the place. (The menu also offers Mediterranean food, including gyros, kebabs and Greek sides, plus burgers, grilled sandwiches — including a tolerable Philly cheesesteak — and loaded baked potatoes.)
That big an order of wings was really going to be too much food, but it allowed us to split it between two flavors, and we chose our "standards": lemon pepper and teriyaki glaze. The teriyaki was somewhat spicy and somewhat citric, and not especially sweet — the way we prefer it. The lemon pepper definitely had a zing that we weren't expecting but really enjoyed. The kitchen kept them separate in the foam to-go box by folding the paper lining down the middle, also making it possible for the run-off sauce to pool without "cross-contamination." The wings are meaty and we would probably have been sufficiently full if we'd shaved a half-dozen of them off the order. The skin-on fries were still hot when we got them home, and tasty, but they were on the limp side.
HOW IT WENT: The dining room is open, limited capacity; we placed and paid for our order in person, and had about a 12-minute wait for the wings.
HOW IT'S GOING: One table was occupied with a large family, midafternoon on a weekend. A second to-go order came in right behind ours.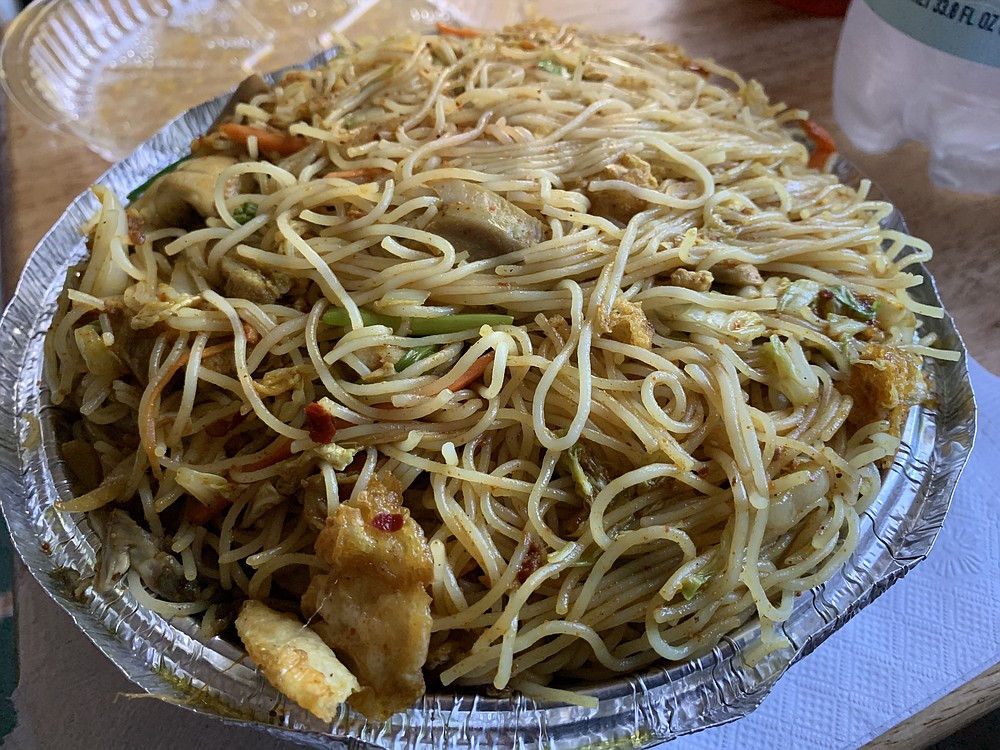 The Singapore Chow Mei Fun from New Fun Ree, chock full of chicken, pork, beef and shrimp, was enough for two meals. (Arkansas Democrat-Gazeette/Eric E. Harrison)
◼️ NEW FUN REE, 418 W. Seventh St., Little Rock, (501) 664-6657, (501) 664-2637, (501) 666-8889; newfunree.com
WHAT WE GOT: Singapore Chow Mei Fun ($9.55); Mongolian Beef lunch combo ($6.45)
New Fun Ree is another of those quick-serve Chinese restaurants — we've mentioned China Taste and Go-Go China in this column — that cut costs, and sometimes quality, by packaging their food in foam containers with plastic cutlery whether you eat on the premises or take it out. It has been around for decades, starting out on West 12th Street and settling neatly some years back into a one-time Chinese buffet place on West Seventh just east of Broadway, where, pre-pandemic, when there were actually large numbers of people working downtown, it has been a lunchtime meal mecca.
The food quality has always ranged from middling to magnificent, and that was our experience, or we should say experiences, this time around. Our Singapore Chow Mei Fun, thin rice noodles tossed with chicken, beef, pork and shrimp and kissed with curry and red pepper flakes, was excellent, packed tightly into an aluminum bowl right up into the plastic lid, and it was enough to furnish not only lunch but a light supper. The Mongolian Beef, which had been dependable in the past, was only so-so, considerably more onions and green onions than beef this time around; ordered as a lunch combo, it came with a decent egg roll and a large quantity of onion-specked fried rice.
HOW IT WENT: The restaurant layout, which occupies two storefronts, has completely changed to cope with covid-19 restrictions. They're doing to-go orders only; customers now enter through what used to be the main dining room, which has been rearranged so there are no tables (or rather, the tables have been put on edge to create a back "wall") and the chairs are lined up around the room to provide perches for waiting to-go customers. Orders are taken and dispensed through a Plexiglas window to what used to be the front counter. We placed and paid for our first lunch in person; we called in and paid on the spot for the other.
HOW IT'S GOING: On our first visit there were a couple of other to-go orders in progress; on our second, it was just us.
Sponsor Content