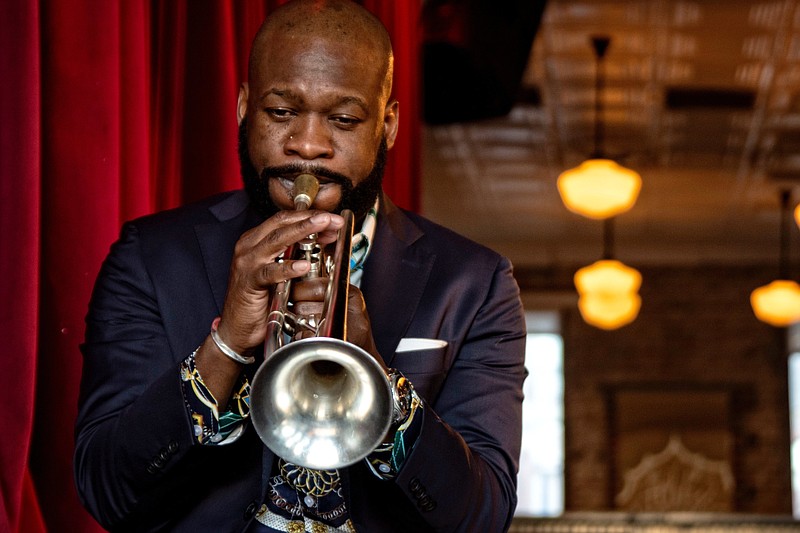 "Block Friday with Rodney Block and Friends" takes over Stickyz Rock 'n' Roll Chicken Shack Friday. Just remember to reserve your seat. (Democrat-Gazette file photo/Cary Jenkins)
Rodney Block will present two versions of the sixth annual "Block Friday with Rodney Block and Friends" Friday at Stickyz Rock 'n' Roll Chicken Shack, 107 River Market Ave., Little Rock. Doors will open at 7 p.m. for the 8 p.m. early show; followed by a late show, with doors opening at 10 p.m. for the show at 10:30 p.m.
Block will be joined by the RB Collective, Bijoux Pighee, Allison Victoria and Roosevelt "VeltBoy" Harris. Admission per show is $25 in advance, sold as table reservations. If any tickets remain on the day of the show, they will be $25. There will be no standing room area, dance floor or pit area.
◼️ Rob Moore and Tyndall Jackson, members of the band Mojo Depot, will perform at 6 p.m. Saturday at Argenta's outdoor performance stage in front of Creegan's Irish Pub, 301 Main St., North Little Rock. Admission is free.
◼️ Crissy P, with Keith Savage & Cliff Aaron (Drummerboy), will perform at 8 p.m. Friday and Saturday at Cannibal and Craft, 307 President Clinton Ave., Little Rock. Admission is free.
HOT SPRINGS
Mike Mayberry and The Slow Hands will perform at 9 p.m. Friday and Saturday at The Big Chill, 910 Higdon Ferry Road, Hot Springs. Admission is $5.
HOT SPRINGS VILLAGE
Buh Jones will perform at 7 p.m. Friday, and Code Blue will perform at 7 p.m. Saturday, at The Beehive Neighborhood Bar & Grill, 220 Minorca Road, Hot Springs Village. Admission is free.
CONWAY
Kordsmeier Music will perform at 8 p.m. Saturday at Kings Live Music, 1020 Front St., Conway. Admission is free.
STAY TUNED
The Jayhawks will perform a livestream concert at 8 p.m. Sunday on Facebook. To buy tickets, see theark.org.
◼️ Cast members from "Hamilton," "Mean Girls," "Jagged Little Pill" and "Ain't Too Proud: The Life and Times of The Temptations" will join the giant balloons in the 94th annual Macy's Thanksgiving Day Parade today, which will be shortened from its traditional 21/2-mile trek to one city block, on 34th Street in front of the flagship Macy's store.
◼️ Mary Chapin Carpenter will present "One Night Lonely Live from Wolf Trap" at 7 p.m. Friday on Facebook. Tickets start at $20, available at marychapincarpenter.com.
◼️ Country singer Chase Rice will perform a three-concert series "Live from Twin Eagles Creek Farm," beginning Sunday. Tickets, $10 per show or $20 for all three, are available at chaserice.com. The series continues Dec. 6 and 13. Rice is doing the shows to help support his band and crew.
◼️ "Home Cookin' for the Holidays" will feature more than 25 recipes from Austin, Texas, musicians from 7 to 9 p.m. Friday. Participating musicians include Marcia Ball, Ray Benson, Joe Ely, Ruthie Foster, Ray Wylie Hubbard, Lisa Loeb, Raul Malo, John Mayall, Delbert McClinton, Tracy Nelson, Shinyribs, Irma Thomas, Jimmie Vaughan, Vintage Trouble, Carolyn Wonderland and Lucinda Williams. To RSVP for this free event, which is a benefit for HOME Austin, see the event's Facebook site, or for more information, see homeaustin.org.
◼️ Conway native, singer-songwriter Erin Enderlin performs a "Songwriter Session" at the Country Music Hall of Fame and Museum, available at YouTube.
◼️ Wynonna Judd will perform a livestream show at 8 p.m. Saturday as part of the Branson Star Theater's Nashville Roadhouse Live series. Livestream registration is $30; see itickets.com.
◼️ Gimme Radio is launching Gimme TV, with 24/7 video channels Gimme Country TV and Gimme Metal TV, which will broadcast livestreaming performances, music videos, short form artist-created content, long-form music documentaries and movies. The channel apps can be downloaded on Android or IOS smartphones.
◼️ Elvis Presley fans can relish an after-Thanksgiving feast with "Elvis: Are You Lonesome Tonight?" at 7 p.m. Saturday on REELZ, a digital and satellite TV network.
◼️ Kenny Loggins is re-releasing "Live from the Lobero," a livestream concert filmed at the Lobero Theater in Santa Barbara, Calif., today through Sunday on lobero.org. The four-day pay-per-view rental is $15.
ROCK ON, READ ON...
No Depression magazine's latest issue is featuring articles on Gillian Welch, Chris Hillman and Kentucky's "High Lonesome Sound" at nodepression.com.
◼️ For more interesting reading, check out the blog on Robbie Fulks' website, where he describes some of his recent revelations of road-trip listening. Of course, his music is also great fun. (Here's a salute to Chris King for bringing Fulks to Stickyz Rock 'n' Roll Chicken Shack several years ago. There were five or six of us there who loved the show and never forgot it.)
◼️ Finally, the world of awards shows was upended a bit recently, when several musicians of the alternative country world told the Country Music Association what they could do with their lifetime memberships after the show failed to mention John Prine, Jerry Jeff Walker and Billy Joe Shaver in the show's tribute to recently deceased musicians of the country persuasion. (The show did note the demise of Charlie Daniels, Mac Davis, Joe Diffie and Kenny Rogers.)
Jason Isbell and his wife, Amanda Shires, immediately returned their lifetime membership cards in the CMA. Sturgill Simpson was unhappy, as quoted on the consequenceofsound.net site:
"Don't get it twisted... wouldn't be caught dead at this tacky a-- glitter and botox cake & ---- pony show even if my chair had a morphine drip... I just wanted to see if they would say his [John Prine's] name but nope. No time for Buddha... and I promise you they were asked to include him so a 'nope, no time' decision was made by somebody..."
For an interesting look at what Isbell thinks, see the Nov. 13 story "Jason Isbell and Amanda Shires wonder if the CMA 'knows anything about country music'" in The Los Angeles Times by Mikael Woods, the son of Little Rock's legendary radio voice, Tom Wood.
◼️ Here's a plug for a new "newsletter' on country music-related topics by Marissa R. Moss and Natalie Weiner called dontrocktheinbox.substack.com.
They also include suggested stories by other folks at the bottom of their newsletters, so there's not much chance of running out of stimulating material.
◼️ Singer-songwriter Hayes Carll will do his "Alone Together Tuesdays" at 6 p.m. Tuesday on Facebook, YouTube, Twitch and Twitter.
Sponsor Content